Music Preview: Dengue Fever, open to worldwide influences, plays at the Eagle Rock Music Festival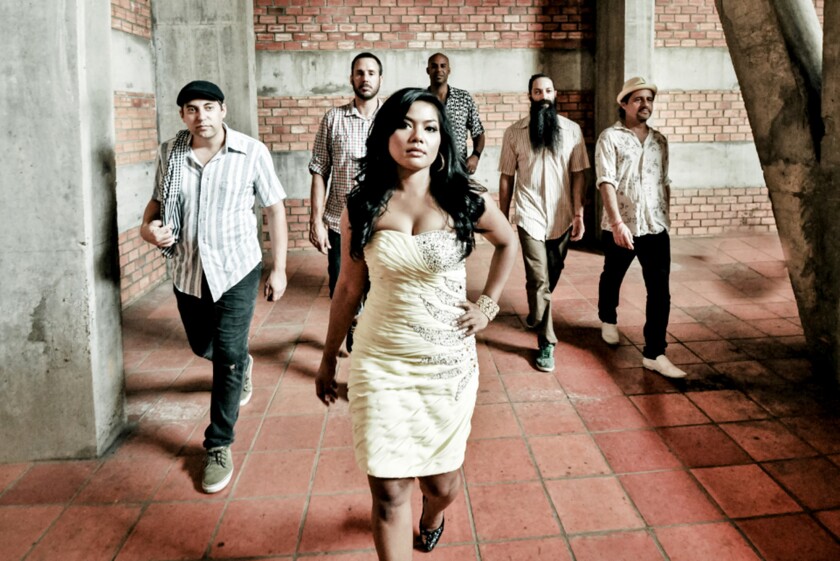 When the band Dengue Fever was created in 2001, few people would have predicted a large audience for its distinctive mix of obscure Cambodian pop music and psychedelic rock. Guitarist Zac Holtzman just knew that he loved the exotic pop sound, which he first discovered through a friend.
By coincidence, his brother, organist Ethan Holtzman, made the same discovery on a trip to Cambodia. "That's how we came up with the idea of the band," says Zac. "We were thinking about this cool body of music, and how most of these musicians were killed by the Khmer Rouge. Why don't we put together a little band, based on that?"
Soon after, they recruited singer Chhom Nimol, who had arrived in Los Angeles that same year from Cambodia, and Dengue Fever quickly attracted an audience for its adventurous music. The band is among the local headliners performing Saturday at the Eagle Rock Music Festival.
"I'm so glad that it's a really diverse group of people that come to the shows," says Holtzman, a recognizable figure onstage with a long, thick beard hanging over his chest. "Sometimes it's a college kid turning their parents onto it. One grandma brought her granddaughter to a show and she ended up jumping up onstage and singing with us.
"Sometimes you get Vietnam veterans who remember all that stuff or got married to somebody from that area. It's a really diverse group of people. It's not like a bunch of 15-year-old boys in black hoodie sweatshirts."
The six-piece act's newest album, last year's "The Deepest Lake," was named for a Siberian body of water and shows Dengue Fever further evolving its sound. No longer simply a tribute to the vibrant pop and rock of Cambodia, the band has long since begun making music that is distinctly its own. One song is "Rom Say Sok," a bouncy danceable track that collides timeless foreign pop with indie-rock drive, and harmonies sung in Khmer by Nimol and Holtzman.
The band's early live sets were once dominated by covers of vibrant Cambodian pop hits that first inspired them, but the musicians now give equal time onstage to originals from the band's five studio albums, with Nimol singing all in her native tongue.
"We have the original stuff from the '60s and early '70s that influenced us, but we're into all sorts of music," says Holtzman. "We don't shy away from bringing anything to the table. We don't worry about being purists. We do what we feel."
The band does its recording in a private studio in Los Angeles, where the songs emerge organically. "We'll just get together for a jam session to brainstorm new ideas," he explains. "Everyone brings a little something they've got going. Someone will start a little idea and we'll all start building on it, then we press 'record.'"
For the Eagle Rock Music Festival, the guitarist expects the band to stick with the Dengue Fever songs that are most direct and suited to a festival stage. The group played the same event back in 2007, and Holtzman lives nearby in Mount Washington, coming regularly to Eagle Rock for his groceries.
Local audiences were the first to embrace Dengue Fever, so he expects a friendly reception Saturday. "It should be," he says. "I don't think they'll be throwing bottles at us."
--
What: Dengue Fever at the Eagle Rock Music Festival
When: Saturday, Aug. 20; band plays at 7:40 p.m. as part of a day of music beginning at 4 p.m..
Where: Colorado Boulevard between Eagle Rock Boulevard and Argus Drive
Tickets: $10 general; $20 VIP.
More info: eaglerockmusicfestival.org
---