Music pioneer is seasoned and smart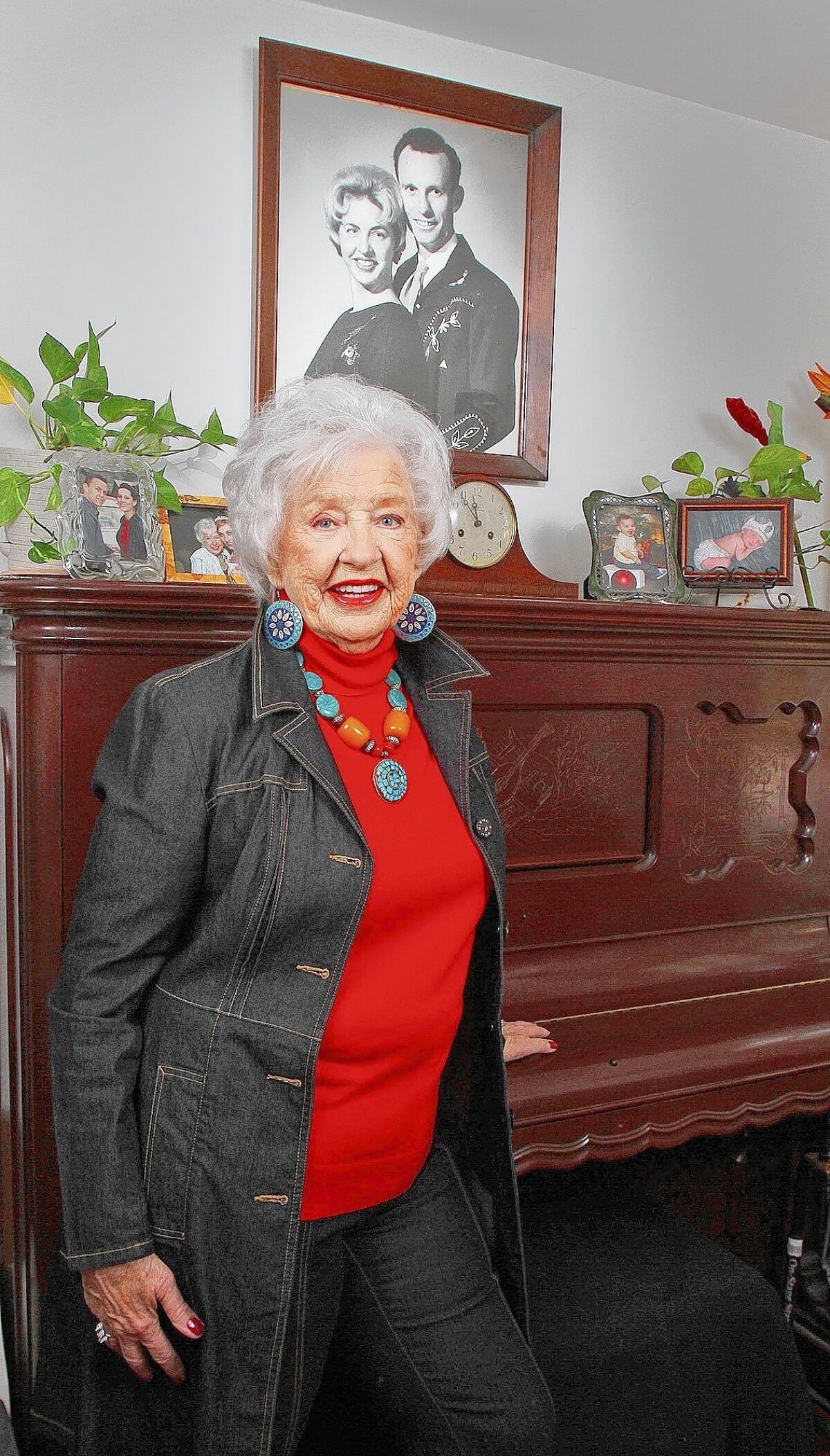 Sue Smart's birthday was three months ago, but she's still celebrating.
At 84, the Toluca Lake resident is rather busy in her 50th year as a country-music professional. A longtime fixture on the Bakersfield scene with her late husband Del, Smart has shared stages with the likes of Buck Owens and Red Simpson, booked names like LeAnn Rimes and Martina McBride into Southern California clubs, and performed on the Grand Ole Opry.
In May, Del and Sue's "Just Before Dawn" will be featured on the CD "The Other Side of Bakersfield: 1950s & '60s Rockers and Boppers from Nashville West," issued by the collectors label Bear Family.
"I have no plans to quit," Smart says with a youthful smile. Fresh from performing at a Bakersfield concert tribute to truckers-favorite Red Simpson, she sings every day "to keep in good shape. I enjoy singing, and I still like working the crowd. If there's one person out there who doesn't seem to be happy, you work them until you get a smile. You have to reach out and grab them!"
Smart has a history of reaching across musical borders. While most of today's country artists lust for success in the pop mainstream, she commenced her career by moving in the opposite direction. Raised in the depths of the Depression, the small-town Missouri girl moved with her husband to California in 1950, eventually settling in Inglewood, where she'd occasionally sing in a nightclub owned by the actress Esther Williams and her husband. The club's pianist thought enough of Sue's talent to recommend her as a replacement for one of the Andrews Sisters, who'd left the popular trio in 1951. Smart passed the audition, at Ciro's supper club on the Sunset Strip, and became one of three final three contenders — just as Patty Andrews decided to rejoin her siblings.
The Smarts moved to the San Joaquin Valley later in the '50s, where they recruited musicians and formed a duo, gigging relentlessly in bars and clubs from Bakersfield to Sacramento, then the epicenter of California's country-music explosion. "We sang the hits of the day," Sue explains. "Patsy Cline songs are my favorite," though daughter Delbi Smart says it's always her mom's soulful reading of "Tennessee Waltz" that still brings down the house.
Del and Sue made records too, half a dozen hardcore country singles on labels like Portland, Newhall, Three Star and Turquoise (the latter run by Bakersfield impresario Tumbleweed Turner, who sported a turquoise tooth). It was 1963's "We Could," written by Felice and Boudleaux Bryant (the Everly Bros.' "Bye Bye Love" and "Wake Up Little Susie"), that landed them on the Grand Ole Opry.
"We were on with Hank Snow and Marty Robbins," Smart explains. "And Del and I, being little country people, we asked Hank if his band would accompany us onstage. He said, 'My band don't play for nobody but me.' And Marty Robbins, bless his heart, when he heard this he said, 'You guys need a band? My band'll back you up.' He made us feel so welcome." The Smarts later bought Robbins' motor home, which they used to tour as far north as Canada and Alaska.
Despite Academy of Country Music nominations for Best New Vocal Group in 1964 and 1965, Del and Sue never hit it big. Instead, they carved out a solid, three-decade career as working musicians, committed ambassadors of the California country sound. In the early '70s, they took on Cliffie Stone as their manager; the Capitol Records talent scout who'd discovered Tennessee Ernie Ford, Molly Bee and Stan Freberg produced the Smarts' one album, Del & Sue Smart Singing Country Favorites. "The suit Del's wearing on the cover, Nudie made that," Smart recalls, referring to the legendary country-music outfitter whose store was long a North Hollywood landmark. "Betty Azevedo, Merle Haggard's secretary, made mine to go with his."
While they continued to perform, Del and Sue also became talent bookers, in 1976, bringing acts to such venues as Anaheim's Cowboy Boogie, San Bernardino's Branding Iron and Los Alamitos' Starting Gate. When Del died in 1984, Sue soldiered on until 1999, becoming one of the state's top country bookers — setting up some of the first California gigs for Rimes and McBride, Randy Travis, Toby Keith, Chely Wright and Kenny Chesney.
She may not have considered herself a feminist, but Sue was a pioneer. Negotiating with male club owners was no picnic, she acknowledges: "It was tough, but it was good because it made me tough. My acts were my kids, and I fought for them. I'm on Facebook now with a lot of them."
The forthcoming Bakersfield compilation is but one of many irons Sue Smart has in the fire these days. She's active in the online Global Women's Empowerment Network, an outgrowth of her recent work performing with Jackie 'Pink Lady' Goldberg's 'Rockin' With the Ages' senior-citizens shows. And she's started writing a book, about the glory days of the Bakersfield scene and her life in music.
She's done, and is doing, a lot. "But my proudest achievement," she beams, "is my children," referring to Daughter Delbi, a professional singer and vocal coach, and son Michael, a veteran Southern California country musician. Not surprisingly, they're preparing to accompany their mom on yet another project, planned for release this year: a new Sue Smart album. It's being produced by Delbi, with guitarist Eugene Moles, who's been a member of both Buck Owens' Buckaroos and Merle Haggard's Strangers.
At 84, what keeps her going? Quoting her friend Goldberg, Sue laughs, then says with confidence, "Get up, get out, and get a life!"
--
GENE SCULATTI is a music journalist.