Fiddler Brantley Kearns to perform in Burbank with the Bluegrass Ghosts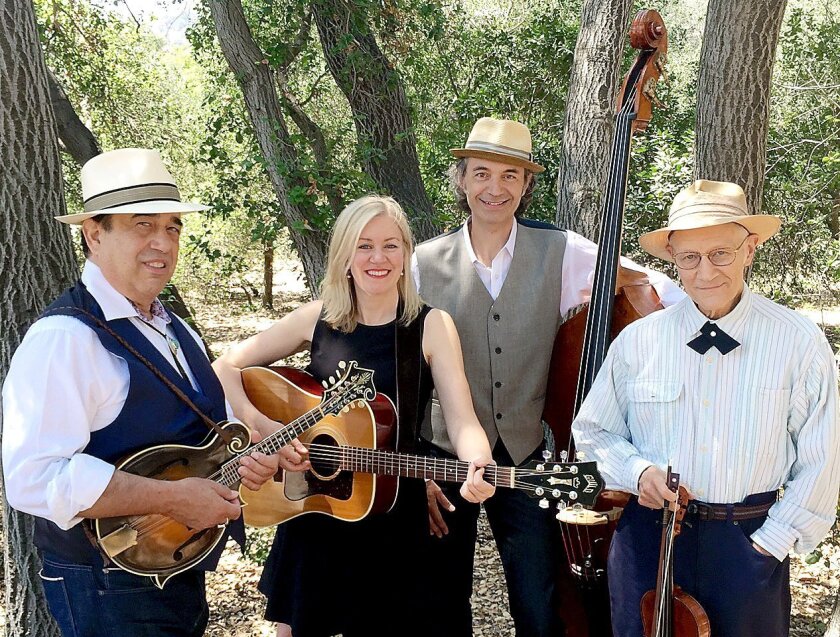 Brantley Kearns is one of the most remarkable performers in contemporary West Coast country.
His even-handed, deeply Southern aesthetic and colorful career credits as a session player and actor (he has worked with everyone from action star Steven Seagal to hip-hop mogul Dr. Dre) have long since established him as a singular force.
A fiddler of dazzling prowess and a vocalist whose expressive delivery and intuitive phrasing lends a song almost mystical depth, Kearns, who appears Sunday at Burbank's Viva Cantina, first came to local prominence in the mid-1980s when he, along with Grammy Award-winning producer-guitarist Pete Anderson anchored the band of then-unknown Dwight Yoakam.
"Before authenticity meant anything, Brantley Kearns was, and is, authentic," Anderson said. "He has always been an important figure on the L.A. music scene and we have been very lucky that he chose to call Southern California his home."
Kearns was born and raised in High Point, N.C., and began playing astonishingly early in life.
"On my fourth birthday, I got a little tin toy band outfit with a microscopic guitar, fiddle and banjo, and I just gravitated towards the fiddle," Kearns said. "My dad was from the country, a small town called Farmer, N.C., and he used to drag us all down there to the Grange Hall and we'd hear all these old-timey bands.
"They'd have three or four fiddles and a couple of guitars, at what they used to call 'string pulls' and there'd also be square dances with lots of people. That's how I started, hearing that and not long after my birthday, I got a little quarter size fiddle, and I started taking lessons."
He was onstage playing dances by age 11 and, following high school, drifted west, arriving in San Francisco circa 1970, where he studied drama at Oakland's Merritt College and San Francisco State College and easily established himself in the local bluegrass community.
Both interests quickly paid off — he was cast in Robert Altman's offbeat 1971 anti-western "McCabe and Mrs. Miller," and in 1975, began a long association, recording and performing, with esteemed East Coast folk-bluegrass star David Bromberg.
Subsequent musical alliances have included a fruitful stint with Outlaw shaman Billy Joe Shaver, sessions with a who's who of country (Bobbie Gentry, Aaron Tippin, Rose Maddox, Jim Stafford), but he never dropped his interest in acting, either, and often manages to combine both.
"I did five years on a touring theatrical production about the music of Johnny Cash, called 'Ring of Fire.' It was great. It just dried up this year. I haven't heard if they are gonna re-up it or not," Kearns said. "We started at a theater up in Thousand Oaks and kept going — our last shows were in St Louis and Cincinnati this past winter. That was a nice ride.
"Now I'm in this band called the Bluegrass Ghosts. We do Sunday afternoons down at Viva Cantina. The major-domo on that, Lance Bilitzer, is someone I have known him for a long time — we were playing on the street together in San Francisco 35 years ago!" Kearns said. "It's kind of an odd bluegrass band since there's no banjo in it, but we grind it out and polish up the edges."
Bluegrass has been a lifelong staple for Kearns, but he can go the distance in multiple genres.
"I like a lot of stuff, I lean towards Western swing, or I'll do standards. I like old Dixieland, 'Basin Street Blues,' trad jazz kind of stuff. I really like that, if I can find the people who can play it.
"These days it's like that old song, 'Drivin' My Life Away,' I am working a lot — people call and I just slavishly go," Kearns said. "Being able to play well is what keeps me going, turns me on. I go through periods where I really don't think I am playing that well and I go through periods where I know that I am — and then, it's exciting and just feels great. I love to play. Absolutely."
Who: Brantley Kearns
Where: Viva Cantina, 900 W. Riverside Dr., Burbank
When: Sunday, Nov. 1, 3 p.m.
Cost: Free
More info: (818) 848-8810, windsorlivemusic.com
--
JONNY WHITESIDE is a veteran music journalist based in Burbank and author of "Ramblin' Rose: the Life & Career of Rose Maddox" and "Cry: the Johnnie Ray Story."
---