Glendale Community College ranks highest in county in percentage of transfer students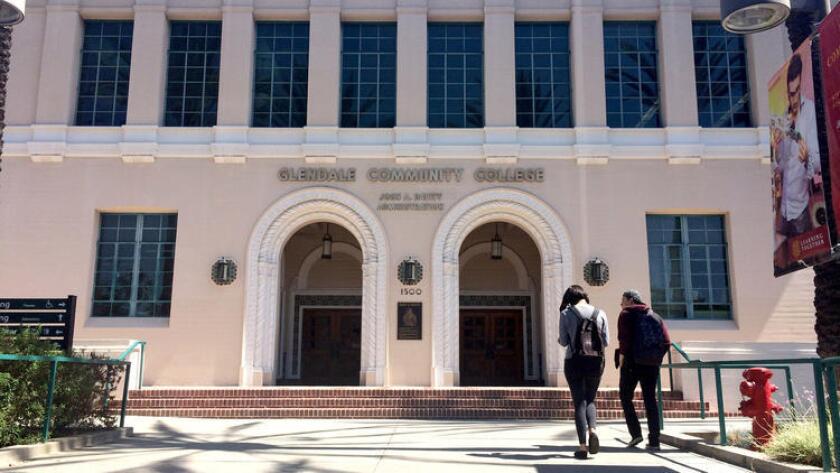 Among the 21 community colleges across Los Angeles County, Glendale Community College ranked at the top of the list in the percentage of students who transferred to four-year schools between 2008 and 2014.
During that time, 47.4% of Glendale Community College students transferred to four-year universities, compared to the 46.5% of students who transferred at Pasadena City College and the 44.8% at Santa Monica College, which ranked second and third, respectively, on the list.
Glendale Community College students fared better than their peers, as well as the state average, on several other key indicators of students' success when it came to students completing certificates or degrees or transferring to four-year schools, among other data that Edward Karpp, dean of research, planning and grants, monitors closely.
College officials are required to track various data by the California Community Colleges Chancellor's Office.
When officials tracked students' success at completing degrees or certificates and how that impacted whether they transferred to a four-year school, they found that 56% of students who earned degrees or certificates then transferred. That figure compares to the 47% state average.
Within Region 7, a group of 14 community colleges in Los Angeles, the average was 41%.
While those figures are encouraging to local college officials, they also see room for improvement when it comes to students who arrive on campus unprepared, according to the state's measure.
Between 2008 and 2014, just 40% of those unprepared students who enrolled at the Glendale campus went on to complete degrees or certificates, transfer to a four-year school or earn 60 or more transferable units within six years of starting their college career.
That 40% rate was only 1 percentage point above the state average, and the score placed Glendale Community College 39th in that category among the 112 community colleges in the state.
College trustee Anita Quinonez Gabrielian suggested that officials further examine how counselors on campus are addressing the needs of unprepared students.
"It's obvious to me, from the data, that it looks like they need more direction, more motivation, a little more clarity on how [their] success in college — if they follow this plan — will give them success after college," she said.
David Viar, the college's superintendent/president, said a variety of support programs are in place to address the gaps.
"That's where all the effort is really focused … to put in place a variety of support programs that will address the unprepared and try to find what works and what doesn't," he said.
--
Kelly Corrigan, kelly.corrigan@latimes.com
Twitter: @kellymcorrigan
---