Glendale Unified hires new superintendent Winfred Roberson Jr.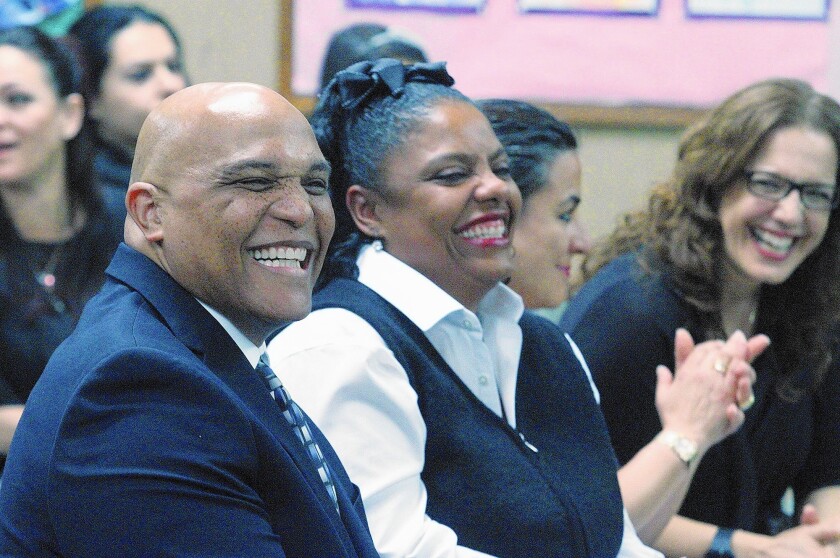 Winfred Roberson Jr. was hired Tuesday night as Glendale Unified's new superintendent, the first black leader of local schools in the district's more than 100-year history, following a unanimous vote by the Glendale Unified School Board.
Shortly after the board took its 5-0 vote, parents, educators and administrators in the district boardroom broke into applause.
"I'm humbled and honored to be here, and grateful," Roberson said at the podium after he was hired. "I know that communities are very proud of their schools … I know this community is very proud."
NEWSLETTER: Stay up to date with what's going on in the 818 >>
Roberson will oversee Glendale's 30 schools, with 26,200 students enrolled.
He will earn an annual base salary of $255,000 under the terms of his four-year contract, which ends on March 31, 2020.
His first day on the job will be April 1.
Roberson is the 17th superintendent to oversee Glendale schools, whose first superintendent, Richardson D. White, oversaw local schools beginning in 1913.
For school board members, who announced earlier this month that they made an offer to Roberson, the decision to hire him was one they easily agreed upon.
"I'm sincerely pleased and really optimistic about the future for all of us — employees, students, parents," said school board member Nayiri Nahabedian. "Good things are coming."
In addition to his base salary, Roberson, who said he plans to reside in Glendale, will receive a residency incentive of $1,000 for each month he lives within the school district's boundaries, according to his contract.
As superintendent of the Davis Joint Unified School District — a role he's held for the last six years — Roberson currently lives in Woodland, about 15 miles outside of Sacramento.
His contract also allows for a relocation stipend of up to $10,000 to cover the cost of hiring a moving company, as long as he moves to a residence within Glendale Unified.
School board member Greg Krikorian said the proximity with which Glendale's superintendent lives to local schools is an important part of his leadership role.
"We have such a rich history in Glendale and La Crescenta schools. It's vital that he's part of the community in so many aspects. Not only in the classroom but also after school and [during] evening activities, and to be engaged in that. We appreciate a superintendent living within our community and being close by," Krikorian said.
Roberson fills a role last occupied by Dick Sheehan, who was hired as superintendent of Covina-Valley Unified in May.
In the roughly eight months since Sheehan's departure, the school district was overseen by interim superintendents Donald Empey, Marc Winger and Joel Shawn.
Christine Walters, school board president, expressed relief at reaching the end of the search and also said she was confident in Roberson.
"We did a long search, and we did a thorough search, and we did a national search, and we think we definitely found the right person for the job. We're very excited," she said, before turning to Roberson. "Your passion for public education is exactly what we need here," she added.
--
Kelly Corrigan, kelly.corrigan@latimes.com
Twitter: @kellymcorrigan
---