Engineers work to inspire during Maker Faire at Glendale Community College
For Luis Dominguez, the dream of becoming an engineer started in middle school when he opened a book about airplanes.
"I just kept reading about planes … and then eventually at one point I decided, 'I want to build planes,'" he said.
NEWSLETTER: Get the latest headlines from the 818 straight to your inbox >>
Dominguez studied mechanical engineering and "got lucky" with an internship at NASA's Jet Propulsion Laboratory in Pasadena. That turned into a full-time job, which has given him the opportunity to work on projects including the Mars Curiosity Rover and the SMAP satellite mission.
That's one reason he likes taking part in outreach events like the Society of Hispanic Professional Engineers' Maker Faire at Glendale Community College, where he encourages students to apply for positions that may seem like a long shot, but, like in his case, could very well lead to great things.
"You never know [until] you try," Dominguez said.
The Saturday event brought out professionals in the engineering field, as well as engineering students from nearby universities, who set up booths at the college's student center to talk with high school and college students about the possibilities a career in the discipline can offer.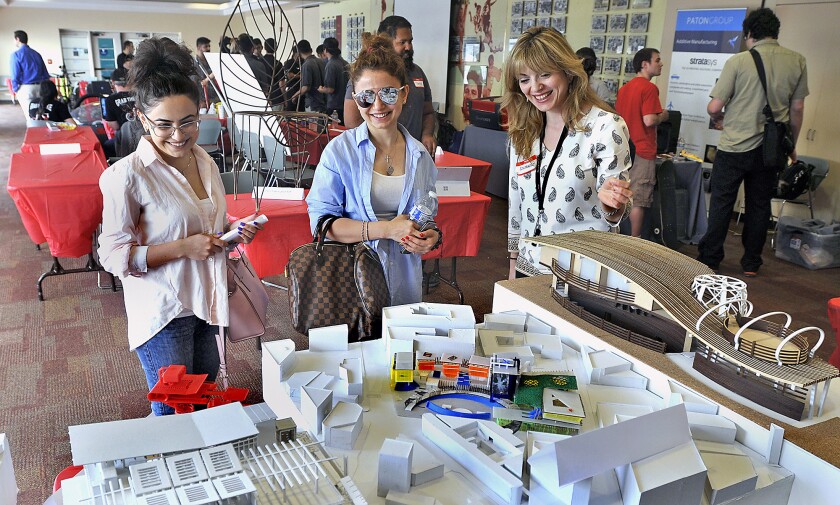 GCC student Jose Martinez, who is president of the school's chapter of the Society of Hispanic Professional Engineers, said the goal of the first-year event, and the organization behind it, was to try to be mentors to students and promote engineering.
"A lot of students … are not encouraged to pursue engineering because of the hard math and physics courses," he said. "We want to show them that it's not only that."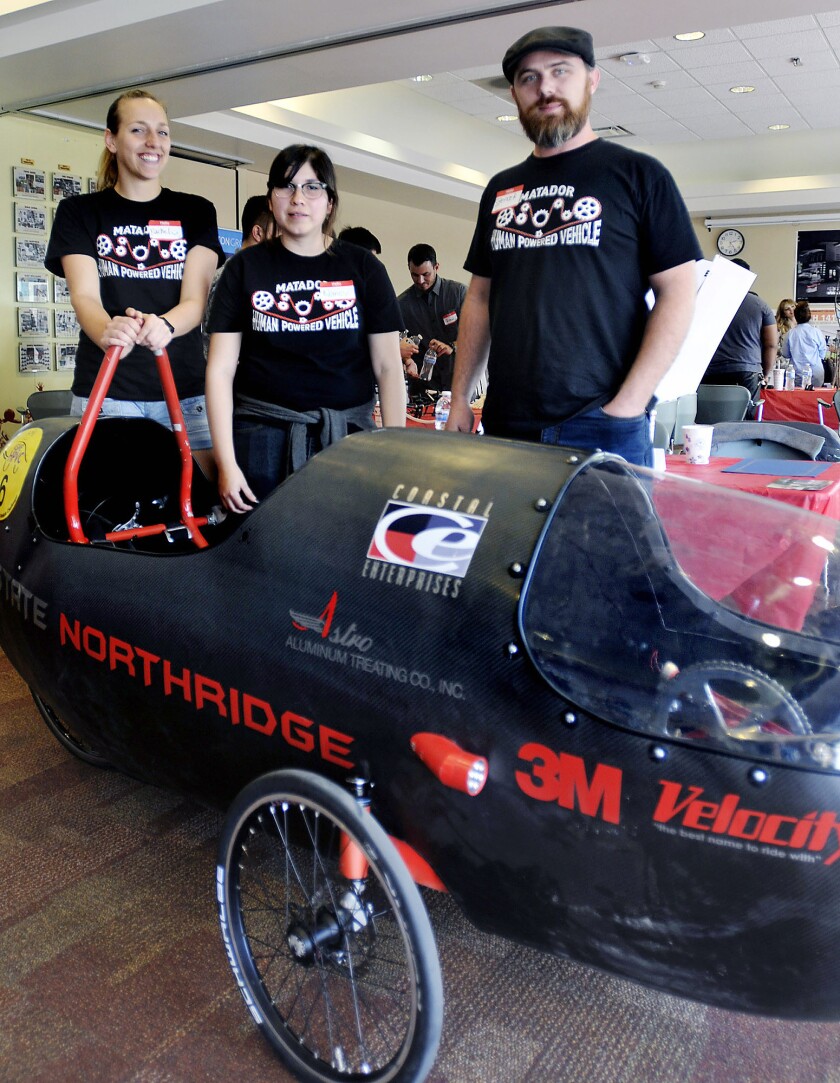 Spencer Steed, an engineering student at California State University, Northridge, was one of the representatives from the Matador Pedal Sports team, which brought a three-wheeled "human-powered vehicle" built last year.
He said the reactions from and interactions with students had been "positive and exciting."
Other industries showcased at the event included drones, 3-D printing, aerospace, architecture and interior design.
Glendale Community College student Hiran, 19, is looking to go into robotics and enjoyed her time at the faire.
"It's been interesting," she said. "It's a good place to widen your horizons."
Hiran said fellow students should not be discouraged by the math involved in engineering
"If you have the passion and the interest in it, you should come by and see what you can do. There's always a job for everyone."
Dominguez, the son of Mexican and Honduran immigrants, said he hopes to inspire fellow Hispanic students to pursue engineering, since the future of America depends on it.
"The Hispanic community doesn't have that many engineers in the workforce," he said. "It's important to try and foster growth in that respect."
--
Ryan Fonseca, ryan.fonseca@latimes.com
Twitter: @RyFons
--
ALSO:
Glendale pair convicted of laundering more than $1 million in Medicare fraud
Glendale City Council shies from proposed location of Armenian American Museum
Four suspects charged in connection to Glendale street robberies
---