Young orchestra in need of instruments as it gears up for spring benefit concert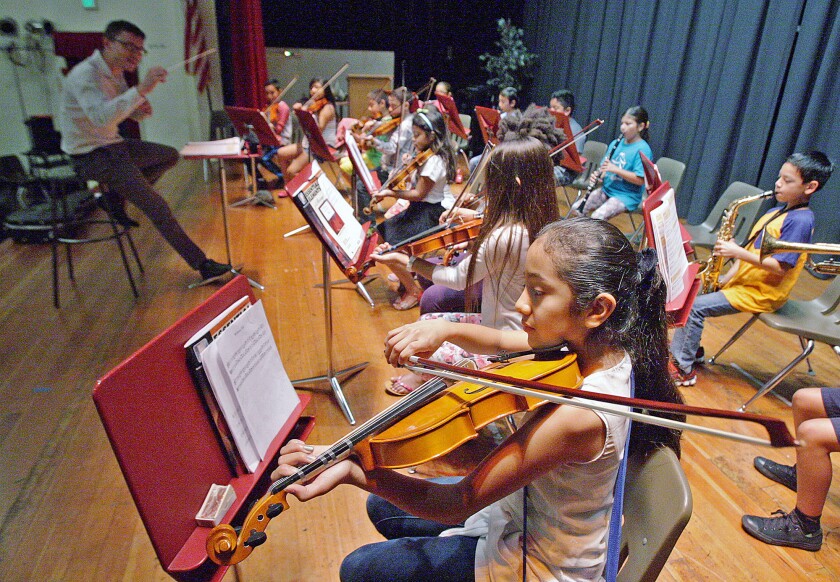 As the Caesura Youth Orchestra gears up to perform in what will be its biggest performance yet — a springtime benefit concert at Glendale Community College — the group's founder says the nearly 40 students in the program could benefit from donated instruments.
Caesura Youth Orchestra provides extensive free music education to South Glendale students, who otherwise would not have access to the training.
NEWSLETTER: Stay up to date with what's going on in the 818 >>
The students, who range in age from 9 to 12, meet two hours a day, four days a week, at Cerritos Elementary School, learning notes at first and eventually playing entire pieces.
"Most of them have no experience," Ferguson said. "They have no idea what a quarter note is to begin with. We try and help them recognize the various cultures and everything that's involved with world music."
Caesura Youth Orchestra began in spring, and some students participated in a first summer camp that led up to a performance alongside La Sierra University music students.
It was Caesura's first major performance, one that particularly amazed the players' parents, Ferguson said.
Learning music is not the only perk. Studying music has helped some students — who are recommended to the orchestra by teachers — overcome trouble concentrating and other challenges.
Ferguson was in awe of one talkative student, who last week performed Beethoven's "Ode to Joy" with a concentration level not previously exhibited.
"Every time he turned around, he would be talking to somebody else," he said. "Last week he had a real breakthrough. He played the piece perfectly. He just surprised me. These are the kids that get bored easily in other classes. We work to keep these kids engaged."
The Glendale Community College performance will take place on a yet-to-be finalized date in May. The benefit concert will help to cover the cost of providing stipends to the orchestra's three main teachers and two substitutes.
In the meantime, the orchestra could use more instruments, as students who joined in January — and are new to playing music — will be ready to transition from recorders to string and woodwind instruments.
Either Glendale's Metzler Violin Shop or Charles Music Store will restore and clean donated pieces, Ferguson said, adding, "Any instrument that people have that are sitting around, we'd be happy to have."
For information on how to donate instruments, visit www.mycyo.org or email Ferguson at dave@mycyo.org.
--
Kelly Corrigan, kelly.corrigan@latimes.com
Twitter: @kellymcorrigan
--
Glendale man arrested after allegedly climbing into neighbor's home and touching her while she slept
YMCA of the Foothills to lead CV Alliance
In response to rise in home break-ins, Glendale police use 'unorthodox' ways to address burglaries
---