Hard work pays off for Glendale High School dance team
The Glendale High dance team brought home three first-place titles and two second-place ones while competing in the USA Dance Nationals last weekend in Anaheim.
For the 17th time, Glendale High students won first place for their co-ed dance performance.
"It's a year's worth of hard work for three minutes on the floor," said senior Micah Caro.
"We all got that sense of relief that every senior gets — we brought home another title," fellow senior Andrew Garcia said. "We had the best year we could possibly have. It just made us feel very appreciative for all of our coaches because of all of the hard work that we have to put into these routines. It all paid off."
Andrew Garcia flips during the all-male routine during USA Nationals.
(Photo by Mike Lancaster)
Glendale High Dance Director Kelly Palmer gives the all-male team a standing ovation prior to their performance last weekend in Anaheim.
(Photo by Mike Lancaster)
Alyssa Cancilla applies eye makeup before a routine.
(Photo by Mike Lancaster)
Pauline Saligumba and Jeremiah Caro perform as part of the co-ed dance routine.
(Photo by Mike Lancaster)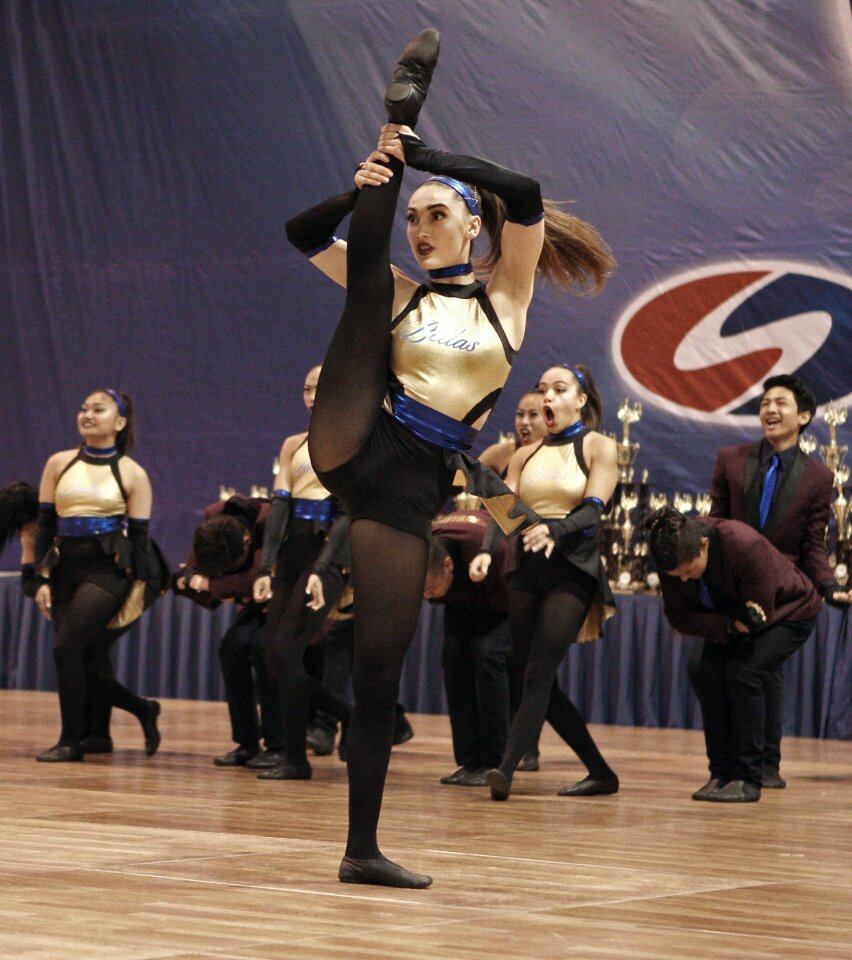 Alyssa Cancilla is front and center doing a pencil turn during the co-ed routine.
(Photo by Mike Lancaster)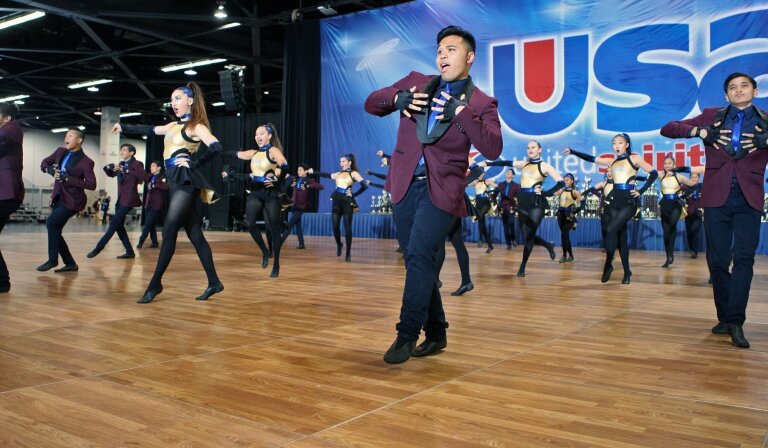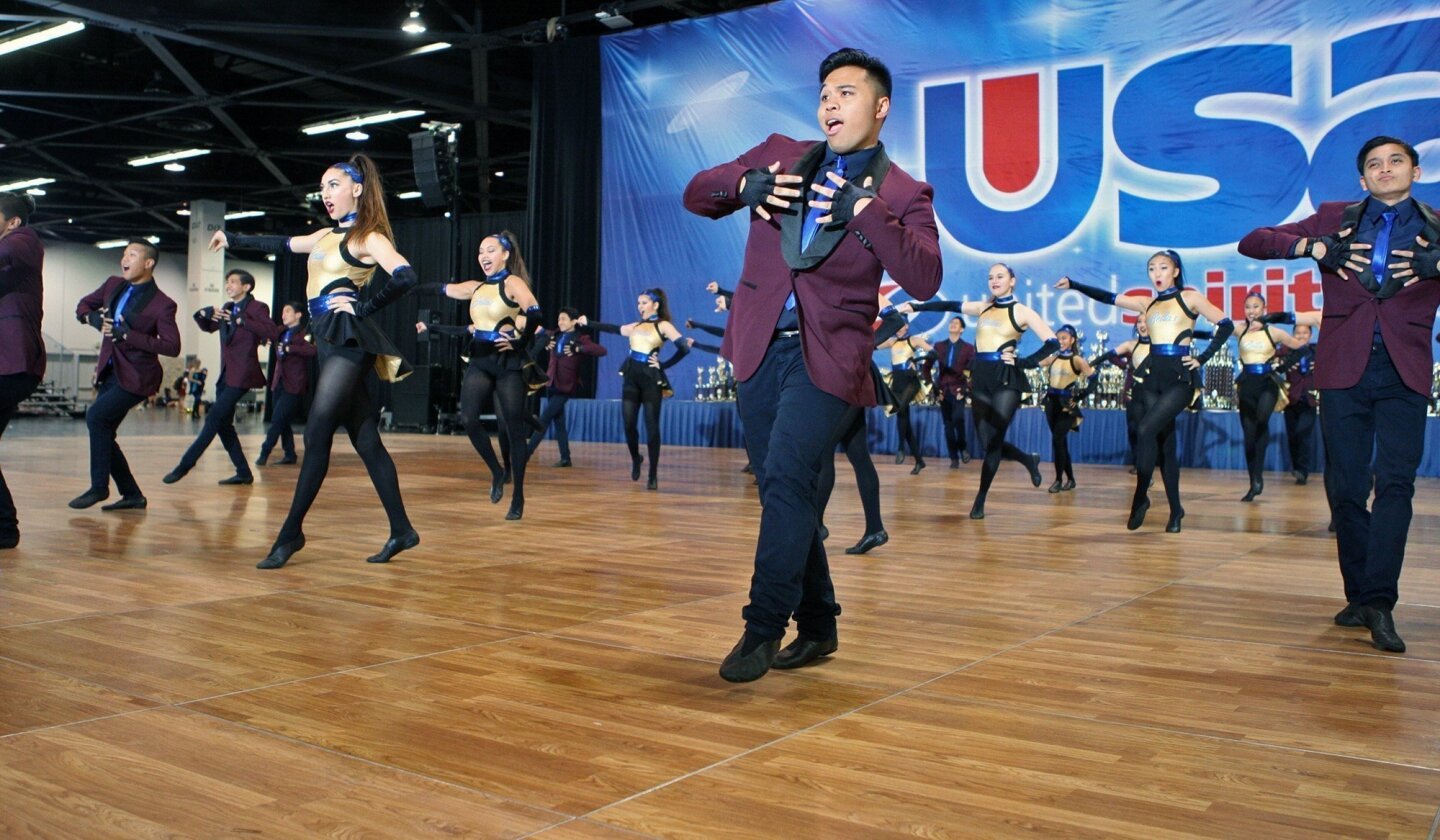 Glendale High School's co-ed dance team performs during USA Nationals with Ryan Fernandez, center.
(Photo by Mike Lancaster)
The team also won first place in the large dance/drill category and first place in the small dance/drill event.
They placed second in the large hip-hop category, and the young men on the team won second place in the all-male dance competition.
Overall, the dancers said they didn't let the anticipation get to them as they waited for the music to start for their routines before a panel of judges.
"It feels like forever," Andrew said of the quiet moments the dancers experience before the music begins. "Everything just runs through your head in those five seconds. Like, 'I need to remember this'; 'I need to make eye contact for this part.'"
Leading up to the competition, the dancers practiced for two hours every weekday morning and three hours after school.
At the beginning of the school year, the team adopted the theme of "love" for the year, using the hashtag #love16, said Sean Koro, one of the coaches,.
"It has been the basis of our team structure — having that kind of camaraderie and building from that," he said. "You could say it's simplistic, but it gave them something to believe in."
On Wednesday morning, dance team members were back in the gym rehearsing for their upcoming performance next month at Glendale High.
Director Kelly Palmer said that in her 20 years of directing the program, this year's team has proved to be the most consistent.
"Dance team has to be a huge part of your life if you want to do well. You have to give it a lot of time. It's not like another sport that's in season for a part of the year. We take two weeks off the whole year. We take one week off in summer and one at Christmas," Palmer said.
"It requires a very interesting kid to buy into this program. They're learning to get up every day and go to work. You have your family, you have your friends, you have your work — and that's the team. It's as big as part of their life as anything. The biggest thing is they're learning to start with something that's not great and turn it into something that's great," she added
The team's upcoming dance performance will be presented from 7 to 9 p.m. on April 14 and 15 in the John Wayne Performing Arts Center, 1440 E. Broadway. Tickets cost $12 at the door.
--
Kelly Corrigan, kelly.corrigan@latimes.com
Twitter: @kellymcorrigan
--
ALSO:
Hopefuls for L.A. County supervisor seat speak at Glendale forum
New names pitched to Bob Hope Airport officials in effort to attract more passengers
---