Graduation rate at Glendale's high schools tops 90%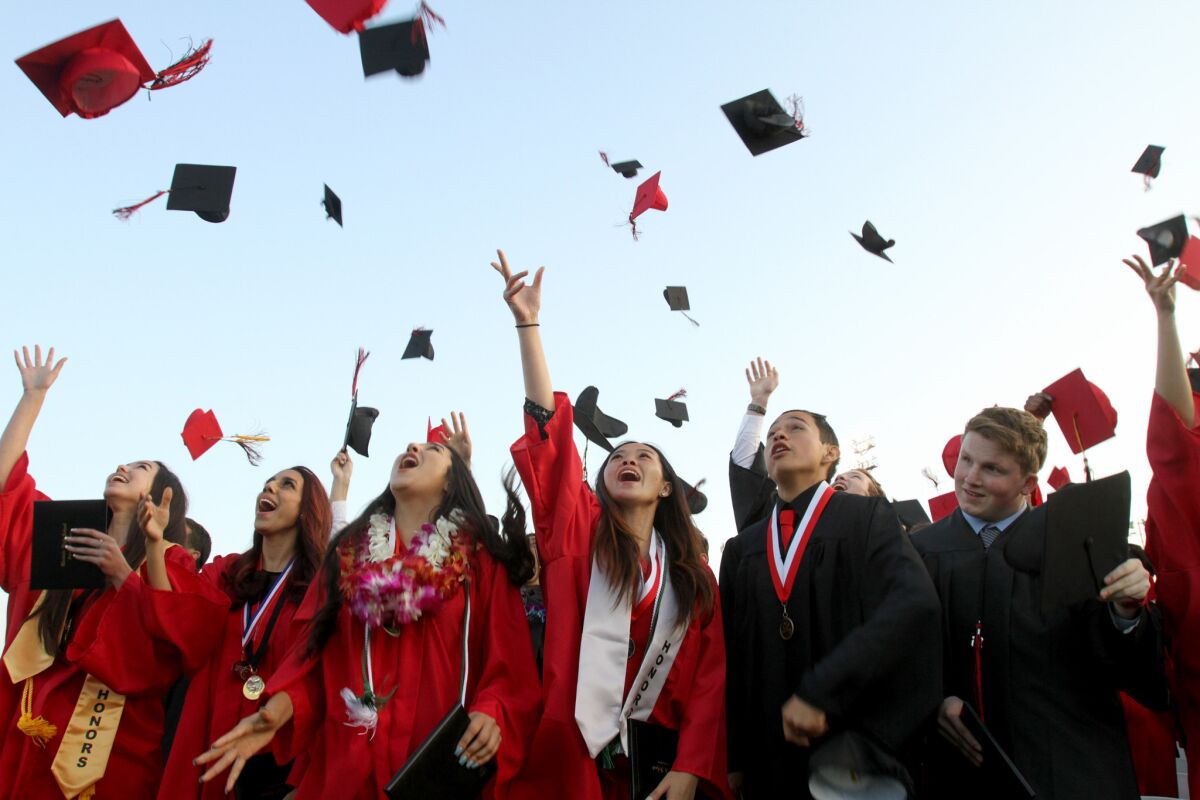 The rate of students graduating from Glendale's four comprehensive high schools continues to hold steady, according to data released by California education officials this week.
The data is part of a statewide effort to track students from the time they enter high school until graduation day.
NEWSLETTER: Stay up to date with what's going on in the 818 >>
The most recent statistics are tied to students who entered their freshman year during the 2011-12 academic year and were in the graduating class of 2015.
Of Glendale's comprehensive high schools, Clark Magnet High School, a science and technology magnet, reported the highest graduation rate — 98.9% of 262 students.
Crescenta Valley High reported a 97.5% graduation rate after following 709 students over the four-year span.
Meanwhile, of the 384 students officials tracked at Herbert Hoover High, 92.7% earned their diplomas.
That left Glendale High, with 655 students in its cohort, with the lowest graduation rate in the district at 92.4%.
The recent data is similar to rates each of the schools reported in the prior year for the students who were part of the class of 2014.
That year, Clark Magnet also reported the highest graduation rate at 98.8% followed by Crescenta Valley High at 98.3%, Hoover High at 94.3% and Glendale High at 92.3%.
Join the conversation on Facebook >>
According to the most recent data, roughly half of Glendale Unified's class of 2015, or 50.4%, completed all necessary courses required to attend UC or Cal State campuses.
In addition, female students completed those courses at a higher rate than males, with 57.1% of females having taken the courses compared to the 43.6% of males.
--
Kelly Corrigan, kelly.corrigan@latimes.com
Twitter: @kellymcorrigan
--
ALSO:
Stars and passion for learning align at Glendale Community College planetarium
Glendale school board sets aside $40M for campus upgrades, maintenance through 2023
Glendale student takes honorable mention for classical music performance
---