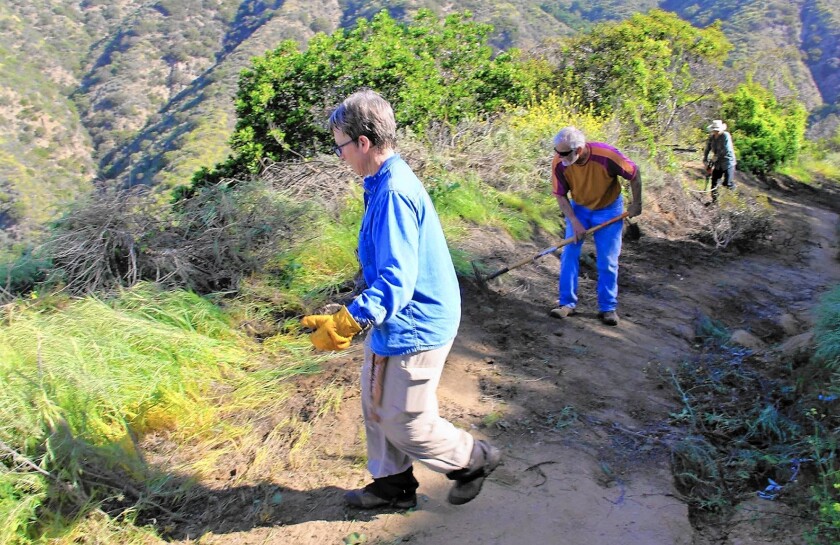 A small band of volunteers spruced up part of a Brand Park trail over the weekend to make it safer for hikers.
They spent part of Saturday morning clearing brush to help widen a 100-foot stretch of the Brand Lateral Trail and, most importantly, used dirt to fill in ruts created by water.
"[Ruts], in essence, cut a small canyon 3 to 6 inches deep. You can twist an ankle in them," said Stephen Webber, one of the volunteers who lives near the park.
NEWSLETTER: Stay up to date with what's going on in the 818 >>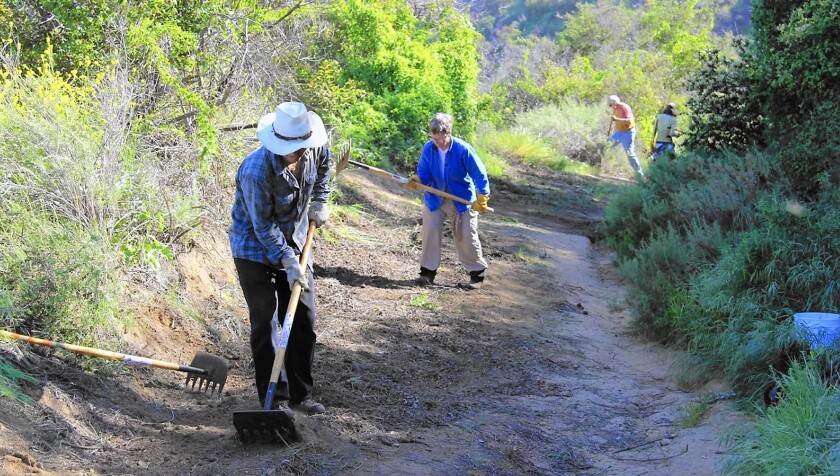 Webber first approached the city's Parks, Recreation and Community Services Commission and told commissioners about the poor shape of the trail, mainly due to water damage from storms over the years.
The city decided to help by lending tools, and Marc Stirdivant, a senior administrative analyst with the parks department, volunteered his time.
"We worked for three hours, but we really made a significant difference," he said.
The Brand Park effort was a spinoff of ongoing monthly cleanups and tree plantings at Deukmejian Wilderness Park and the L.A. Riverwalk, Stirdivant said.
He said he was expecting a bigger turnout on Saturday by residents living near the park, but hopes more volunteers will come at the next cleanup effort, which will likely be held in May.
About 40 helpers usually show up for the Deukmejian cleanups, most likely because people know it's held every month, Stirdivant said.
Join the conversation on Facebook >>
The Brand Lateral leads all the way to Seven Tree Knoll with its views of the Santa Monica Mountains, the San Fernando Valley and across the San Gabriel Valley.
The area that was cleaned up sees the most action along the Brand Lateral, which usually has about 500 hikers pass through every weekend, Webber said.
"Overgrown brush was removed, and erosion damage was repaired, allowing the trail to be widened and smoothed," Webber said. "The repaired area … provides hikers a safer and more inviting trail."
However, there's much more of the Brand Lateral that can use some attention, he added.
--
Arin Mikailian, arin.mikailian@latimes.com
Twitter: @ArinMikailian
--
ALSO:
Glendale's 15th annual Cesar Chavez celebration draws hundreds
On the Town: Soroptimists salute courageous women
---