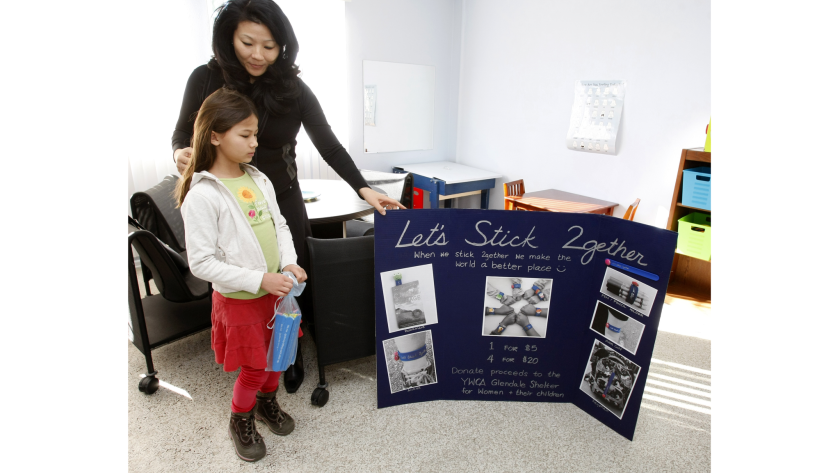 A third-grade student who made bracelets and sold them at the Montrose Harvest Market donated her earnings — $625 — to the YWCA in Glendale last week.
The bracelets Amber Mase made featuring colorful erasers in the shapes of cartoons and animals can also be used as anklets, bookmarks or pen holders.
But for Amber, her product's key purpose is to serve as conversation starters.
"When I was new to the school, I didn't know anybody, and I was afraid I was going to get bullied," she recalled.
She figured the bracelets could help start conversations, ignite friendships and prevent bullying.
Join the conversation on Facebook >>
Without the cheerful pigs, ducks or frogs featured on each of the bracelets, they "would be just a bracelet, and they wouldn't be so much a conversation starter," Amber said.
She came up with the idea after participating in an after-school club run by the nonprofit School-X at La Cañada Elementary School.
Eric Lin, program director for School-X, along with Zach Jennings, director of education for the nonprofit, wanted to teach students entrepreneurial skills and the importance of giving back.
Amber was one of more than 30 students who went on to sell products they designed at the farmers market.
The items included baked goods, bookmarks, screen-printed T-shirts and blankets.
"This shows the potential that these students have," Jennings said of Amber's bracelets, which she sold for $5 each.
Lin said that Amber overcame her shyness to promote her bracelets at the market, where she came out of her shell with customers.
"She really transformed herself from a shy little girl to somebody who can really sell her idea," Lin said.
After taking a tour of the YWCA, Amber said she knew it would be the best place to deliver her donation to help children and women.
Tara Peterson, the YWCA's executive director, said she was grateful for both the donation and the fact that the project served as a self-esteem builder.
"If we're able to give young girls the skills to succeed, to build self-esteem … we really believe that's a tool in order to prevent violence against women, in having strong women," Peterson said. "The other part is raising awareness, that there is a connection between bullying and domestic violence, and if we can reduce bullying, and if we can reduce unhealthy relationships at a young age, and teach kids how to interact with each other in a positive environment, then that's ultimately going to prevent domestic violence."
--
Kelly Corrigan, kelly.corrigan@latimes.com
Twitter: @kellymcorrigan
---