Glendale wants to make it easier to reward citizens who help catch hit-and-run drivers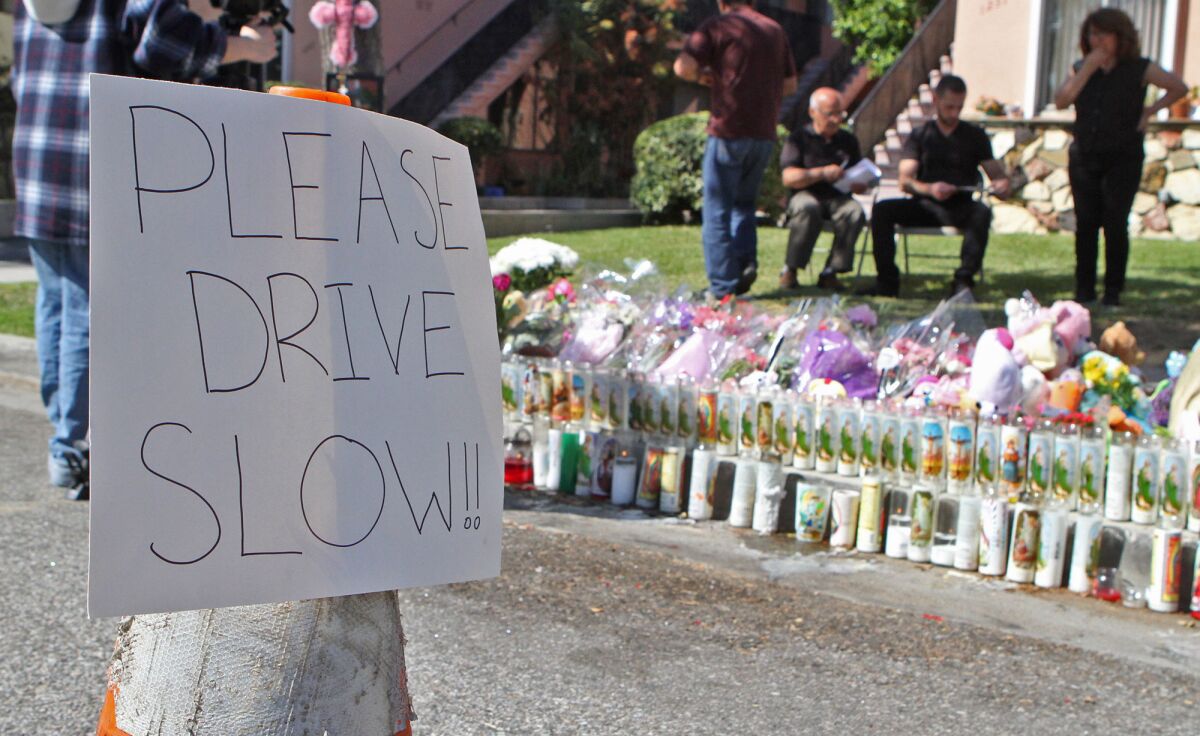 Rewards to catch hit-and-run drivers may be offered more quickly in the future as an effort to boost the chances of making an arrest.
The City Council on Tuesday introduced an ordinance that would authorize the city manager to offer a cash reward for information that results in a suspect's arrest.
Rewards are paid for through the city's General Fund, can be no more than $50,000 and are only given after a conviction has been made.
NEWSLETTER: Stay up to date with what's going on in the 818 >>
The current process requires approval from the City Council to release hit-and-run rewards.
Giving City Manager Scott Ochoa the ability to issue the rewards — after conferring with the mayor — can be critical in terms of timing. The first several hours after a hit-and-run are the most important for gathering evidence, according to a city staff report.
Police Chief Robert Castro said the updated process could lead to quicker arrests and serve as another tool for police.
This could change the culture of driving and driving away from a human being that was hit.
— Glendale City Councilwoman Paula Devine
"Somebody may be willing to give someone up if they were involved in a hit-and-run if there was some kind of financial attachment," he said.
Castro added that in the past 12 months, there have been 51 hit-and-run incidents where someone was injured. Only four of those investigations have led to an arrest.
Councilwoman Paula Devine said the approach may have an additional benefit because it could remind motorists not to flee the scene after an accident.
"Maybe we can solve and prevent hit-and-runs if drivers know all ears and eyes are on them," she said. "This could change the culture of driving and driving away from a human being that was hit."
Castro said a faster time frame for offering rewards could also be used for other serious crimes.
One of the public speakers about the proposed ordinance was a hit-and-run victim who lost his leg in a pedestrian collision just outside of Glendale.
In 2013, Damon Keavitt was riding his bicycle when he was hit by a light-colored minivan on Zoo Drive, and he was dragged 600 feet.
He broke 20 bones and had part of his right leg amputated.
Keavitt now gets around with a prosthesis and is riding his bike again as well as helping other cities pass laws to help catch hit-and-run drivers.
He had some advice for council.
"You need a PR campaign [for the hit-and-run rewards]," Keavitt said. "Unless you have a PR campaign, that makes it all for naught."
City spokesman Tom Lorenz said there is a media plan that involves social media and reaching out to news outlets.
"What our media plan will be is not to only continue to push and make people aware of what happened, but also engage those individuals who have heard something to say something," he said.
--
Arin Mikailian, arin.mikailian@latimes.com
Twitter: @ArinMikailian
ALSO:
Gov. Brown signs Gatto's bill to create hit-and-run driver alerts
City Council backs Glendale police chief's hit-and-run reward program plan
---