A $16-million plan to pay for new parks, soccer fields and additional amenities at existing parks over the next few years was approved by the Glendale City Council on Tuesday.
The funding comes from development-impact fees paid by developers for the more than 3,000 apartment units in downtown which have either opened to renters, are under construction or are in the pipeline.
NEWSLETTER: Stay up to date with what's going on in the 818 >>
With a 5-0 vote, a dozen projects were given the green light, including one of the biggest efforts, the conversion of grass fields at Wilson Middle School and Columbus Elementary School into artificial turf playgrounds and soccer fields to be open to the public.
Combined, the latter come with a price tag of about $8.5 million and will likely be completed by 2018.
"We're turning their school yards into open park land," said Councilman Vartan Gharpetian. "Basically, after school is over for the day, the community can use [the playgrounds and soccer fields]."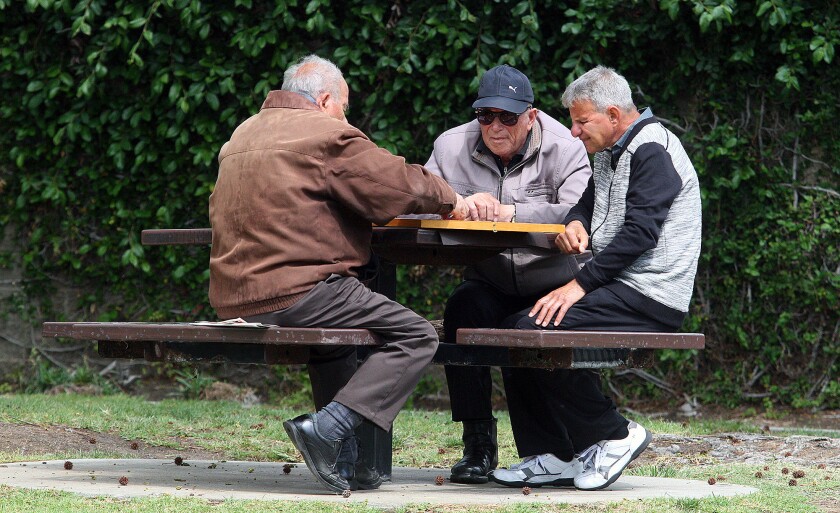 AYSO soccer teams can also use the fields, he said, adding that the amenities will open to the public throughout the weekends.
Another new soccer field will be part of a $4.5-million restoration effort at Fremont Park.
The development-impact-fee fund was established in 2007 and typically generates $1 million to $2 million a year, but that number recently spiked because of the apartment building boom downtown.
Smaller park projects include shade structures at Maple Park that will cost about $174,000. A restroom building — to cost $265,000 — will also be built at Wilson Mini Park, a site that's frequented by many senior citizens, said Councilman Zareh Sinanyan.
"We know how much usage Wilson Park gets. The elderly go there and, to not have a bathroom there is just cruel and unusual," he said.
It's important that we make sure whatever parkland we do have is as usable and functional as possible.
Glendale City Councilwoman Laura Friedman
Both the shade structures and the restroom building will be completed by the end of this year, said Jess Duran, the city's community services and parks director.
The initial goal of the development-impact fees was for the money to be spent in and near downtown as well as central and south Glendale, the areas likely to be most affected by the incoming developments.
City staffers said they consider the Wilson and Columbus projects to be in central Glendale.
However, some projects are well outside those boundaries, such as a new all-inclusive playground with equipment for disabled children and a community room at Verdugo Park in north Glendale, costing roughly $4.3 million.
Resident Darrel Ford spoke critically of the plan during the council meeting, saying the city should be acquiring more property in south Glendale and turning it into park space.
"This is supposed to be an 18-hour city — live, work, play. Not live, work and drive somewhere else to play," he said.
Duran said, however, that acquiring property and converting it into park space would eat up a bulk of the development-impact-fee account.
"If we had $25 million, then that might be different," he said in a phone interview after the meeting.
Councilwoman Laura Friedman pointed out during the meeting the significance of taking care of what's already used by the public.
"It's important that we make sure whatever parkland we do have is as usable and functional as possible," she said.
The only proposed funding appropriation that was not approved was to convert a section of Verdugo Park into an artificial turf soccer field. Council members agreed to remove that potential appropriation because it wouldn't be a good fit for the site.
"[Verdugo Park] is such a gem and has such a unique feeling to it … I don't think we have that many parks that have flat, grassy land with sycamore trees and some oak trees," Friedman said. "It's very special."
Development-impact fees can only be spent on creating new park space and amenities at existing parks, not for maintenance, according to state law.
Striking the Verdugo Park soccer field project saves about $2 million in impact fees, which makes the fund break even. If the field was to be built, all the projects would have cost about $18 million altogether, which exceeds the $16 million currently in the account.
Because the fund will continue to generate $1 million to $2 million annually, more money will be there for future projects, Duran said.
--
Arin Mikailian, arin.mikailian@latimes.com
Twitter: @ArinMikailian
--
ALSO:
Albertsons reopens its doors on Foothill Boulevard
Glendale's 15th annual Cesar Chavez celebration draws hundreds
Annual Salvation Army Hoop Heroes basketball game set for Sunday
---