Several eateries to pull up a chair at new development in downtown Glendale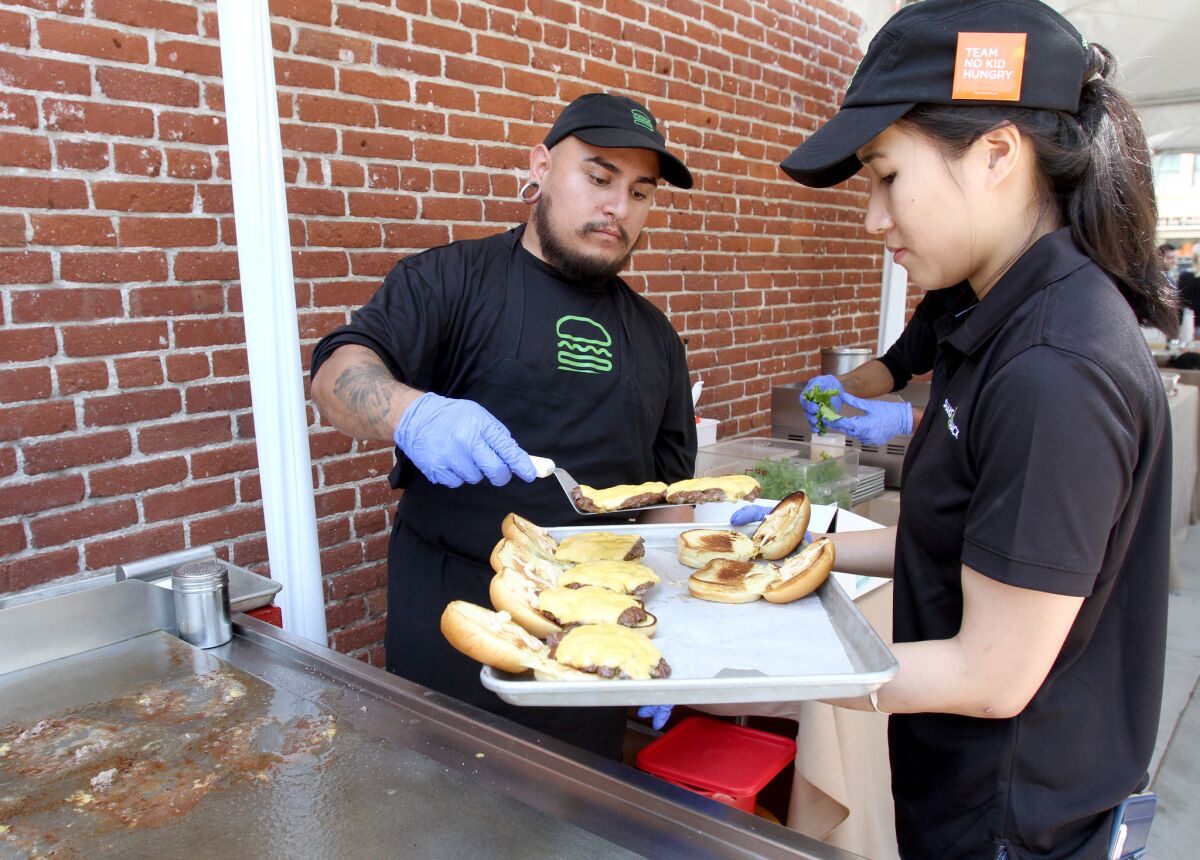 Four popular eateries, including breakfast sandwich spot Eggslut and Philz Coffee, will be joining burger chain Shake Shack in a new downtown Glendale development this fall.
Caruso Affiliated officials said last year the company was constructing a retail space solely for restaurants at the corner of Brand Boulevard and Colorado Street. Shake Shack was announced as the first tenant in December.
NEWSLETTER: Stay up to date with what's going on in the 818 >>
Now under construction, the building at 252 S. Brand Blvd. will also be home to Greenleaf Gourmet Chopshop and Mainland Poke Shop as well as the other three eateries.
City officials and some community members on Thursday were invited to taste samples from the incoming restaurants at the new pedestrian paseo next to the Museum of Neon Art and just a few doors down from 252 S. Brand.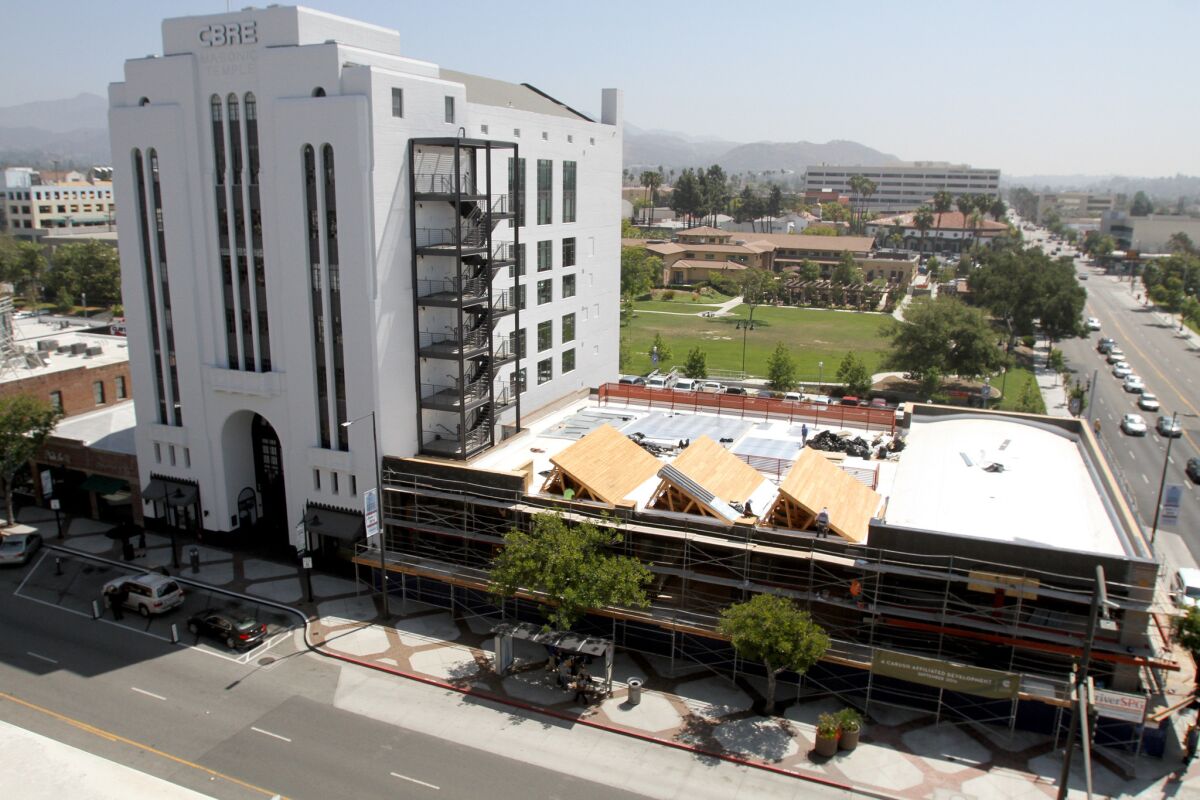 All of the restaurants are expected to open around September, said Kloe Colacarro, head of leasing for Caruso Affiliated.
She said the goal was to arrange a lineup of offerings that would also appeal to residents living in nearby neighborhoods such as Silver Lake and Los Feliz.
"[The restaurants are] 'cult cool' brands with intense following and so, to pair them with each other, for us, just makes it more exciting," Colacarro said.
And nearly all of the eateries are new to Southern California. The first Shake Shack in California opened in West Hollywood a few months ago, and Glendale will be the second to offer burgers, crinkle cut fries and frozen custard from the trendy restaurant.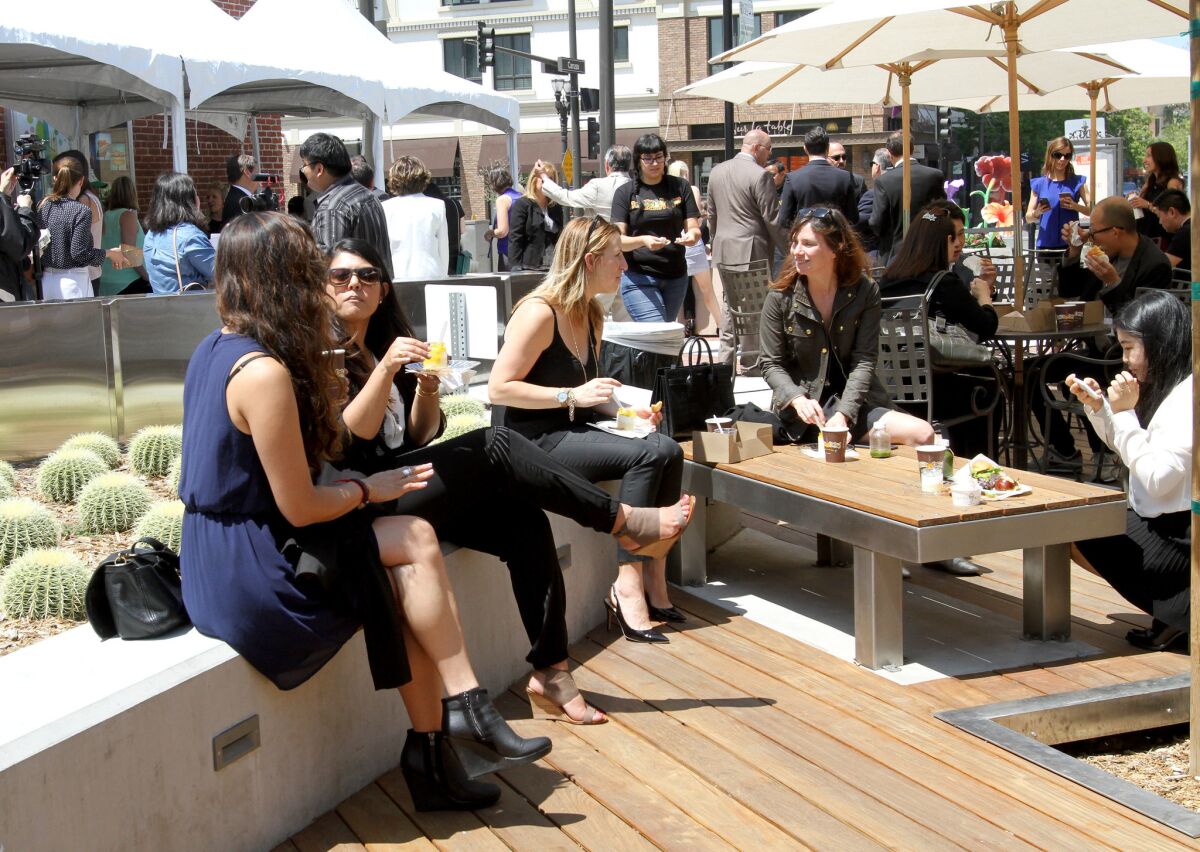 While the burger spot is one of the most popular on the East Coast, Mike Tuiach, Shake Shack's area director, said there won't be a rivalry with West Coast staple In-N-Out Burger, which has a location just down the street on Brand.
"[In-N-Out] pretty much invented the roadside burger stand … They inspired what we do," he said. "It's great to be in the same territory as them."
Philz Coffee, founded in San Francisco, has a handful of stores in the Southland.
An employee said one of the ways to enjoy the store's cup of joe is by having it "Philz's way" — based on a suggestion from owner Phil Jaber — which is medium sweet with medium cream.
Eggslut's most well-known location is at the Grand Central Market in downtown Los Angeles.
Mayor Paula Devine said the lineup of new restaurants will have something for everyone.
"I think these unique eateries are going to add so much of a dynamic to our downtown for young people, older people, for families," she said. "It's going to be a real boon for our downtown."
Devine acknowledged, however, that having highly popular spots such as Shake Shack and Eggslut moving into the city may raise a "red flag" in terms of needing more parking.
The Caruso Affiliated project will offer 32 spaces in the rear, but Devine said the city could be looking into adding more parking in downtown in the future.
"It isn't like we haven't been considering it or looking into locations currently," she said. "It's definitely looming on the horizon because Glendale is becoming a destination."
--
Arin Mikailian, arin.mikailian@latimes.com
Twitter: @ArinMikailian