Glendale Housing Authority declines to change point system for selecting Artists Colony tenants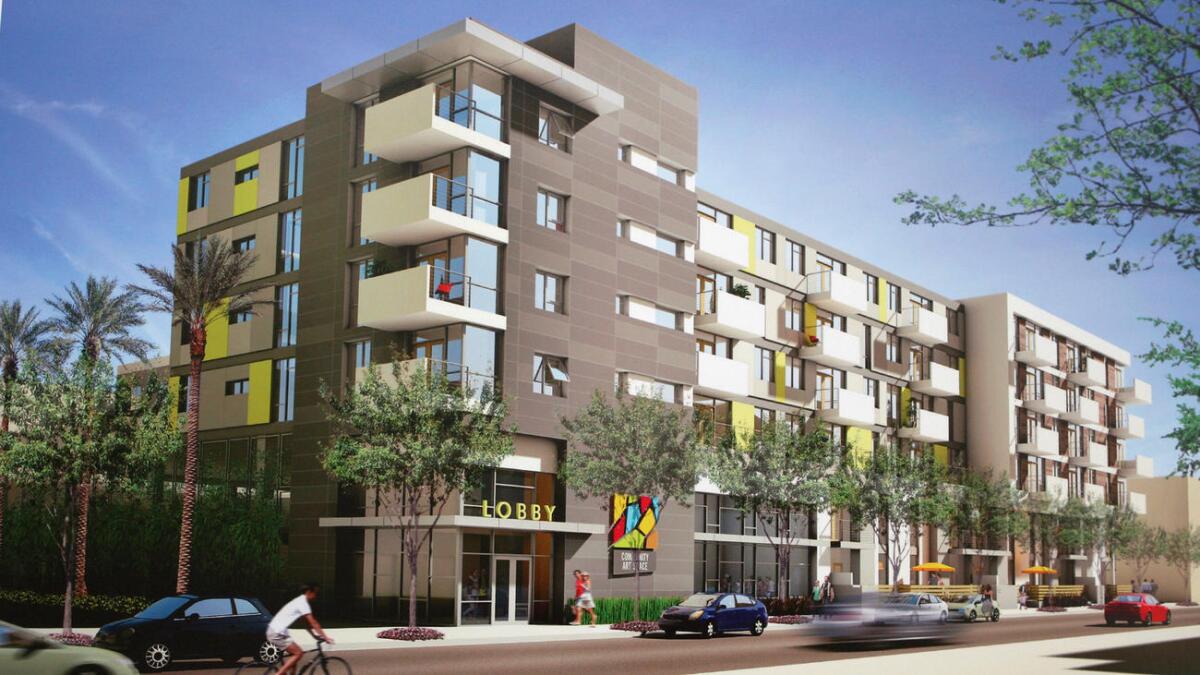 The tenant-selection process for the Artists Colony affordable-housing project will remain unchanged after some Housing Authority members pushed last month to give preference to Glendale residents.
In April, authority members debated about changing a point system to be used in evaluating the eligibility of prospective tenants at the 70-unit project under construction at 121 N. Kenwood Ave.
NEWSLETTER: Get the latest 818 headlines straight to your inbox >>
A single point will be awarded to an artist who lives in Glendale, and a point will be given to an artist who works in the community, but lives in another city.
Some authority members gave direction to explore changing that, but on Tuesday they moved forward without any revisions to the system.
City Atty. Mike Garcia said in April that the evaluation method was designed to be nondiscriminatory and comply with federal fair-housing laws.
He said in a phone interview this week he still feels the same.
"We're providing access to a greater pool of applicants," Garcia said.
However, Councilman Ara Najarian, who is on the authority, said he was disappointed with the outcome.
"If it was up to me, I would give residents a priority over people that work in Glendale, so I am not satisfied with the current formula," he said. "Apparently, my hands are tied by the housing law to accept the current proposal."
Being an artist who either lives or works in Glendale earns a potential tenant three points toward their eligibility, according to a city staff report.
The only qualifier that outranks that is an applicant who both lives and works in Glendale. That person would net four points.
The city broke ground on the Artists Colony in February 2015, and the affordable-housing development with one-, two- and three-bedroom apartments is scheduled to be completed by September.
It's being developed by Meta Housing Corp., which will have a say in the tenant-selection process. Officials with the immediately adjacent YMCA will also have a say.
The Artists Colony is being paid for with a $6-million housing loan, while Meta Housing Corp. is paying its share from a state program allowing affordable-housing developers to sell tax credits to private firms.
After the tenant discussion, Zareh Sinanyan, Housing Agency chair and councilman, asked how much funding is left to pursue affordable-housing projects. One of the major upcoming ones is a senior housing development at Fifth Street and Sonora Avenue.
"The rents are increasing at an alarming speed, that's a problem we're all aware of … There's no other alternative in the city of Glendale as far as rent control," Sinanyan said.
With impending payments from the state government expected by way of a lawsuit settlement, the city should expect to have $16 million dedicated solely for affordable-housing endeavors, said city manager Scott Ochoa.
--
Arin Mikailian, arin.mikailian@latimes.com
Twitter: @ArinMikailian
--
ALSO:
Officials weigh switching Glendale's Dial-a-Ride provider
Three Senate hopefuls agree on 710 extension