Glendale's vending machines to stock healthier snacks -- eventually
All of the vending machines at local parks and on other city properties will be fully stocked with healthy snacks and drinks following City Council direction on Tuesday.
A 5-0 vote will result in swapping out chips and sodas for the likes of nuts, fruits and veggies, but the change likely won't happen for another two years when the current vendor contract expires.
NEWSLETTER: Stay up to date with what's going on in your neighborhood >>
The city makes about $500,000 a year from vending machines at parks and other spots such as the Pacific Community Center, and staffers acknowledge that revenue could fall by as much as 40% because of healthier offerings.
However, Councilwoman Paula Devine said it would be worth it.
"I don't think we have to be worried about revenue when it comes to the health of our children," she said.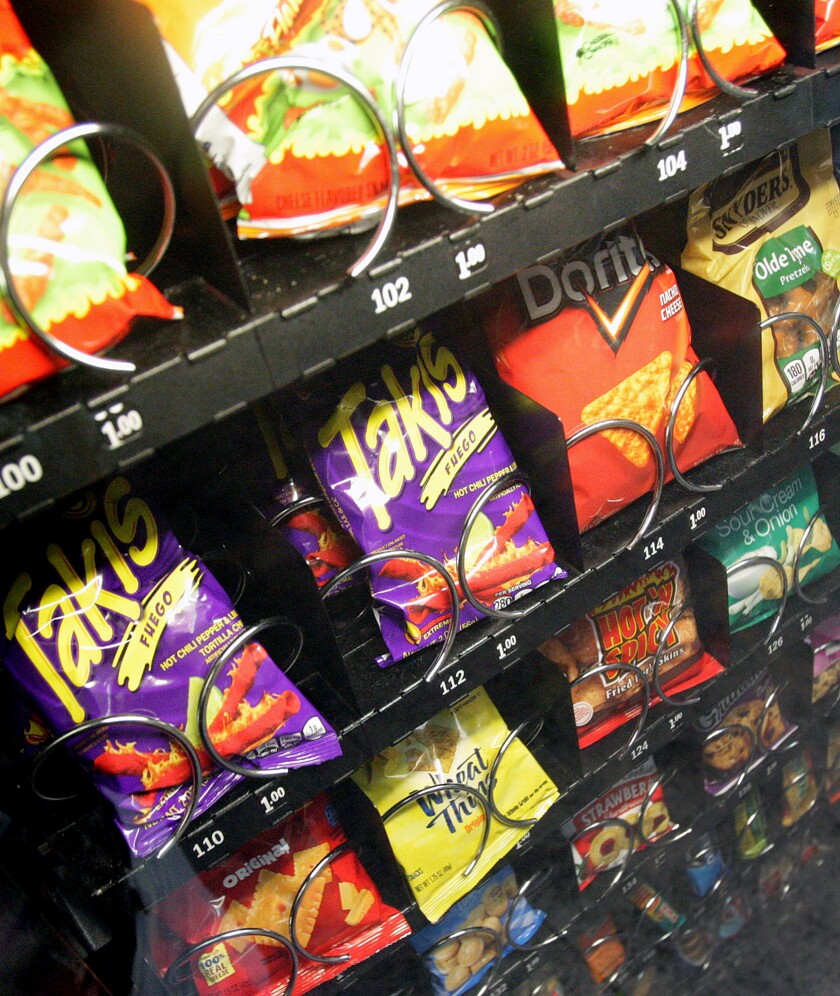 Existing vending-machine policy already states that at least 40% of stocked items must be healthy snacks or beverages, but the revision would require all products to be healthy.
There are other restrictions, too. For example, snacks can't be more than 250 calories, while at least half of all beverages must be water, according to a city staff report.
Other permissible drinks will be 100% fruit or vegetable juices or fruit and vegetable juices combined with water, the report states. Sodas, diet sodas and sports drinks will not be allowed.
Local mom Anahita Vartanian, who's also a member of the local organization Healthy Kids, Healthy Lives, said the availability of healthy options has been too limited.
The group recently surveyed 376 Glendale residents and 94% of them said they would support buying healthier items, she said.
"I want my children to grow up and be healthy and be productive members of the community," Vartanian said.
The only concern Councilman Zareh Sinanyan said he had with upgrading the vending machine policy was whether healthier snacks and drinks tend to cost more than salty and sugary products.
"If we're creating vending machines that are inaccessible to a large portion of our population, that's worrisome," he said.
Shea Eccleston-Banwer, the city's public works manager, said the current contracted vendor — Red Carpet Vending — does carry more "exotic" healthy items that are more expensive.
But there would be a range of prices, he said, adding that existing healthy items cost as much as chips, candy and soda.
Eccleston-Banwer also said during his presentation that the childhood obesity rate in Los Angeles County is 22.4%. He added that Glendale's updated policy is similar to the one in Pasadena.
--
Arin Mikailian, arin.mikailian@latimes.com
Twitter: @ArinMikailian
--
ALSO:
Jewish group says La Crescenta park sign isn't welcome, citing Nazi rallies held there in 1930s
Pair arrested after allegedly 'severely' beating, robbing woman in Glendale motel
Glendale City Council gives green light to a dozen park upgrades
---