Imagine what might happen if five sets of Shakespearean lovers got together at a dinner party to reminisce about the events that brought them into the consciousness of theatergoers the world over.
Well, you don't have to imagine. Just drop in to Vanguard University's Lyceum Theater and catch "Sigh No More," an original concept of VU's Conner Berkompas who has adapted and directed these encounters, some of which are set to the music of such later icons as Glenn Miller and Frank Sinatra.
Aside from being a high-energy acting exercise for Vanguard's drama students, the show functions as a fine way to jog audiences' memories of how Shakespeare's characters interacted, as the various combinations of romantic pairings play out their most noteworthy scenes.
The players include the title characters from "Romeo and Juliet," Rosalind and Orlando from "As You Like It," Beatrice and Benedick from "Much Ado About Nothing," Hamlet and Ophelia from "Hamlet" and the trio of Helena, Demetrius and Hermia from "A Midsummer Night's Dream."
A 12th character, billed as the director, flits about the set, organizing and controlling the action like a puppeteer. Anna Doepp fills this role with a soft-spoken authority.
The show's centerpieces are Romeo and Juliet, played with proper youthful passion by Josh Menard and Sidnie Blodgett. When they finally succumb, they are gently tucked into history (a small, curtained theater stage) by the rest of the cast.
Most impressive of this energetic company is Emily Coffey, who pursues the proud Orlando (DJ Fields) while "disguised" as a boy, i.e., wearing a cap. Coffey excels at romantic chicanery and her lively manner boosts the overall show as well.
The "Midsummer" trio of Levi Foster as Demetrius, pursuing the fair Hermia (Alora Sparling) while fending off the affections of the determined Helena (Alyssa Kammerer), provides the greatest element of physical comedy.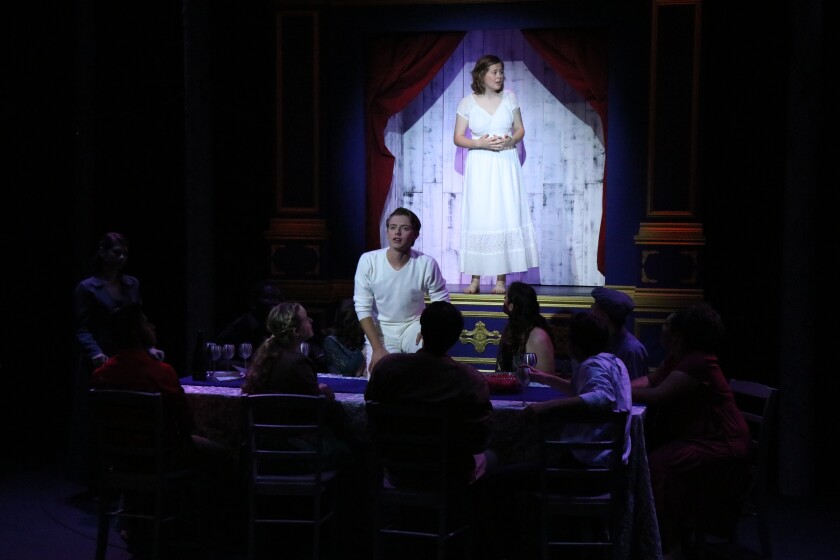 Frenemies Beatrice (Alicia Philadelphia) and Benedick (Rodrigo Andres) have to be pushed, literally, into romance and each offers a convincing argument against it before finally accepting each other.
Hamlet (Kenneth Sambula Jr.) and Ophelia (Breanne Pancarik) finally emerge late in the play, as if penciled in at the last minute. Their "Get thee to a nunnery" clash is brief but significant.
With Glenn Miller putting the lovers "In the Mood" and Sinatra glorifying these "Strangers in the Night," Vanguard's "Sigh No More" is an intriguing look at the way Shakespeare treated the subject of love. It's bolstered by the unflagging energy of an excellent ensemble.
IF YOU GO
What: "Sigh No More"
Where: Vanguard University, 55 Fair Drive, Costa Mesa
When: Thursdays and Fridays at 7:30 p.m., Saturdays and Sundays at 2 and 7:30 through Nov. 3
Cost: $15 to $19
Information: (714) 668-6145; vanguard.edu
---