Santa Ana takes final step to ban Orange County's only needle exchange program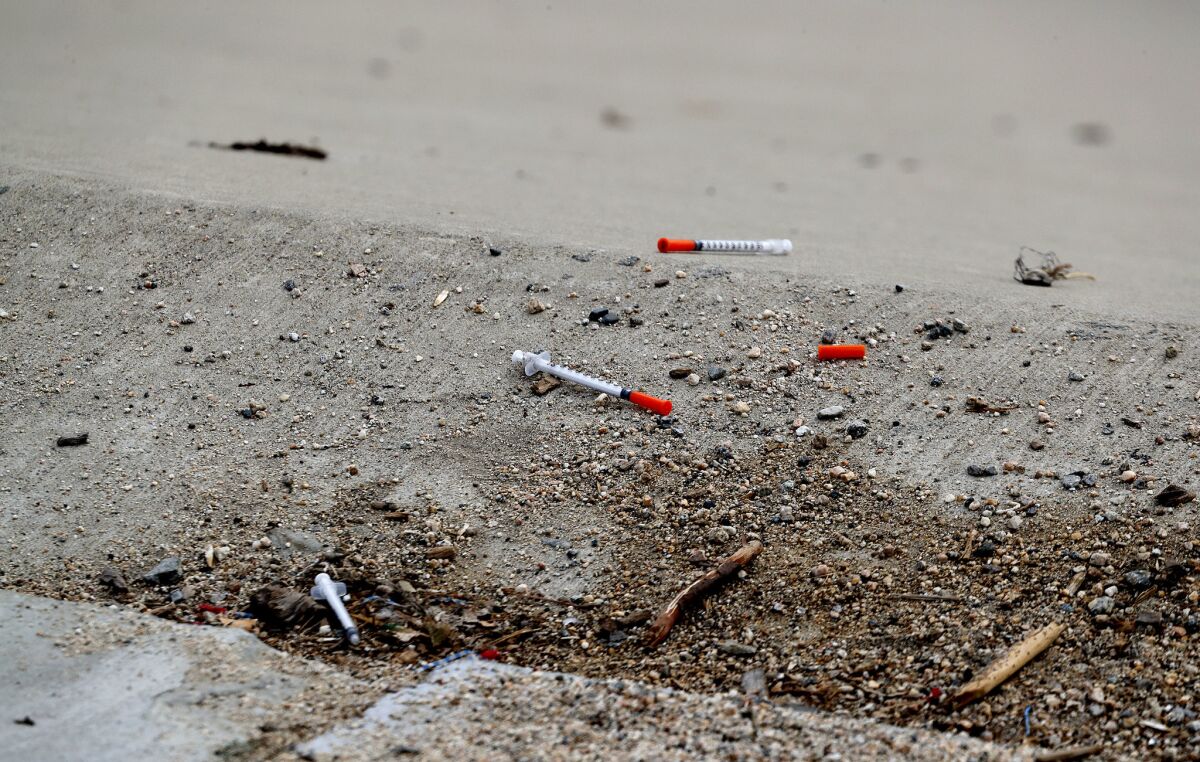 A yearslong saga came to a quiet end Tuesday when the Santa Ana City Council unanimously banned hyperdermic needle exchanges without comment.
Since the city forced the closure of Orange County's first and only needle exchange program in early 2018, it has since held the position that used syringes threaten public health.
"Literally, right outside of City Hall, the needle exchange program was run largely by volunteers in the area between City Hall and the library," Santa Ana Councilman Jose Solorio said by phone. "I was always very painfully disappointed to see used drugs and needles all around City Hall, including in our local libraries and parks. And it was just something that was not safe for the community and children."
Advocates of the program say that access to clean needles keeps intravenous drug users from sharing syringes and spreading HIV, hepatitis C and other bloodborne pathogens.
"It's not surprising, but disappointing," said Mahan Naeim, a former member of the Orange County Needle Exchange. "We are in the middle of a deadly pandemic, on top of a deadly opiate epidemic. It was difficult for folks suffering from opiate dependence before the pandemic, now it's harder to access care."
Naeim said Orange is the largest county in the country without a needle exchange.
Nina Katchadourian's "Monument to the Unelected" is a temporary installation consisting of 58 signs bearing the names of losing candidates from every U.S. presidential election. The installation is viewable on a residential lawn in Orange.
Such programs are endorsed by the American Medical Assn., the World Health Organization and the Centers for Disease Control and Prevention.
Solorio said the program drew homeless people and drug addicts to downtown.
"Santa Ana shouldn't be the only city in the county burdened with allowing this service in their community, and better strategies and disposal cost reimbursement provisions need to be developed to keep dirty needles away from libraries, parks and schools," Solorio said.
Naeim agreed that other cities aren't shouldering their share of the responsibility.
"We are pushing people further away from the care they need and deserve, but this seems to be a conscious effort from a number of cities in Orange County," Naeim said. "So we're not surprised."
The saga of the OC Needle Exchange started in early 2018, when it was forced to shut down after Santa Ana city officials denied its permit application.
The OC Needle Exchange came back with a proposal for a mobile program in Costa Mesa, Santa Ana, Anaheim and Orange.
Mention that you're headed to Stanton and you're likely to hear something along the lines of: Where's Stanton? But Rodeo 39, a new public market, is putting the tiny city on Orange County's map in a big way.
In response, the Board of Supervisors approved a resolution opposing the concept, but the state still approved the program in July 2018.
The county, Costa Mesa, Anaheim, Orange and Newport Beach sued to block the exchange. And in October 2019, a judge sided with the county and cities.
---
All the latest on Orange County from Orange County.
Get our free TimesOC newsletter.
You may occasionally receive promotional content from the Daily Pilot.