On the bright side, 2020 was the year of Nashville hot chicken sandwiches in O.C.
Despite devastating setbacks suffered by our local restaurant industry the past nine months, 2020 also turned out to be the year Nashville hot chicken sandwich restaurants flourished in Orange County.
Since March, amid stay-at-home orders, at least seven new hot chicken joints have opened in the county. If you add that tally to those already in business before the crisis, everyone in the county should now be within a 10-minute drive from a Nashville hot chicken sandwich shop.
And that's a good thing, because if there's a shared attribute between all Nashville hot chicken sandwiches — besides the bun, coleslaw, pickles, "comeback sauce," and a fried chicken breast drenched in varying heat levels of spicy oil — it's that travel time is an enemy. The crispiness of the batter is inversely proportional to how long you wait to eat it.
These four restaurants from The Times' 101 list are some of our critics' favorites in the O.C.
What follows are takeout reviews of the Nashville hot chicken sandwiches from the seven O.C. shops that opened during the pandemic. Some are mom-n-pops, some are corporate-backed ventures, and at least one is a ghost kitchen developed as a direct response to the COVID-19 shutdowns.
All aspire for the viral success of Howlin' Ray's in Los Angeles, which took the recipe invented by a scorned Nashville woman trying to punish her unfaithful boyfriend 90 years ago and applied it to the form factor of Chik-fil-A. And judging by the lines at some of these new shops, the concept will soon proliferate to the point of ubiquity, much like poke bowls did a couple of years ago. And it is no wonder why: The sandwiches are Instagram-friendly, intrinsically portable, and comfortingly familiar since it's essentially equal parts hamburger, fried chicken, and Flamin' Hot Cheetos — things we Americans are already pre-programmed to love.
Cluck Kitchen
17915 MacArthur Blvd, Irvine
Opened July 2020
Cost of one Nashville Hot Chicken Sandwich: $12
Cluck Kitchen's Nashville Hot Chicken sandwich is one of the most expensive on this list. But what you get from the Cut's Ryan Yi and Steve Kim's entry is a Foghorn Leghorn among Chicken Littles. Along with being large, the cashier will warn you that the "mild" is considered "medium" everywhere else.
But what really differentiates Cluck's sandwich from the flock is that its coleslaw isn't bogged down with mayo. They use vinegar instead. The result is a sandwich whose crunch is as big as its cross section. Even rarer still is Cluck's offering of hushpuppies. Called "street corn fritters," these craggle-crusted balls of cornbread fluffiness should be at the top of the pecking order over any other choice of side.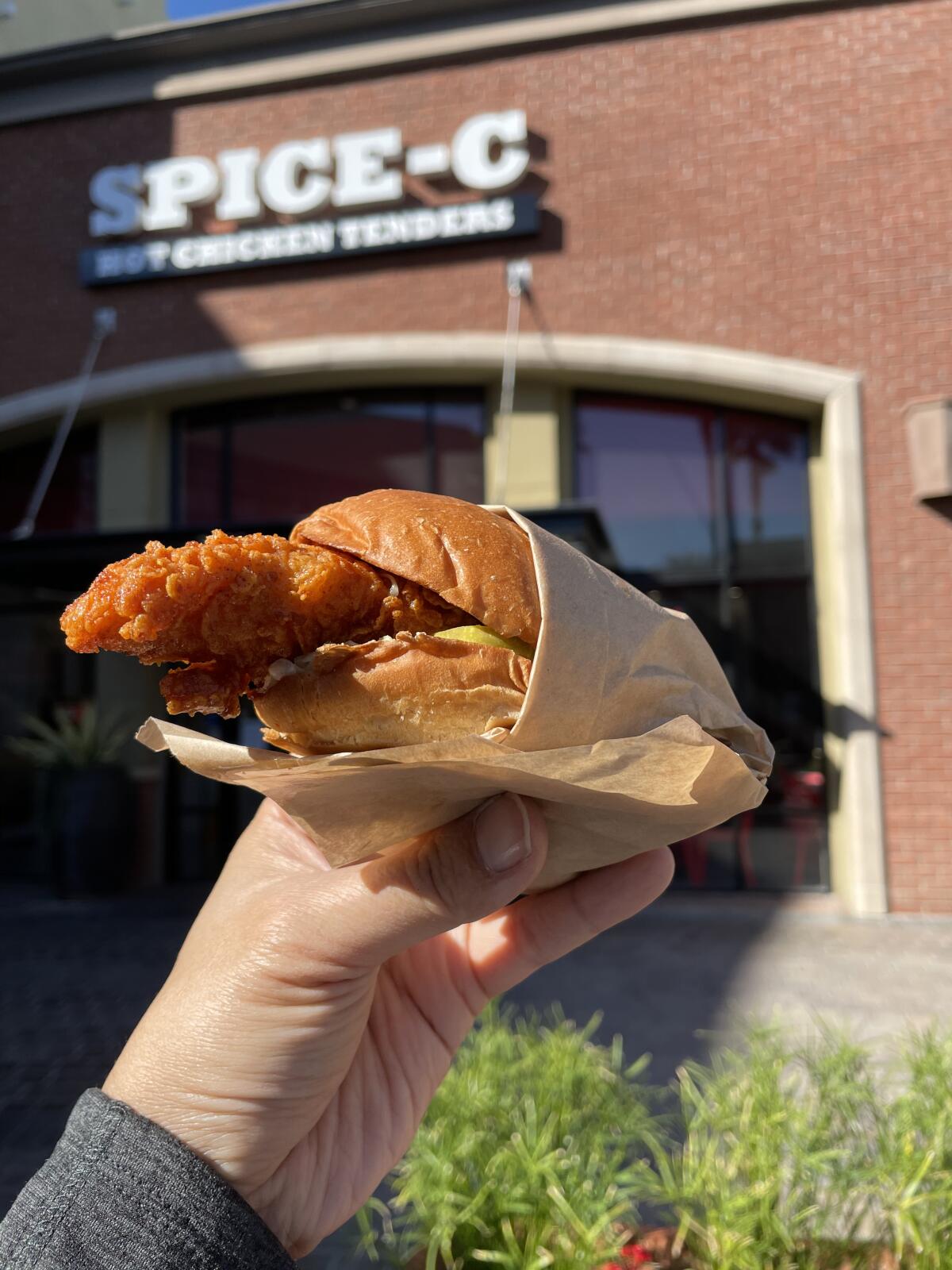 Spice-C
2455 Park Ave, Tustin
Opened July 2020
Cost of one slider: $5.50
This mom-n-pop likely pictured a different year than the one that happened. But even without the foot traffic they were hoping for from the AMC theater next door, Spice-C does brisk business during lunchtime. It's a no-frills hot chicken shop with a short menu that presumes you know what you're getting into.
Like others, they require you to sign a release before trying the "Reaper" level of spice. But as a bulwark against lightweights who can't handle even the "medium," they also have a note next to the register that warns: "All sales final! No refunds! No exchanges! It is spicy!" The "mild" is sufficiently hot, but there's also the option of adding cheese for a nominal fee if adding cheese to fried chicken is something you're into. No release is required for doing so, but still, no refunds.
Poultrygram
180 S Brea Blvd, Brea
Opened July 2020
Cost of one Nashville Hot Chicken Sandwich: $9
For Geno Fontanoza, executive chef at Brea Improv, the March stay-at-home order was no laughing matter. What were they going to do with the kitchen when there were no comedy audiences to serve? The answer? Jump onto two of the hottest food trends: Nashville hot chicken sandwiches and online delivery. And that's how the Poultrygram ghost kitchen was born.
The idea of utilizing the comedy club's kitchen during downtimes was incubated before the crisis, but the concept has now proven so viable that the Irvine, San Jose and Hollywood Improvs have followed suit with their own Poultrygrams serving all the delivery apps. If you decide to pick up your food from the Brea location, you must first find the unmarked side door (hint: it's in the alleyway between two buildings, behind the valet tent). And when you pay, it will feel like an illicit drug deal, which is apropos because the sandwiches are addictive.
It's also the most decadent and messiest on this list, with dripping coleslaw, an effortlessly crunchy chicken breast doused in glaze and the unexpected presence of sweet relish that lands like a well-delivered punchline. Poultrygram offers only two spicing levels, but be warned: the one called "Hot A.F." is no joke.
Jay Bird's Chicken
303 3rd St, Ste 101, Huntington Beach
Opened August 2020
Cost of one Baby Jay's (a hot chicken sandwich sans coleslaw): $7.99
Like other Nashville hot chicken joints, Jay Bird's has a logo featuring a cartoon chicken, but it's nothing compared to the giant caricature of the chef himself. He sports a big gap-toothed grin and a mohawk resembling a rooster's comb. It is an uncanny likeness of the real Jay Bogsinske, the former chef at St. Marc who is the inspiration behind the concept that first hatched in Long Beach.
This year, with the help of Wild Thyme Restaurant Group, his corporate parent company, Bogsinske expanded Jay Bird's Chicken to O.C. with a store in Huntington Beach. The third shop is planned for Sherman Oaks in 2021.
Common to all his restaurants are craft beers on tap and a hot chicken sandwich boasting a thick but almost tempura-battered breast that can be topped with the house mac-n-cheese, which is notably good if you get it as a side. His eggy, bacon-flecked potato salad, however, is even better. And if you're tired of brioche buns, Jay Bird's also makes waffles, which somehow seems a very quaint accompaniment to fried chicken these days.
Kickin' Hot Chicken
5777 E La Palma Ave, Anaheim
Opened September 2020
Cost of one Nashville Hot Chicken Sando: $9.95
At Canyon Village Plaza in Anaheim Hills, over half the storefronts stand empty, including what used to be Smart Choice, the plaza's main supermarket anchor. But in this desolate parking lot there's a sign of life. In fact, it's a banner. It flaps in the breeze proclaiming that Kickin' Hot Chicken is "Now Open" and serving "Nashville Hot Chicken Sandwiches."
Formerly a teriyaki bowl joint, this mom-n-pop changed concepts in August to become a franchisee of Legend Hot Chicken. But after about a month, it became an independent. In doing so, it lowered the prices and ditched the plain chicken logo for one with a dabbing rooster. Twenty-five-minute waits for its food are now routine. And though theirs is a basic hot chicken sandwich, it's good, crunchy and generous, with two hulking pieces of breast that the bun can barely contain.
Also, since the "mild" is truly mild, each order includes a side of two pickled hot chili peppers as insurance for any disappointed masochists.
The Golden Hot Fried Chicken
201 E 4th St, Santa Ana
Opened November 2020
Cost of one slider: $7
Before he settled into his nest at Santa Ana's 4th Street Market, the Golden Hot Fried Chicken's Oscar Gonzalez was a free-range chef. He peddled his Nashville hot chicken sliders at farmers markets all over San Bernardino County. But even back then, he didn't stop at sliders. He had a riff on a hot chicken taco that involved a hot chicken strip, coleslaw, two kinds of sauce, pickles and a lacy disk of mozzarella he crisps on a griddle.
His current menu still has that taco along with breakfast sandwiches and breakfast burritos, but it's that taco you want over his sliders. Though only a few cents cheaper than the tacos, the sliders are half the size and do not travel well. If you want a second opinion, ask the cashier which one he prefers and he'll tell you the same. Cradled in the tortilla hammock, the taco takes the excess of sauce that dampens the sliders and gives it a new role as salsa.
Dave's Hot Chicken
10832 Warner Ave, Fountain Valley
Opened December 2020
Cost of one slider: $5.45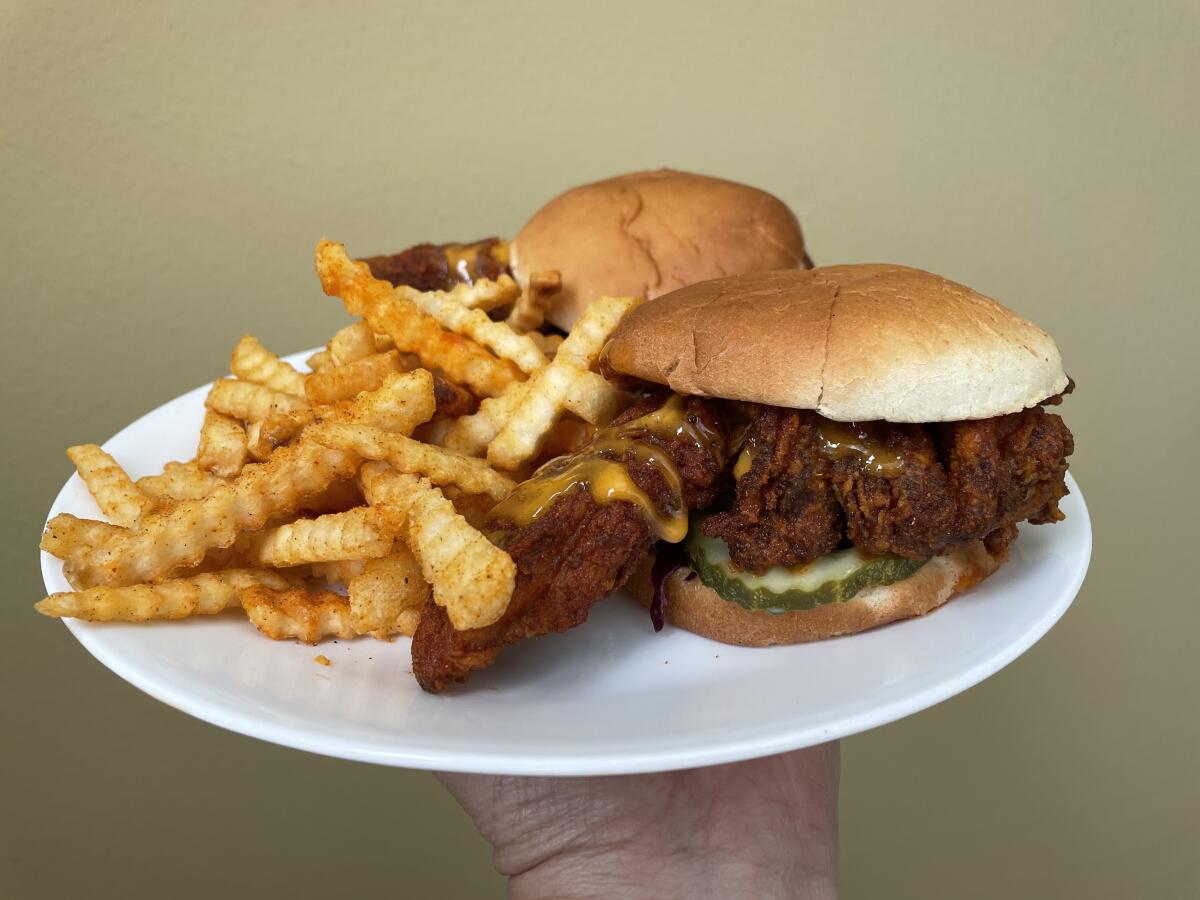 In the span of three years, Dave's Hot Chicken grew from a parking lot pop-up by a French Laundry alum into a franchising hot commodity with backing from a Wetzel Pretzel co-founder and investors that include Maria Shriver and Samuel L. Jackson (who's evidently moved on from Royales with Cheese).
Its first Orange County location is owned and operated by Kei Concepts, the oh-so-hip restaurant group behind the Vox Kitchen and Sup Noodle Bar. The menu has the brevity of In-N-Out, centering around chicken strips dipped in a ruddy sauce with escalating levels of heat, good fries and sliders that would qualify as full-on sandwiches elsewhere.
The amount of chicken in one slider is equivalent to an entire KFC bone-in breast, with each torpedo-shaped filet extending outside the boundaries of the bun. The resulting aspect ratio is less of a sandwich than a geoduck clam. But you want every inch of this strip. The spicing is complex. The crust stays crunchy even after 20-minutes of travel time. And the meat is so thick and juicy, if you wring it like a towel, it would drip an espresso cup's worth of chicken soup.
All the latest on Orange County from Orange County.
Get our free TimesOC newsletter.
You may occasionally receive promotional content from the Daily Pilot.