Comedic play all about timing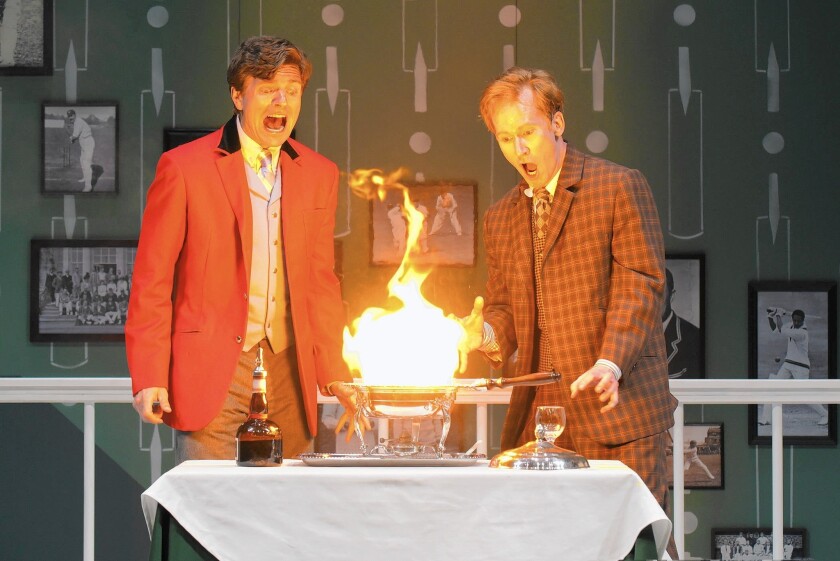 What happens when you aren't completely truthful to your boss about your identity?
For most, it probably would mean getting fired, or at least looked down on. But for Francis Henshall, it means providing comedy to audiences around the globe.
Francis, the lead character in "One Man, Two Guvnors," finds himself in a dilemma when he becomes employed by two men and tries to keep them from finding out about each other.
However, Francis isn't the only one with a secret, and other characters in the plot who also have hidden identities could ruin his scheme.
The comedic play that premiered in England and was on Broadway before being released regionally will be performed at South Coast Repertory in Costa Mesa from Friday to Oct. 11.
Director David Ivers said the production twists the improvisational nature of commedia dell'arte, which requires actors to quickly think on their feet, by setting it in Beatles-era England.
"One Man, Two Guvnors" is full of improvisation, one-liners and audience interaction, which brings charm to the production, Ivers said.
"That's what's glorious about the play," said the director, who also led the production at the Berkeley Repertory Theatre. "It's thoroughly bred to entertain. It's partly a situational comedy, partly physical comedy, and it's British humor, so all of those things require a type of laugh with people falling through doors."
Ivers said one of his favorite aspects of the play is making the practiced comedic timing look like it's being performed for the first time onstage every night.
The performance is backed by a live band that provides transitions and sound effects in a Three Stooges-type manner.
"Orchestrating all that is really exciting," Ivers said. "And the live rock 'n' roll band really helps to put an engine underneath it all."
Ivers, who grew up in Los Angeles and now lives in Utah, said he is excited to bring the play to South Coast Repertory.
"It's a theater I've long admired, and I believe it's always a good time to laugh," said Ivers, who began his career as a physical-comedy actor. "There's also something immediate about the play that makes you feel like you're on a bit of a roller coaster, and that's exciting.
"I love the generosity of laughter and creating laughter. My background and the things I have been fortunate enough to be involved in have always been centered around that kind of work."
Previews of "One Man, Two Guvnors" will run Friday through Thursday at South Coast Rep, 655 Town Center Drive. Opening night for regular performances is Sept. 18.
For more information, visit www.scr.org.
---