'A Christmas Carol' director still feels the holiday spirit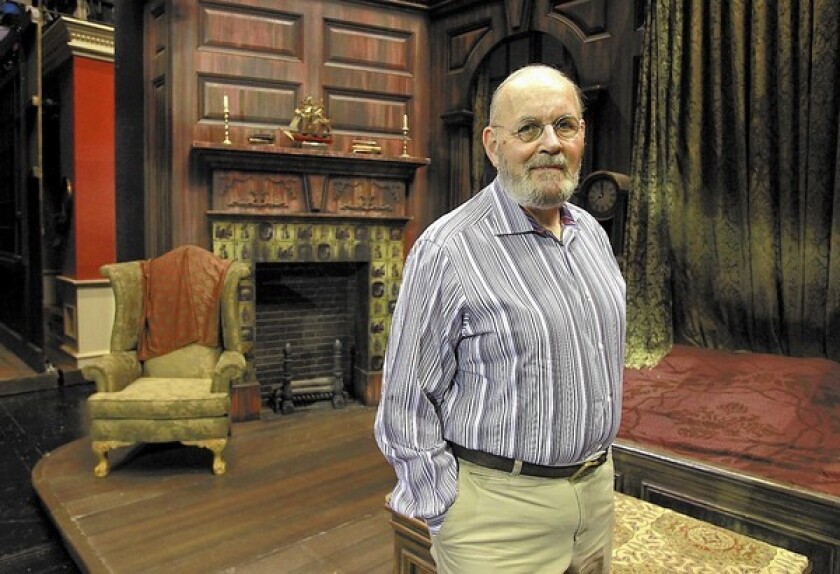 Ask any random group of patrons of the Orange County theater world, and they can probably tell you that Hal Landon Jr. has played Ebenezer Scrooge in South Coast Repertory's "A Christmas Carol" for the last 34 years.
What they may not know is that Landon isn't the only person who's stayed with the annual holiday production since 1980. While the actor has traced Scrooge's metamorphosis from gruff curmudgeon to bringer of cheer, the same director, John-David Keller, has guided him from the wings each time.
Actually, that's not quite right. Keller, a member of SCR for 42 years, hasn't stayed in the wings during production of the Charles Dickens classic — he's joined the cast himself, and he'll be back this year as the jolly Mr. Fezziwig. In fact, the Irvine resident could probably recite the entire play from memory by now, and he's even filled in for Landon a few times when the star wasn't available.
With SCR's latest "Christmas Carol" midway through its run on the Segerstrom Stage, Keller spoke with the Daily Pilot about his three-decade journey with Scrooge. The following are excerpts from the conversation:
*
In the spirit of "A Christmas Carol," we ought to start with a metaphysical question. If you could go back in time and forget everything you know and see the play again for the first time, would you want to do that?
Absolutely, absolutely. But, I mean, how far back are you talking? Are you talking about in the time it was written, or are you talking about the time we started doing it? This play has been a Christmas tradition since it was written. There's been thousands of interpretations of it, of ideas about how they wanted it to look and all that. When I was given the project, I said, "The only way I want to do it is in a traditional way. I want it to look like the period in which it was written. I want it to be in costume true to what Dickens was trying to evoke in his writing." And I think there are certain speeches in the script that are right out of the novel, and I love those speeches because they personify what the spirit of the show is all about — redemption and forgiveness and generosity and all those things that we forget.
Do you remember when you first read the story, or when you first saw a play or a movie version?
Well, I've always been an avid reader, so I knew of Charles Dickens, and I guess probably the first Dickens that I ever read was "Oliver Twist." Then I got into "David Copperfield," and I know I read "A Christmas Carol." I don't think it was ever read to me, but I read it. But I was probably a kid when I first read it. And I can remember the first film of it I ever saw, and I still think it's the best film of it ever made, a black-and-white film made in the 1950s with Alastair Sim. And it truly is the best version of "A Christmas Carol" ever done. It's not pretentious, it's not showy, it's in black and white, and it's just scary. It's just wonderful.
So when you started directing the play, did you show Hal that version with Alastair Sim?
Oh, yeah. In fact, I recommend it to the kids who come into the show too. I recommend two versions of it. I recommend the Alastair Sim, and I recommend it to the parents too, that if you're going to watch a version of it, watch this version. But then, on the lighter side, I tell them to watch the Muppet version too, which is terrific. It's just wonderfully fun. I mean, the imagination of Jim Henson, when he had Bob and the Marley brothers — they were reggae people, Bob and Jacob Marley, and they were twins, but they were reggae characters. I mean, it makes no sense, but it's wonderfully funny. It's just great.
Have you ever changed the play very much in all the 34 years that you've directed it?
No. I mean, people say, "Have you changed anything?" Well, what are you going to change? What are you going to change? "You know, we've changed the ending. The Cratchit family splays him on their dinner table." No, there's nothing you should change about it. It's virtually a perfect story, and if there were a better Christmas story to be told, we'd be doing it. I think it's that simple.
Why do you think this one is the perfect Christmas story?
Well, I think because it appeals to everybody. It appeals to children, and children bring their parents, they bring their grandparents, and everybody has a great time.
"God bless us, every one?"
"God bless us, every one." I say that to the first rehearsal when I first meet the kids and I meet the parents at the same time. The kids are doing it, but the parents have to get them here for us. They're part of this too. And I tell them that without the children in the show, there is no show. And the best example I can give them is that next to "Bah, humbug!", the most quoted line in the whole book is "God bless us, every one!" And it's said by the youngest person in the cast. So, you know, there's a terrific message there.
Now, how about the character of Scrooge? In the play, of course, at the beginning, he's very cynical about the holiday season, and he learns to love it by the end. Did you ever have a time in your life when you had a little Scrooge in yourself?
Oh, yeah. I hate to say this, but I didn't have the greatest childhood in the world, and I identify with Scrooge in the sense that I can see how I grew up in Scrooge early on. And, fortunately, I also saw the change. But I love the idea of Christmas. I just love the idea. I'm very good at it. I love to decorate my house for Christmas. I do all the traditional things around Christmastime. I am the spirit of Christmas. And I think that's one of the reasons they wanted me to direct it, because they knew that.
---