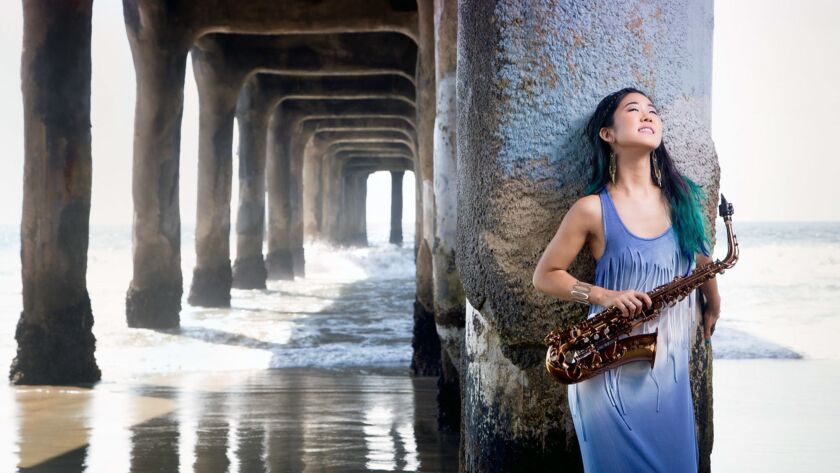 Singer. Saxophonist. Songwriter. Arranger. Bandleader. Entertainer. Educator.
In two short words: Grace Kelly.
No, not that Grace Kelly — although she does have a larger-than-life stage presence that befits her famous name. (A Korean American, she was born Grace Chung but later took her stepfather's surname.)
"I'm a very upbeat, positive and joyful person," the 26-year-old musician said by email from South Korea, where she is touring. "I have bright green hair and love vibrant bold colors!"
At "Grace's Joy Party," her Oct. 19 concert at the Irvine Barclay Theatre, she plans to perform original music, as well as what she slyly calls "Gracified" cover songs from her new album, "GO TIME: Brooklyn 2."
She'll have just finished a 10-day tour in Seoul.
"I am performing at one of the biggest music festivals there called Jarasum Jazz Festival, which has about 80,000 audience members per day," she says of her and her band's debut in the country. "My schedule is packed with 15 media appearances, including … a fashion shoot feature with Elle magazine."
Kelly, an alumna of Berklee College of Music in Boston, gives some 70 to 80 performances a year as bandleader — and even more as a guest artist. In addition to her concerts, Kelly is working on a TV score for a KCET documentary series, a podcast and a live "video album" with her band.
Her band members, who will be joining her at the Barclay, are Julian Pollack on keyboards, Nate Kearney on bass and Aaron McClendon on drums.
"All are amazing players in the L.A. scene," she said. "Julian on keys has been playing with me for three years and also mixed and mastered my past albums."
Calling her brand of music "electro-jazz-pop," Kelly has been influenced by traditional jazz, electronic, world, folk, indie pop and Top 40.
"It all becomes a melting pot of sounds and influences in my ear," she said. "I let the music brew inside, and it comes out in my own sonic style."
Although she's always loved music, Kelly didn't plan to make a career of it.
"I recorded my first album at 12," she said. "My middle school music teacher was actually the one playing piano on it. It was because of him, and his suggestion of documenting my musical development, that led to the idea of recording my original music in the recording studio. From that point, it turned into a full album ... That marked the beginning of my recording career."
Now for the $64,000 question: Do people come up to her and ask about her famous name?
"Yes, they do," said Kelly. "I'm a huge fan ... she's the epitome of elegance and beauty … I hope to one day perform for Prince Albert of Monaco!"
IF YOU GO
What: "Grace Kelly's Joy Party"
Who: Saxophonist Grace Kelly
When: Friday, Oct. 19 at 8 p.m.
Where: Irvine Barclay Theatre, 4242 Campus Dr., UC Irvine
Cost: Tickets start at $30
Information: (949) 854-4646, thebarclay.org
---