On Food: Margarita Avila, matriarch of Avila's El Ranchito, is remembered for her strength, spirit and skill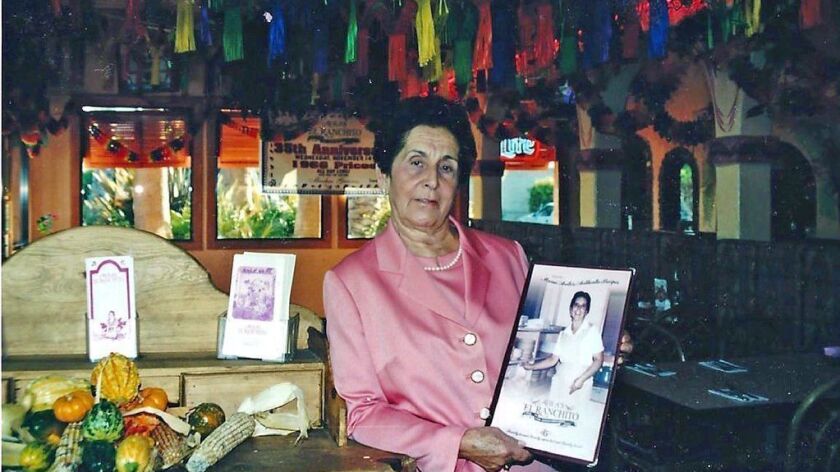 The Orange County restaurant world lost one of its pioneering finest this week with the death of Margarita Avila, matriarch of the Avila's El Ranchito family-owned chain whose beloved Mexican food recipes helped make the restaurant group a regional success story.
Avila died Tuesday at her Corona del Mar home. Her youngest daughter, also named Margarita, said her mother was surrounded by family when it happened. She was 93.

For the record:
10:35 a.m. Feb. 7, 2019Margarita Avila died Tuesday. This article originally reported incorrectly that she died Monday.
Avila is also survived by her husband of more than 70 years, Salvador; sons Salvador Jr., Victor and Sergio; daughter Maria Elena; 14 grandchildren and 14 great-grandchildren. She was preceded in death by son Jose Luis. A private memorial service is planned.
At 50, Avila's El Ranchito is still all about family »
Avila's El Ranchito is a case study of the hard-working American immigrant success story, fueled by great food and genuine service. It's the saga of a family starting a business in a working-class neighborhood of southeast Los Angeles — where everyone had to chip in, even Grandpa Poldo as a dishwasher — and ending in an exclusive enclave of coastal Orange County.
At the center of the story was "Mamá" Avila. Her title easily could have been "director of everything that happens in the kitchen." The restaurant's recipes were hers, passed down from her family. Throughout her life, she remained proud that her culinary traditions from Guanajuato, Mexico, would provide careers and livelihoods for her children, grandchildren and great-grandchildren.
"Everything she did was dedicated to her children," daughter Margarita said Wednesday. "She had a very loving spirit about her."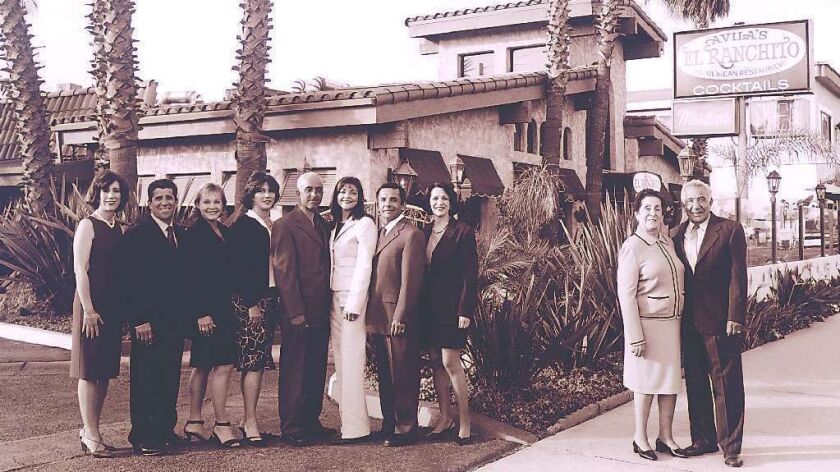 The younger Margarita described how her mother was the oldest of seven children and was like a mother even to her siblings. She was ever the matriarch, the giver of advice, the bestower of counsel.
"People just fell in love with my mom," Margarita said. "She would honor people's presence."
Her children say she also was a natural sazón, a Spanish word that describes someone who adds perfect seasoning to recipes. Avila applied that skill to her pots of beans, enchilada sauces, moles and her renowned chicken soup.
Avila's El Ranchito started in 1966 with a single restaurant in Huntington Park. A distant relative wanted to sell a restaurant. With a $2,000 investment, a few weeks' planning and Avila's skills in the kitchen, the business started with five tables.
Son Sergio once described those early days to me as "just a fate of God. We fell into it."
Avila's El Ranchito now has 13 restaurants, including the original. Each remains family-owned and the business family-operated.
In June 2016, I covered the 50th-anniversary party of the Avila's El Ranchito chain. It took place at the Costa Mesa restaurant on Placentia Avenue that's owned by daughter Maria Elena. Unfortunately, Mamá Avila and Salvador were unable to make it, but I heard a lot about them.
Before the party, I interviewed Maria Elena, who, over some of her mother's chicken soup, told me the story of the Mamá Avila photo that's on the cover of the restaurant menus. In the image, she is standing by a stack of plates, her face beaming. The family says the photo wasn't posed or planned. It just sort of happened.
"Look at that smile," Maria Elena said. "It's a Kodak moment."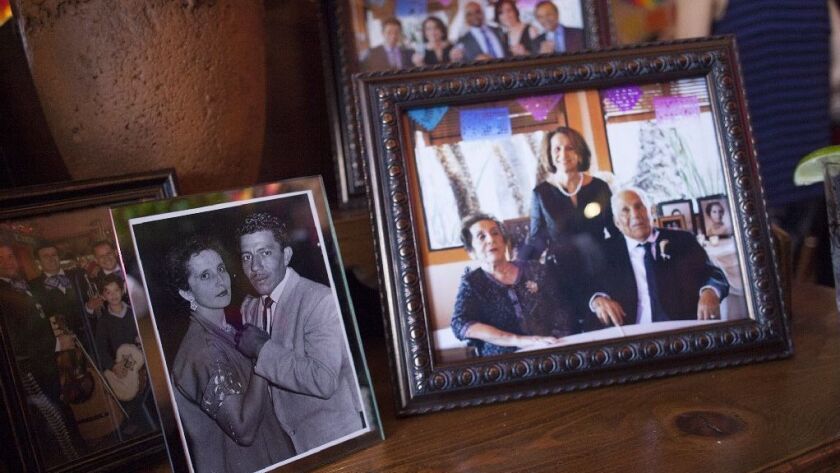 During Avila's 90th-birthday party in 2015, daughter Margarita gave a speech, a copy of which she recently shared with me. It said a lot about Mamá Avila — how she was a risk-taker, a woman of strength and courage who was a pioneering feminist in her own way.
One story I loved was how Avila got her driver's license.
"In the early '70s, women in our neighborhood didn't drive," Margarita said. "In fact, [she] would take a taxi to the restaurant. She got tired of it and, with Sergio's encouragement, she got her license at the age of 45. Once she had that license, look out — she was never home.
"She would pile everyone in her Mercedes and off to create family memories."
Further along in her speech, Margarita talked about her mother's strength. I will end this column with that.
"In a time of crisis — which we all know, we had many — she never fell apart. She stood with strength, courage and hope. She never lost hope. She remained optimistic in spite of the circumstances. She became our tower of strength throughout our lives, not only to her children, but to all those she loved."
Bradley Zint is a contributor to Times Community News.
---
All the latest on Orange County from Orange County.
Get our free TimesOC newsletter.
You may occasionally receive promotional content from the Daily Pilot.