Review: On Theater: 'Aladdin' soars in Costa Mesa visit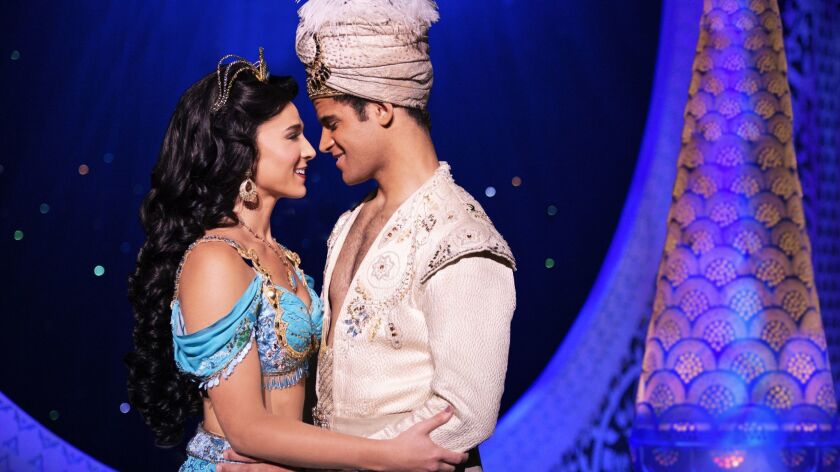 The story of Aladdin goes back centuries, and the Disney studio has created a shimmering, heartwarming production now on stage at Costa Mesa's Segerstrom Center for the Arts.
Ensemble excellence, technical brilliance and, yes, even a ride on a flying carpet comprise this version of the "Arabian Nights" tale, one of the more ambitious offerings to come this way from a hit Broadway run.
Director and choreographer Casey Nicholaw has created a glittering spectacle around the story of an impoverished lad who falls in love with a princess. The principal roles are skillfully interpreted and the supporting players mark an exclamation point on the joyous production.
And, to no one's surprise, it's the genie who steals the show. The buoyant Major Attaway both narrates and enacts the character in a manner that could make you forget about Robin Williams. The jolly wish granter dominates the stage with his robust interpretation.
Aladdin himself is splendidly portrayed by Clinton Greenspan as a shifty, streetwise youth who has his eyes on Jasmine (Lissa deGuzman), the sultan's lovely daughter, whom he meets in a moment that may evoke memories of Tony and Maria first locking eyes in "West Side Story."
Standing nefariously in his way is the king's evil counsel Jafar, played with an abundance of melodramatic zeal by Jonathan Weir. He's supported by Jay Paranada who gives a lightly lethal performance as the chirping toady Iago.
Jerald Vincent struts authoritatively as Jasmine's father, the all-powerful sultan whose post Jafar covets. Aladdin's three street comrades are energetically interpreted by Zach Bencal, Philippe Arroyo and Jed Feder, who share a terrific musical moment with "High Adventure."
Musically, "Aladdin" is particularly enjoyable with old favorites like "A Whole New World" and "Friend Like Me" dotting the score. The latter song inspires a show-stopping production number that earns sustained applause.
The set design, credited to Bob Crowley, is outstanding, particularly the cave in which the magic lamp is discovered. Michael Kosarin's music and vocal arrangements are beautifully delivered by the pit orchestra under the baton of Faith Seetoo.
High marks to both performance and spectacle in this sparkling "Aladdin" that should captivate both youngsters and their elders. It's a golden experience that truly glitters.
Tom Titus reviews local theater.
IF YOU GO
What: "Aladdin"
Where: Segerstrom Center for the Arts, 600 Town Center Drive, Costa Mesa
When: Tuesdays through Fridays at 7:30 p.m., Saturdays at 2 and 7:30 p.m., Sundays at 1 and 6:30 p.m. until March 23
Cost: Call for information
Information: (714) 556-2787; scfta.org
---
All the latest on Orange County from Orange County.
Get our free TimesOC newsletter.
You may occasionally receive promotional content from the Daily Pilot.