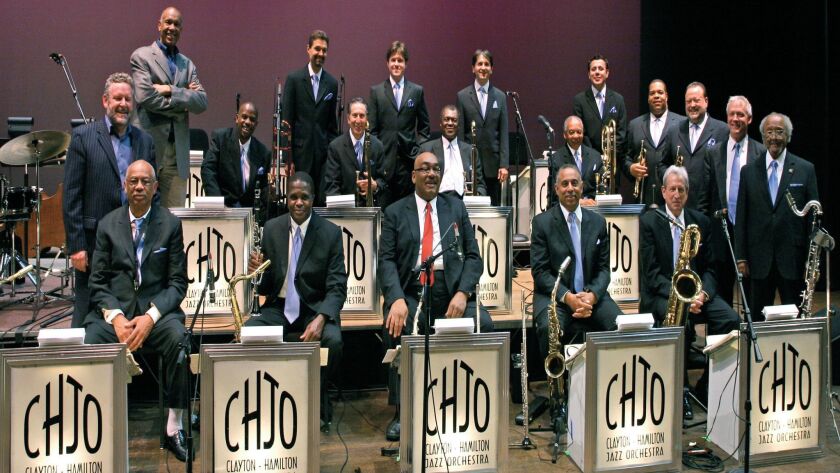 They're just one big happy family. Jazz-wise.
"Not to sound flippant, but we formed this group to have fun," said John Clayton, the classically trained double bassist, founder and co-leader of the Clayton-Hamilton Jazz Orchestra with his brother Jeff Clayton, alto saxophonist and flutist, and Jeff Hamilton, drummer.
"Not party fun, but serious fun," he said. "So we ended up creating a jazz family, where loyalty is big. Here, you don't get fired; you either quit or you die."
The Clayton-Hamilton Jazz Orchestra returns to the Segerstrom Center for the Arts Dec. 19 to present a stand-alone holiday concert after completing a European tour last month, playing 10 cities in 12 days.
"This is going to be a jazz concert that we just happen to present during the holidays," Clayton said. "During the concert, you'll be experiencing jazz, but also celebrating the holidays: 'Jingle Bells,' 'What are You Doing New Year's Eve?', the whole bit."
The Clayton-Hamilton Jazz Orchestra, a traditionally styled big band, was founded in Los Angeles in 1986. John Clayton and Hamilton had previously worked together before going their separate ways. They decided to collaborate with Jeff Clayton, who knew many of the really outstanding players in Los Angeles who would be a good fit for their big band.
"For every concert we do, we try to introduce each member of our group to the audience musically," Clayton said. "We are not an ensemble with a few soloists — everyone is a soloist."
He points to what he considers the great band leaders — Duke Ellington, Count Basie, Woody Herman — who all had that.
"Their music made me wonder, 'How the hell did they do that?,' " said Clayton, the group's main arranger, who has won two Grammys. "So it is [like that] with our group. This allows me to write to their strengths. My writing style reflects that."
A typical Clayton-Hamilton season is so spread out across the year — "We don't do major tours," Clayton said — that it allows for the leaders to take on "outside" work. John and Jeff Clayton hold classes, workshops and clinics throughout the year, and Hamilton — whom Clayton called "a master of the brushes" and "a true musician" — busies himself with his trio.
But when all is said and done, they can hardly wait to get back together as a family — and have fun.
"That's not to say other big bands don't have this familial support and spirit," he said, "but not so at this level of intensity of our swing."
Michael Rydzynski is a contributor to Times Community News.
IF YOU GO
What: Holidays with Clayton-Hamilton Jazz Orchestra
When: 8 p.m. Dec. 19
Where: Renee and Henry Segerstrom Concert Hall, 615 Town Center Drive, Costa Mesa
Cost: Tickets start at $28
Information: (714) 556-2787; scfta.org
---