'Heisenberg' explores uncertainties of romance — and life
While Werner Heisenberg's uncertainty principle might not appear in "Heisenberg," the 2015 play does find ways to translate its tenets into everyday life — specifically, romantic relationships.
"It's about the un-sureness and the strange way that relationships either progress or don't," said Joe Spano, who plays Alex Priest in the Laguna Playhouse production. "[It's about] not being able to know anything concretely, the mystery of life, how do we just exist with the complexity and terror of not knowing, and how to make connections."
Spano completed a three-week run of Simon Stephens' play at the Rubicon Theatre Company in February and is now reprising his role as the Laguna-Rubicon co-production moves from Ventura to Laguna.
The play opens as Priest, a 75-year-old British butcher, sits on a bench listening to music at London's St. Pancras International train station. He's kissed on the neck by Georgie Burns (Faline England), a free-spirited, 42-year-old American woman — a surprise since they're strangers.
"Heisenberg" follows what unfolds between them after that initial encounter. As the two become a couple, Alex's conventional life becomes increasingly chaotic and uncertain. There's eventually a visit to New Jersey in search of Georgie's missing son.
Spano saw England perform in 2017 when they both participated in a "Speaking of Stories" project in Santa Barbara, and he was "gobsmacked with the depth and truth of her emotional connection."
He immediately suggested that they perform "Heisenberg" together, because they were the right ages for it.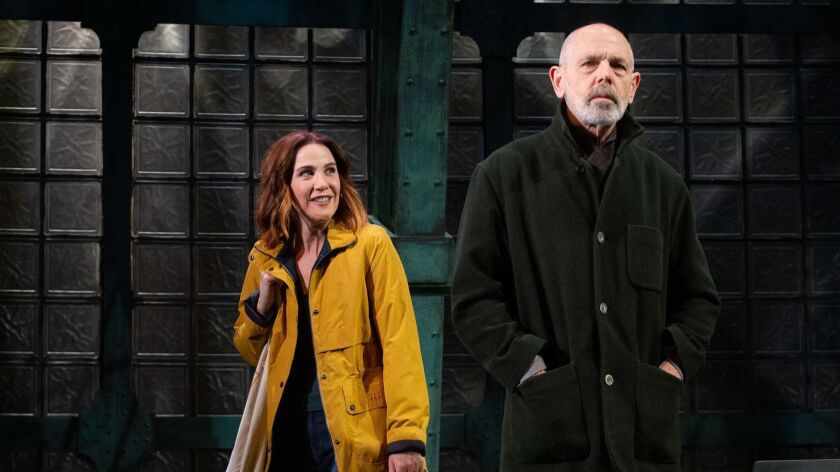 While Spano has engaged and reveled in theater for more than a half-century — he is a founding member of Berkeley Repertory Theatre, which started in 1968 — he's better known to mass audiences for portraying gritty characters, including Lt. Henry Goldblume ("Hill Street Blues") and FBI Special Agent Tobias Fornell ("NCIS").
"The character [Alex] himself is a lot more vulnerable than a lot I've played," he said. "I like to say that he's porous, that he's able to see and hear but not really good at communicating in normal ways. But he has an eye for truth, and when he senses something is not true, he can't understand how that can be."
He notes that "it's also very sexy and romantic for an actor in his 70s [to play the role] just to validate the fact that age doesn't necessarily indicate how vital and involved a person is."
For more Orange County news and entertainment, follow us @timesocofficial »
Spano said both Rubicon and Laguna had always planned for a dual-venue approach, to provide the show a longer overall run.
That means Orange County audiences will see the fruits of the same troupe, from Spano and England to director Katharine Farmer to scenic and lighting designer Mike Billings, costume designer Michael Mullens, and sound designer/stage manager Jessie Vacchiano.
Yet Spano said the production has grown and changed since it opened on Feb. 2.
"It's the same production but much deeper, richer, truer than we did before," he said. "People mature and learn things, and we're trying to take advantage of that … to make it more compelling.
Eric Marchese is a contributor to TimesOC.
IF YOU GO
What: "Heisenberg"
Where: Laguna Playhouse, 606 Laguna Canyon Road, Laguna Beach
When: Previews March 27 and 29, 7:30 p.m.; March 28 and 30, 2 and 7:30 p.m. Runs March 31 through April 14. Wednesdays through Fridays, 7:30 p.m.; Saturdays, 2 and 7:30 p.m.; Sundays, 1 p.m.; April 2, 7:30 p.m.; April 7, 5:30 p.m.; April 11, 2 p.m.
Cost: $56-$86
Information: (949) 497-2787, lagunaplayhouse.com
Follow @timesocofficial for more news and features about Orange County.
---
All the latest on Orange County from Orange County.
Get our free TimesOC newsletter.
You may occasionally receive promotional content from the Daily Pilot.