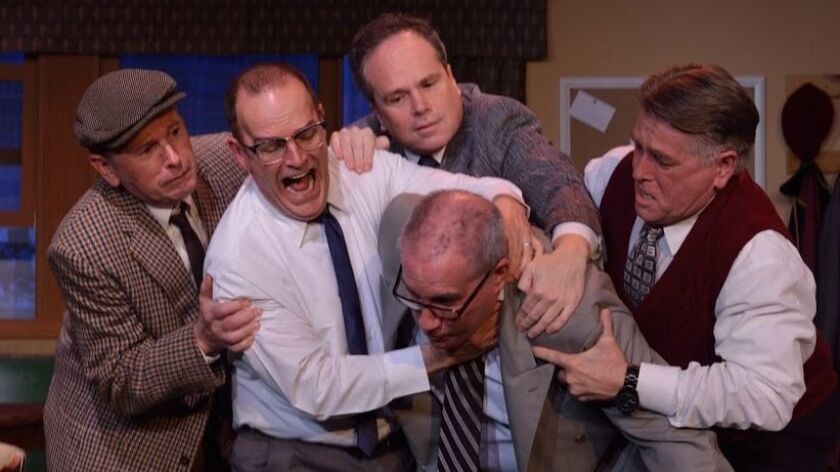 Long before Neil Simon became the king of Broadway playwrights and had a theater named for him, he was a youthful scribbler among a coterie of television gag writers that included the likes of Mel Brooks, Carl Reiner, Larry Gelbart and Woody Allen.
They all created material for Sid Caesar's TV programs in the early 1950s — "Your Show of Shows" and "Caesar's Hour" — and Simon recreated those moments in his 1993 play "Laughter on the 23rd Floor," now evoking howls of hilarity at the Newport Theatre Arts Center.
It's one of the funniest, and most well-crafted, community theater productions you'll see this or any year. Director Brian Page has pulled out all the stops with his nine-character ensemble, giving each performer at least one memorable moment in this bedlam of creative craziness.
It's 1953 and two evil Joes — McCarthy and Stalin — rule the headlines while Max Prince, the Caesar doppelganger, rules the airwaves. But all their days are numbered as NBC goes on a budget-cutting binge, shortening Prince's air time from 90 minutes to an hour each week.
In the Newport show, Max is vigorously portrayed by Bill Peters, who sports a heavy Noo Yawk accent and commands his creative troops like a benevolent despot whose response to bad news consists of his punching a hole in the office wall. It's a masterful interpretation.
The freshly minted scripter, modeled after Simon himself, is played with engaging charm by Conor Burke, who also serves as narrator. The wild and crazy Milt, who has a punchline for every situation, is hilariously enacted by Gregory Cohen, whose attempts at hiding his offensive white suit with pages from a newspaper is the funniest bit in the show.
Eric Bergstrom is a hoot as Val, the Russian-born head writer who still can't seem to pronounce the F-word correctly. The chain-smoking Irishman Brian, who's selling his script (and his soul) to Hollywood, is given a riotous interpretation by Floyd Harden.
The straight man in this collection of cuckoos is the pragmatic Kenny, well played by Keith Bush. Briana Donze shines as the lone female writer who strives to be "one of the boys" and arrives in the second act hugely pregnant.
Larry F. Scott earns both empathy and revulsion as Ira, a hyperactive hypochondriac who habitually arrives late each morning. And Elizabeth Lance scores highly in the play's lightest role of the office cutie who'd like to join the group but just doesn't have the, um, "write" stuff.
Ensemble excellence abounds in "Laughter on the 23rd Floor," a show rich in both humor and heart. It's a high-water mark in comedy at the Newport Theatre Arts Center.
IF YOU GO
What: "Laughter on the 23rd Floor"
Where: Newport Theatre Arts Center, 2501 Cliff Drive, Newport Beach
When: Thursdays through Saturdays at 8 p.m., Sundays at 2 p.m. until June 23
Cost: $25
Information: (949) 631-0288, ntaconline.com
Support our coverage by becoming a digital subscriber.
Tom Titus reviews local theater for TimesOC.
For more news and features about Orange County, visit TimesOC.com or follow us on Twitter @timesocofficial.
---