'Star Wars' Lego fanatics overcome dark side vandals and rebuild the Millennium Falcon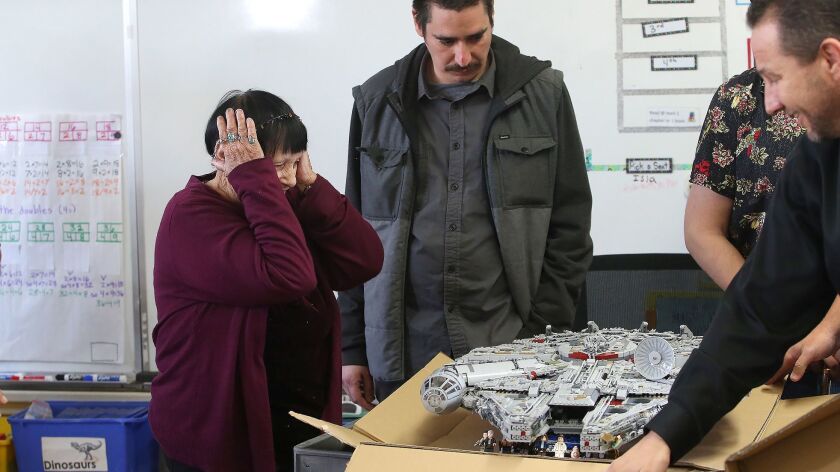 Jeanna Bassett, 72, an art teacher at Concordia Elementary School in San Clemente for more than 40 years, had spent 30 of those years building Lego creations.
Bassett donated many of the plastic brick structures to Concordia after her home had become inundated with Lego art. The collection had been on display in the school library where vandals, in late November, broke in and destroyed them.

For the record:
2:00 PM, Dec. 21, 2018An earlier version of the story misspelled Scott Gano's name.
Bassett is partial to the "Star Wars" sets, and among the destroyed pieces was a Millennium Falcon, which sells for about $800.
In the days that followed, Bassett received numerous offers to help rebuild the collection, one of the most generous coming from Goodwill of Orange County, whose e-commerce site, shopgoodwill.com, has a department dedicated to building and reconstructing Lego sets.
With an anonymous donor supplying the 7,500-piece Millennium Falcon set, shopgoodwill.com's expert builders, Taylor Harkins, 37, and Scott Gano, 32, offered to rebuild the starship and present it to Bassett.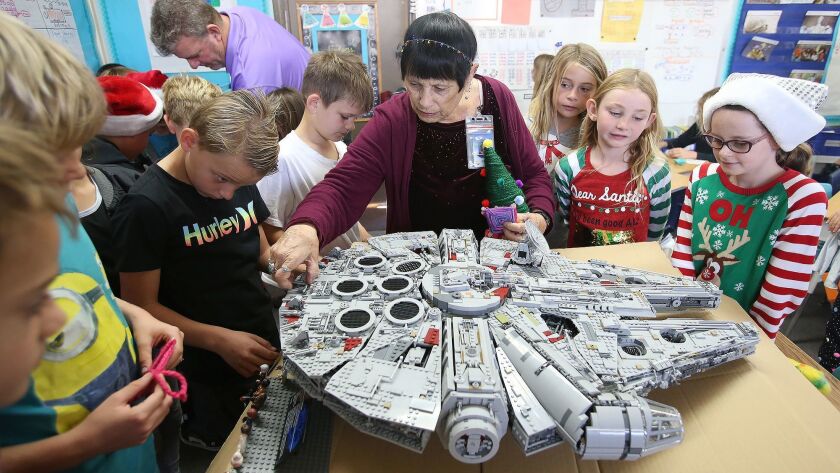 With video recorders and still cameras capturing the moment, and her students looking on, Harkins and Gano surprised Bassett in her classroom Thursday morning, when the pair carried in the finished Falcon and carefully lifted it out of its cardboard box, prompting applause from her class.
"You guys are my heroes," she said to the builders. "All the students have been giving me hugs and telling me how sorry they are about the Legos. I just appreciate it so much. That's the real story here."
The pair spent 48 hours assembling Han Solo's spaceship.
"It's really good to do something for a good cause," Harkins said. "I love doing what I do. I'm never going to stop doing what I do."
Goodwill's main function is finding employment for people who have difficulty finding jobs, usually because of a disability. Money raised from Goodwill's e-commerce helps the nonprofit further its mission.
"It's the Christmas season so Goodwill wanted to spread a little goodwill," said Ted Mollenkramer, the charity's e-commerce business manager.
Multiple individuals are suspected of participating in the destruction of the "Star Wars" creations, which left the floor of the library covered by tens of thousands of broken Lego pieces.
The Orange County Sheriff's Department continues to investigate the incident, according to Concordia Principal Rob McKane.
"There have been suspects identified and consequences given," McKane said.
Meanwhile, Bassett and the Concordia community continue to receive support and offers to help rebuild. Another group of master builders who specialize in Lego construction is scheduled to spend the next few days piecing together even more Lego sets.
"This is another example of the community coming together, whether it is the Star Wars community, the Lego community, the Goodwill Community, or the community of San Clemente," McKane said. "If there is anybody I've ever met who is deserving of this, of the community coming together to help make her collection whole again, it is certainly Mrs. Bassett."
Lou Ponsi is a contributor to Times Community News.
---
All the latest on Orange County from Orange County.
Get our free TimesOC newsletter.
You may occasionally receive promotional content from the Daily Pilot.