Wynton Marsalis and Jazz at Lincoln Center Orchestra to interpret the music of Duke Ellington at Barclay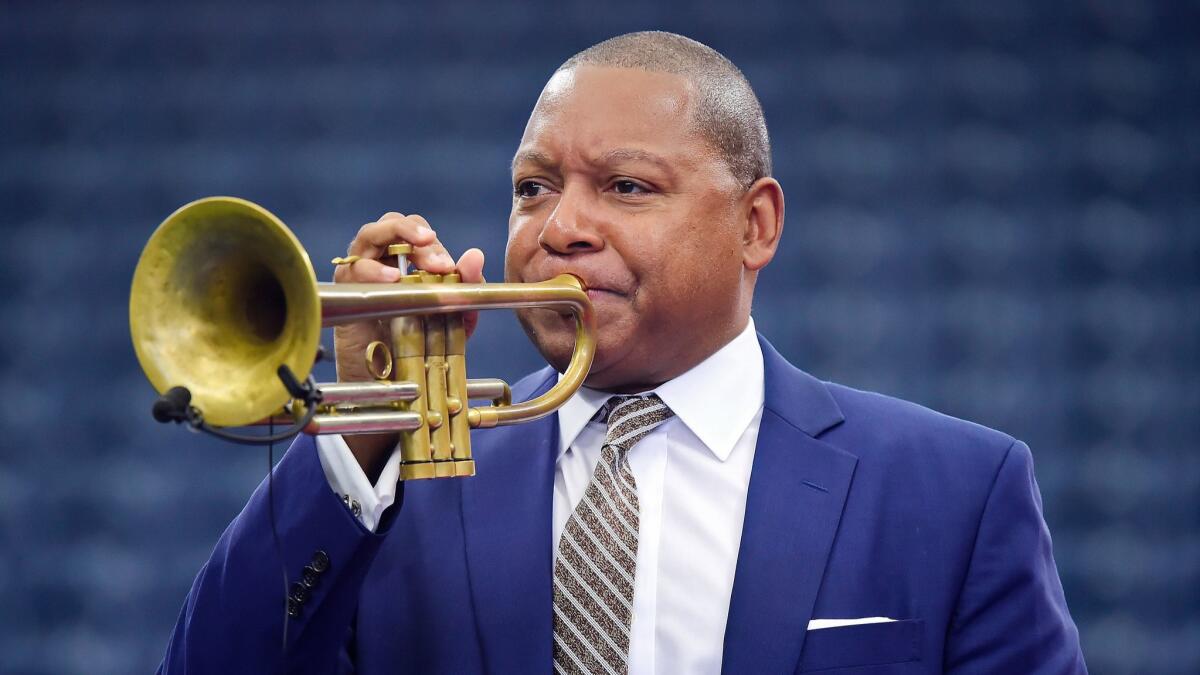 For someone with sterling credentials — a Pulitzer Prize, nine Grammy Awards, two Emmy nominations, a National Medal of Arts, National Humanities Medal, Down Beat Hall of Fame, 7 million albums sold worldwide, a reputation for working tirelessly with young musicians in countless workshops and master classes — it is rather surprising that Wynton Marsalis only wanted to talk about one thing.
Or rather, one person.
"Duke Ellington was one of our greatest leaders in American orchestral music," said Marsalis, who brings his Jazz at Lincoln Center Orchestra to the Irvine Barclay Theatre Tuesday to play an all-Ellington program. "There's an undeniable timelessness of Duke's music, and the craftsmanship of his pieces is so great."
Marsalis, whose group offered a different program at the Hollywood Bowl almost two weeks ago in a joint concert with the Clayton-Hamlton Jazz Orchestra (which will visit the Irvine Barclay in December), will both play trumpet and direct the 15-piece orchestra in pieces written by the legendary Edward Kennedy Ellington (1899-1974), a regal-sounding name befitting the nickname "Duke."
"He had such a love of people and had a love of romance," Marsalis continued. "He loved his country. He had an understanding of all the elements of American music, its foundation. He understood the fiddle reel, minstrel song, spiritual, work song, American popular song. He understood groove-based music and the gospel traditions. All of these things are in his music. He invented an original form of orchestration and elevated the American orchestra, the big band, to a high standard. He was a tireless student of music."
Marsalis has an impressively large repertoire of Ellington — who, like Marsalis, had been honored with a Pulitzer and many Grammys (14, three of them posthumously) — and he still wasn't sure which works he'll present at the Irvine Barclay.
It is clear Ellington's music and approach to life have influenced Marsalis, who also acknowledges influence from his family of musicians: Father Ellis Marsalis Jr., is a jazz pianist, and brothers Branford, Delfeayo and Jason are also jazz musicians, with Branford (who brings his Quartet to Segerstrom Concert Hall in January) attaining international fame, just like Wynton.
Wynton Marsalis initially intended to embark on a classical career, but a 1980 European tour with Art Blakey and his Jazz Messengers made him change his mind.
Largely through Marsalis' efforts, a jazz component was added to Lincoln Center for the Performing Arts in New York City in 1987. The orchestra was formed the following year. Marsalis became its artistic director and conductor in 1991 and immediately established the orchestra's focus on jazz history — especially, the music of Elllington.
"Albert Murray, whose philosophy is the foundation of Jazz at Lincoln Center, always said that quality art is the key to our success and should command our focus and direction," he said. "And the standard is so high: it was set by Louis Armstrong and Duke Ellington, maintained by Art Tatum and Charlie Parker, re-articulated by Miles Davis and Charlie Mingus, among other musicians who spent lifetimes of hours in practice rooms and on uncompromising bandstands, battling to be the best they could be and the most individual they could be."
If You Go
What: The Jazz at Lincoln Center Orchestra, Wynton Marsalis, director, presents the music of Duke Ellington
When: 8 p.m. Tuesday.
Where: Irvine Barclay Theatre, 4242 Campus Drive, Irvine
Cost: Tickets start at $65
Information: (714) 854-4646, tickets@thebarclay.org
All the latest on Orange County from Orange County.
Get our free TimesOC newsletter.
You may occasionally receive promotional content from the Daily Pilot.