Most small theater companies hope to lure audiences with a mixture of classics, dramas, comedies and some original (or unpublished) works. Maverick Theater is no different — except the eclectic brew of this small Fullerton storefront leans heavily toward works derived from the big screen.
That's thanks to founder and artistic director Brian Newell's lifelong love affair with the movies. In fact, for years Newell had his eye on a career in the film industry. He wrote, produced and directed a James Bond parody in Super 8 format while a student at Troy High School and submitted a short subject to the AFI Conservatory, the American Film Institute's graduate film school.
But fate kept pulling Newell toward live theater, and since work was easier to come by there, he gradually began to apply his filmmaking skills to live theater.
While working as a resident sound designer for STAGEStheatre in Fullerton in the early '90s, he had the "crazy idea" of doing "The Magnificent Seven" on stage. In 1994, Newell created an original stage version of the film, replete with cinematic lighting and underscoring, and the show reinvigorated the company, which had been struggling to draw audiences.
"It was a huge hit," Newell said, "and it made me realize I can have a connection with cinema through stage."
1994 is also when he devised the banner "Staged Cinema Productions." The name stuck, and by 2002, when he first opened the Maverick, Newell again began viewing live theater as a way to create original versions of classic movies. He offered audiences an original stage version of "The Manchurian Candidate," and his productions of "Amadeus" and "The Sting" were closer to the films than the existing published scripts. He also produced Terry Johnson's stage version of "The Graduate."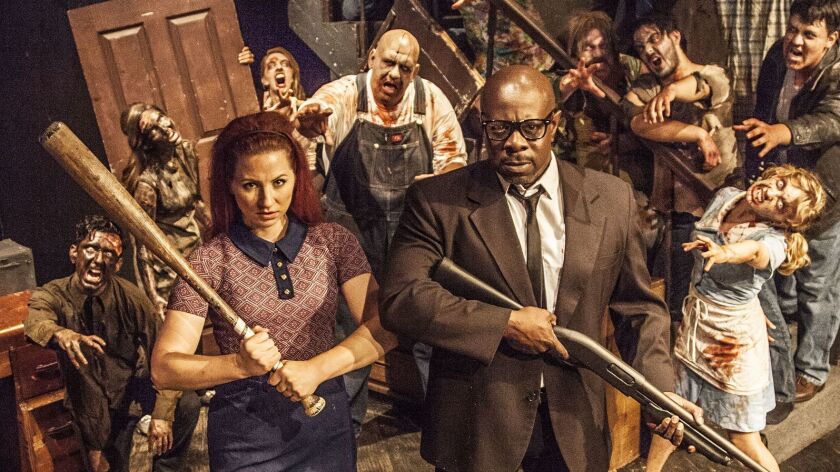 For Newell, 2006 was a breakthrough year. Searching for plays suitable for the Halloween and Christmas seasons, he found that the pickings were slim, so he created his own versions of "Night of the Living Dead," Frank Romero's groundbreaking 1968 low-budget horror film, and the 1964 kiddie flick "Santa Claus Conquers the Martians," another that has gained cult status since first playing in movie houses.
The success of both productions led Newell to start bringing the two shows back each year, helping him bridge the gap from September to January. In 2012, he forged a third adaptation — a semi-parodistic version of Ed Wood's 1959 opus "Plan 9 from Outer Space," generally regarded as the worst film of all time.
Newell said he wrought substantial changes to each adaptation: "I tried to improve anywhere I could, from character arc, costumes and effects to action, humor, drama and script pacing."
"In 'Santa,' we completely re-wrote the second act," Newell said. "I added more zombie attacks to 'Living Dead' and deleted a lot of the news coverage. I trimmed much of the 'Plan 9' dialogue and added some extra lines."
"Living Dead" in particular required considerable ingenuity, with a small army of makeup and costume designers and special effects technicians needed to create the illusion of an endless stream of zombies through the use of just a handful of actors.
Over the years, Newell has seen how certain aspects of each show excites audiences and keeps them coming back: In "Living Dead," it's the moment when a pickup truck crashes through the upstage wall. For "Santa," it's the way the actors improvise and interact with the audience. For "Plan 9," patrons "love how bad it is."
Newell is now at work on what will perhaps be his most ambitious adaptation yet: a live staging of the 1933 classic "King Kong," slated to open Feb. 1.
For the theater producer and film junkie, it's a far cry from his first screen-to-stage vision, a live version of Hitchcock's "Lifeboat," which was rejected by a college theater instructor for being overly cinematic and thus "unorthodox in the world of theater."
If that lack of conventionality is precisely what attracts local theater audiences, Newell has no reason to shift gears, not with audiences returning each year at holiday time to cheer and applaud the hokey "Santa Claus," mindlessly silly "Plan 9" and hordes of voracious zombies on the rampage.
Eric Marchese is a contributor to Times Community News.
IF YOU GO
What: 'Santa Claus Conquers the Martians'
Where: Maverick Theater, 110 E. Walnut Ave., Fullerton
When: Nov. 24 through Dec. 23. Fridays at 8 p.m. Saturdays at 4 and 8 p.m., Sundays at 3 p.m., Dec. 9, 16 and 23 at 7 p.m.
Cost: $25 ($15 for kids 12 and under)
Information: (714) 526-7070, mavericktheater.com
---