Master sommelier Michael Jordan doesn't miss a drop explaining California fine wines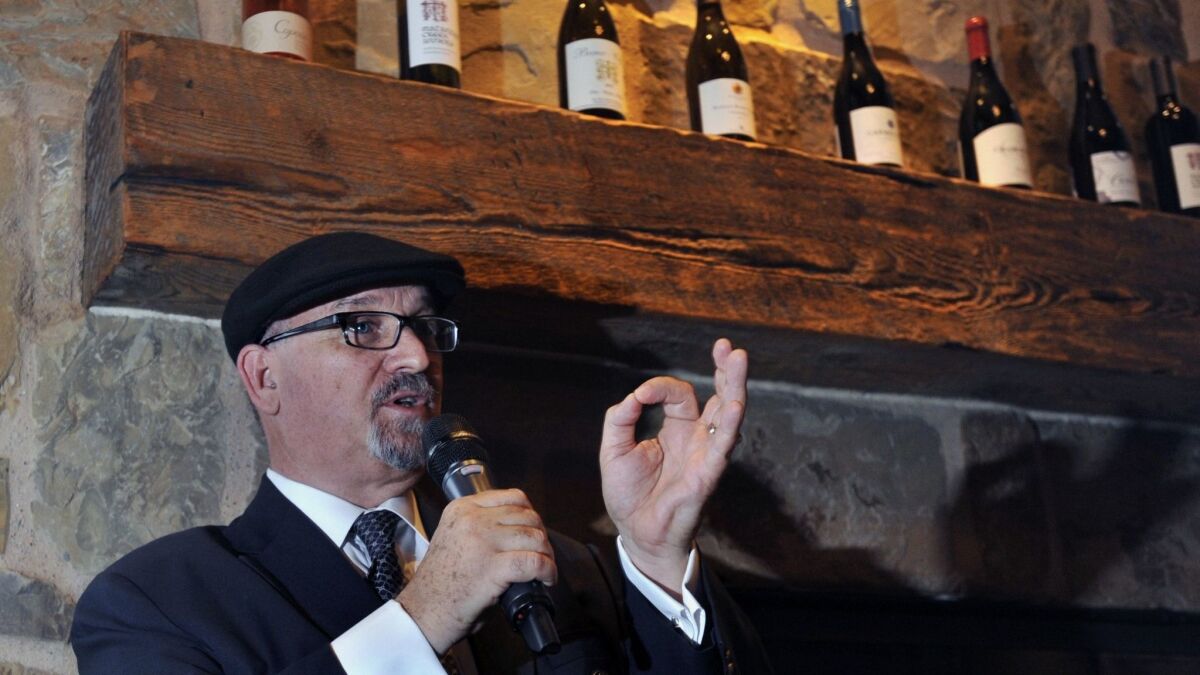 Standing before a group of wine aficionados at Taps Fish House & Brewery in Irvine, Michael Jordan cupped his glass and inhaled pensively before taking a sip.
"This might be the highlight of our night," he declared of the ruby liquid, a 2015 Carmel Road Pinot Noir. "When you look at it, it's translucent, and the tannins are silky with that first kiss."
The drink was one of seven varietals celebrated at the May 24 wine-tasting dinner. More than 100 guests paid to eat five courses paired with fine wines from grapes grown in coastal California.
The state's climate, Jordan explained, creates a longer ripening season.
That knowledge is part of what patrons learn and find appealing at Taps' three-hour wine dinners, said general manager Masaya Yamazaki.
Every six to eight weeks, the restaurant hosts a dinner spotlighting regional wines. On July 17, Taps will host a Spain vs. Chile event presented by master sommelier Peter Neptune, who operates the Neptune School of Wine in Costa Mesa's SOCO Collection.
The art of tasting, however, is open to beginners and experts — no nose-in-the-air pretension here, Jordan said.
For most of his life, Jordan — the one who wears a beret and spectacles, not the one who wears his own line of Nikes and is in the NBA Hall of Fame — has dedicated himself to developing his sense of taste. He is one of 15 experts in the world who have been awarded both master sommelier and certified wine educator diplomas.
Sommelier candidates must pass four examinations proving mastery of the art, science and history that informs their work. With a 8% pass rate, the designation's gatekeepers, the Court of Master Sommeliers Americas, is held in high esteem.
Jordan's parents were well-known restaurateurs who founded Matteo's, an old-school Italian restaurant with a Hollywood following. The swanky establishment served six presidents and drew Sammy Davis Jr., Lucille Ball and Frank Sinatra, who grew up across the street in Hoboken, N.J., from Jordan's father, Matty Jordan. Matteo's expanded to Honolulu and Corona del Mar, but those locations are gone.
"I had a bar stool, not a high chair," Jordan quipped.
Ol' Blue Eyes was his godfather too.
Jordan started out washing dishes at the restaurant but noticed women hung out at the bar.
He asked his father if he could be a waiter.
Not until he was a busboy.
After 45 years in the restaurant business — he worked in management at the Beachcomber, the Ranch and Napa Rose — Jordan now works with Jackson Family Fine Wines in Sonoma County as director of global key accounts.
The Costa Mesa resident, husband, father and grandfather travels extensively to Asia, Mexico, the Caribbean, Arizona, the Gulf Coast and Hawaii representing Jackson Family Wines. He educates and trains restaurant and hotel staffs about classified wines.
"When you taste a delicious wine, it's a hedonistic sense, even if it's a wine you don't like," Jordan said. "These were made by human beings, and the artisan craftsmanship is quality."
That 2014 Cambria Syrah, with its roots running deep into the sand and seashells, makes for a perfect dark-skinned grape with spicy and earthy aromas just dying to be paired with beef or stew, Jordan said.
What about the 2013 Matanzas Creek Merlot? The dark-blue grape is making a comeback.
"Orange County is the largest consumer of Merlot in the state of California," Jordan said. "It's because we can pronounce it, and it's yummy, and it goes well with everything."
His suggestions pleased consumers.
John Spaeth, a Yorba Linda optometrist, attended the dinner with Academy of Culinary Professionals who eat out once a month.
"That was awesome," Spaeth said. "I'm very impressed. We'll be back."
Twitter: @KathleenLuppi
---
All the latest on Orange County from Orange County.
Get our free TimesOC newsletter.
You may occasionally receive promotional content from the Daily Pilot.