A holiday ballet tradition returns to two Orange County stages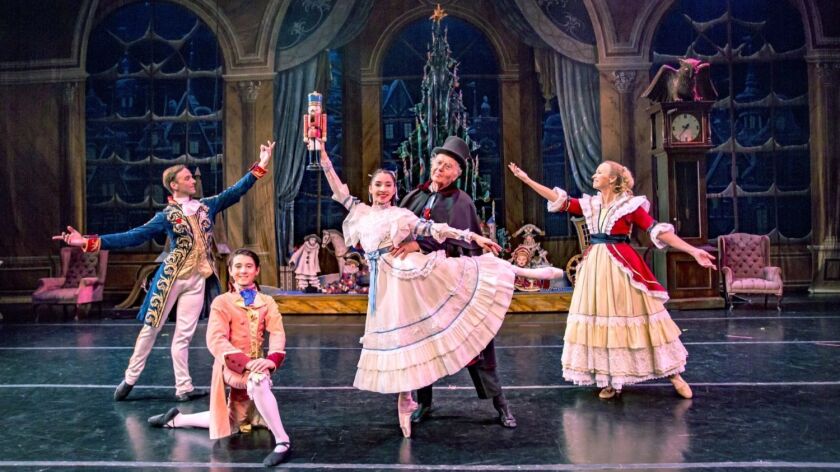 It's December in Orange County. The holiday lights are up, the Christmas songs are jingle-jangling in stores and on the radio, and "The Nutcracker" is back in town.
Two major productions of the world's best-known ballet will grace Orange County stages this season: American Ballet Theatre's "Nutcracker" at Segerstrom Center for the Arts in Costa Mesa, Dec. 7-17; and Festival Ballet Theatre's version at Irvine Barclay Theatre in Irvine, Dec. 9-24.
The ABT production is the third time the esteemed New York-based company will pirouette and fouetté to the music of Pyotr Tchaikovsky on the Segerstrom Hall stage. This year, Misty Copeland — ABT's first African American principal dancer, who grew up in Southern California — will perform as a lead dancer in three Segerstrom performances (Dec. 7, 13 and 16 at 7 p.m.).
Performing "The Nutcracker" at Segerstrom Center "is part of our DNA now," said Clinton Luckett, assistant artistic director for ABT and a former dancer with the company. The connections between ABT and Segerstrom Center date back to the opening season of the Orange County Performing Arts Center in 1986-87, when ABT had its first series of performances there.
"It's been a long and fruitful relationship for ABT and Segerstrom Center," said Luckett, who danced for ABT from 1992-2002 and has since served in various roles for the company. "Segerstrom Center is almost like a second home for the company. We do have a sort of core audience and fan base in Southern California."
ABT artist-in-residence Alexei Ratmansky created original choreography for this "Nutcracker" production. Orange County's own Pacific Symphony will perform the music, led by ABT conductors.
Other lead dancers will include Daniil Simkin paired with Copeland; Sarah Lane with Herman Cornejo; Gillian Murphy with James Whiteside; Stella Abrera with Alexandre Hammoudi; and Hee Seo with Cory Stearns.
Backing them will be three different casts, comprising about 85 professional dancers altogether, Luckett said. About 55 local children, most of them training under the ABT William J. Gillespie School of Dance based at Segerstrom Center, will round out the cast.
"'The Nutcracker' is the single most popular, most viewed ballet in the world," Luckett said. "This is our eighth year overall presenting it. It's very much a well-oiled machine now."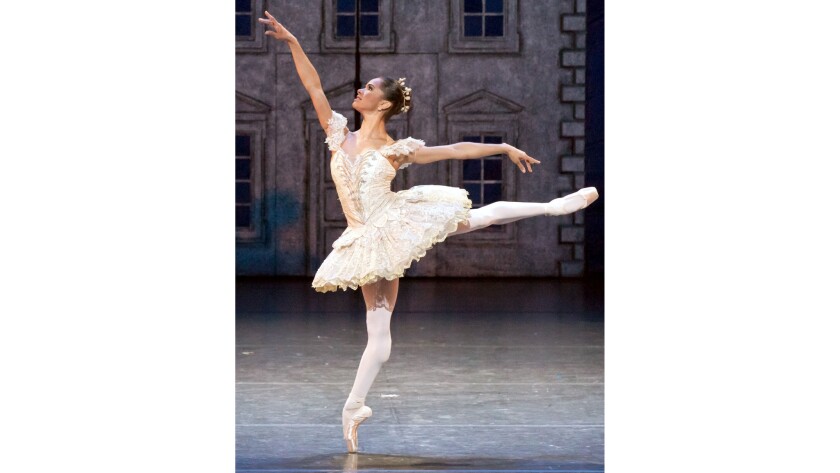 A local mix of stars and students
In Irvine, Festival Ballet Theatre is presenting its 28th iteration of "The Nutcracker." The production at Irvine Barclay Theatre will be the company's 11th year in a row at the intimate 750-seat venue.
"It has become a tradition," said Salwa Rizkalla, founder and artistic director of FBT, based in Fountain Valley. "We are really fortunate to be able to invite guest artists and principal dancers from different ballet companies. They are really the top dancers in the country."
The Sugar Plum Fairy will be danced by Frances Chung of San Francisco Ballet, Irina Dvorovenko, a former ABT principal, Maria Kochetkova of San Francisco Ballet, Tiler Peck of New York City Ballet, and Beckanne Sisk of Ballet West. The handsome Cavalier will be performed by Maxim Beloserkovsky, a former ABT principal, Fabrice Calmels of Joffrey Ballet, Gonzalo Garcia of New York City Ballet and Vitor Luiz of San Francisco Ballet.
"All the dancers are really wonderful," Rizkalla said. "They give us variety and the opportunity to show dance in United States, how every principal is different and amazing in their own way. Those are really the top dancers in the country."
Tara Ghassemieh, a company dancer for Festival Ballet Theatre, will also perform as the Sugar Plum Fairy during the Dec. 15 performance. The youngster Clara will be performed by 14- and 15-year-old dancers from FBT's ballet school, Southland Ballet Academy. The rest of the cast of hundreds, consisting of partygoers, soldiers, mice and classic ballerinas, will be from Southland Ballet Academy and those picked through open auditions.
Vitor Luiz, originally from Brazil, said he has danced with FBT many times, and enjoys coming back year after year.
"There's a great need for classical ballet and dance in general in the (greater) Los Angeles area," said the 35-year-old principal dancer at San Francisco Ballet. "(Rizkalla) is an astonishing representative of traditional classical ballet. I'm mesmerized by the talent that she possesses and how well she does. I really see the kids coming up really strong."
The longtime artistic director of Festival Ballet Theatre does not view the ABT performance at Segerstrom Hall as competition. The two complement each other, she said, and some of the ABT dancers have performed in FBT's "Nutcracker" over the years.
"For us, ballet is one big family," said Rizkalla, who founded FBT in 1988.
In fact, her company is scheduled to present a pair of "Nutcracker for Kids" performances at Segerstrom Center Dec. 2. The show is a condensed version of the classic, with music by Pacific Symphony, created for kids 5-11 years old. Santa Claus will reportedly make a jolly old appearance.
Rizkalla said her company's production will attract local families and many interested in seeing a homegrown version of "Nutcracker" that stays decidedly true to the ballet's roots.
"I think people, when they come to see the quality of dancing, they will feel like they are seeing a treasure of ballet and a very warm production," she said. "The set is gorgeous. It will be a very festive experience from beginning to the end."
If You Go
What: "The Nutcracker"
When: Dec. 7-17 in Costa Mesa; Dec. 9-24 in Irvine
Where: Segerstrom Center for the Arts, 600 Town Center Drive, Costa Mesa; also Irvine Barclay Theatre, 4242 Campus Drive, Irvine
Cost: Tickets start at $29 at Segerstrom Center and $42 at the Barclay
Information: (714) 556-2787 or scfta.org; (949) 854-4646 or thebarclay.org.
Richard Chang is a contributor to Times Community News.
---
All the latest on Orange County from Orange County.
Get our free TimesOC newsletter.
You may occasionally receive promotional content from the Daily Pilot.