Variety and Newport Beach Film Festival honor '10 Actors to Watch'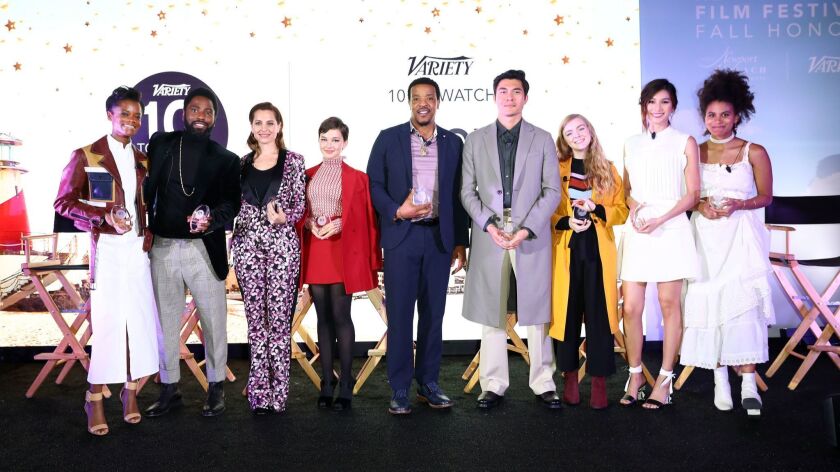 The Resort at Pelican Hill in Newport Beach served as the setting for Variety magazine's 20th anniversary 10 Actors to Watch event on Nov. 11. Movie stars, publicists and members of the press worked an active red, or in this case blue, carpet, as a surprisingly warm, mid-November sun beat down on everyone and the Pacific Ocean glistened in the background.
The gathering celebrated several actors whose stars have been on the rise over the past year or so. The honorees were Zazie Beetz from "Atlanta" and "Deadpool 2," Gemma Chan from "Crazy Rich Asians," Elsie Fisher from "Eighth Grade," Henry Golding from "Crazy Rich Asians" and "A Simple Favor," Russell Hornsby from "The Hate U Give" and "Creed 2," Anthony Ramos from the original "Hamilton" Broadway cast and "A Star is Born," Cailee Spaeny from next month's "On the Basis of Sex," Marina de Tavira from Alfonso Cuarón's "Roma," John David Washington from Spike Lee's "BlacKkKlansman," and Letitia Wright from "Black Panther" and "Avengers: Infinity War."
"It's amazing. It's such a gift, it really is — to be highlighted out of all the young actors that have come up," said Golding, 31, who made a splash this year as the leading man in "Crazy Rich Asians," the first major Hollywood studio film in 25 years to feature an all-Asian and Asian American, English-speaking cast in a contemporary story.
"To be recognized by an industry giant like Variety is really something to treasure," said Golding, who is slated to star in Guy Ritchie's "Toff Guys" and Paul Feig's "Last Christmas" next year. "Hopefully this will lead on to bigger and better experiences and projects, not only in front of the camera, but behind the scenes as well."
British actress Chan, who also starred in "Crazy Rich Asians," said she never thought she could make it as a working actor, let alone be chosen as one of the industry's 10 Actors to Watch.
"It is such an honor, and I'm in such incredible company," said Chan, 35, who will appear in "Mary Queen of Scots" next month and "Captain Marvel" next year. "It feels really great to be here, and I'm really proud and really grateful."
The event was co-sponsored by the Newport Beach Film Festival, which will be celebrating its own 20th anniversary next year, and Visit Newport Beach, the city's official destination marketing organization.
The film fest bestowed additional honors on three veteran actors. Robert Forster received an Icon Award; and Colman Domingo, Mary Elizabeth Winstead and Topher Grace received Artist of Distinction awards.
Gregg Schwenk, CEO and executive director of the Newport Beach Film Festival, encouraged everyone in the room to use their influence to support independent film and film festivals. He mentioned the unexpected demise of the Los Angeles Film Festival this year, after 24 years.
"For the failure of the arts, it takes good people to do nothing," Schwenk said.
Wright, the Guyanese-born British actress who made an impact as tech-savvy Shuri, the younger sister in "Black Panther," earlier this year, said she has been watching the careers of her fellow honorees "for a few years now."
"Just to be in the same category as them — it's been amazing," she said. "It feels really good. It's an honor."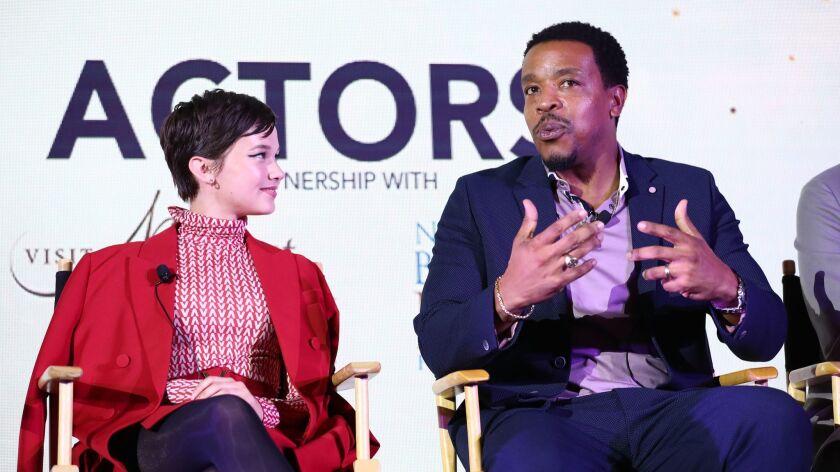 Not all of the "10 Actors to Watch" are young up-and-comers. Hornsby, who played the father, Maverick Carter, in this year's "The Hate U Give," has been a working actor for 20 years.
"It feels great to finally be recognized," said Hornsby, 44. "All I've ever tried to do was pursue the work with a sense of purpose, and be honest and true to the craft of acting, and not worry about celebrity, not worry about being famous, and not worry about getting rich. I got into it for the purity of acting, the purity of being a craftsman."
The actors and invited guests enjoyed a brunch and a program that included an awards ceremony and a question-and-answer session led by Jenelle Riley, deputy awards and features editor for Variety.
After the program, Chan posed for pictures with fans and reflected on the impact her movie, "Crazy Rich Asians," has had on American and popular culture.
"It has amazed me how affected people have been by the film," she said. "It's been 25 years since 'The Joy Luck Club.' That's a whole generation of people growing up without ever seeing themselves being the center of the narrative. And I hope for any young boy or girl watching it, they will believe that they're worthy of being the center of their own narrative."
Richard Chang is a contributor to Times Community News.
---
All the latest on Orange County from Orange County.
Get our free TimesOC newsletter.
You may occasionally receive promotional content from the Daily Pilot.