TimesOC: After escaping Taliban, Afghan refugee children schooled in Orange County
Good morning and welcome to the TimesOC newsletter.
It's Friday, March 25. I'm Ben Brazil, bringing you the latest roundup of Orange County news and events.
During the last few months of 2021, hundreds of Afghan refugees who fled the Taliban takeover were relocated to Orange County.
They were among about 75,000 Afghans transferred to American cities by the U.S. government.
Once they arrived in Orange County, the families struggled to find educational options for their children, especially given the language barrier. Fortunately, the Orange County Department of Education was notified of the issue and stepped up to provide services in hotels where the refugee families are staying temporarily.
"These were all families who were working alongside our soldiers in Afghanistan," said Christine Olmstead, the department's chief academic officer. "The Taliban came through their town and terrorized them and blew up their schools and burned down their houses. They're living with that trauma. We've heard stories of vans coming in the middle of the night and picking them up and putting them on C-17s to get them here."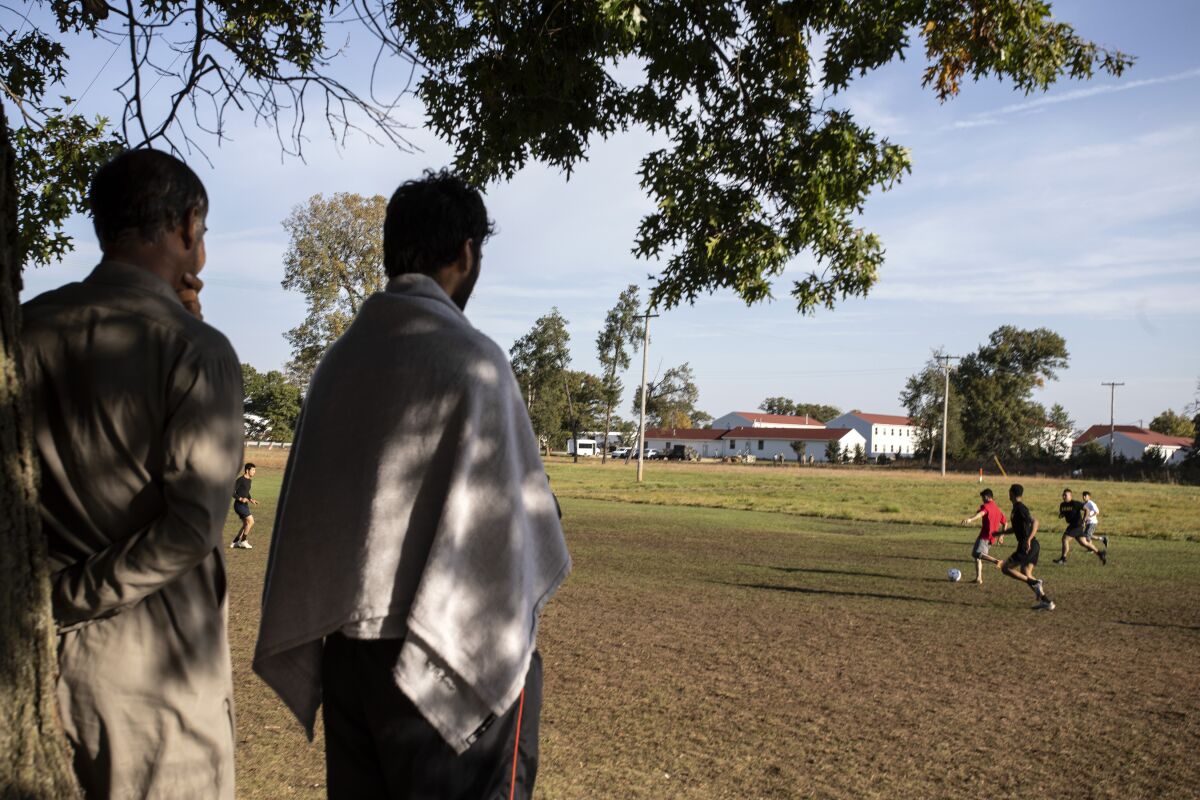 Ismailkhail, who asked to be identified only by his last name, has been in Orange County for a few months, and his children are currently enrolled in the OCDE classes. Ismailkhail, his wife and four of his seven children were relocated because they would be targets for the radical fundamentalist group since he was an Afghan soldier who worked with the United States government before it ended its two-decade occupation in Afghanistan.
Ismailkhail is happy for his four children, who are making friends with their fellow Afghans in the classes, but he fears for the three children that are still in Afghanistan.
"We were told to just go into the airport with the number of family members we currently have, and the remaining will be held later on to come to the U.S.," Ismailkhail said through a translator during a phone interview.
The department of education is providing the schooling services until the families can be placed in housing by local agencies like Uplift Charity in Anaheim and the Orange County Social Services Agency. Olmstead said about half of the 60 students have already been connected with housing. Most of the families moved to homes outside of Orange County because local housing is too expensive.
The Afghan student program is part of the OCDE ACCESS division, where the department partners with local school districts to provide alternative educational options for students throughout the county, including schooling for incarcerated and at-risk youth and special education. The curriculum the Afghan children are being taught is called a "newcomer's curriculum," which helps the students learn basic communication skills in English to prepare them for being a student in a U.S. classroom, Olmstead said.
"The unique situation about this one was that this is the first time this many refugees have been placed in Orange County at one time," Olmstead said. "Normally, it's a couple families a year ... So it created a unique situation for us to kind of meet the needs of the unique demand."
MORE NEWS
A 113-pound cougar ran through a busy shopping center and got stuck inside an office building this week before being tranquilized and released back into the wild. Reporter Lila Seidman wrote that people hurriedly ran out of the building as a veterinarian with animal control walked in with his tranquilizer gun at the ready. Luckily, nobody was injured in the process.
Since two Santa Ana homeless shelters shut down last year, homeless advocates have been waiting for the opening of the Carnegie Avenue shelter. However, they may have to wait longer as the company that owns the site of the shelter decided to halt construction last week as it was nearing completion. That move angered city officials, who filed a federal lawsuit earlier this week seeking an injunction ordering the property owner to continue construction on the homeless shelter.
A minor was detained this week after allegedly making criminal threats on social media against some high schools in the Newport-Mesa Unified School District. Some of the posts threatened physical harm, however Newport Beach police said the youth didn't have the means to carry out the threats, wrote my colleague Lilly Nguyen.
A 19-year-old Huntington Beach man was arrested this week on suspicion of stabbing a man multiple times with a pocketknife during a fight at a pool hall in Westminster. The man was stabbed in the head, abdomen and arm, but pulled through after being in an intensive care unit of a local trauma center for five days. "This was more than a fight — it was an extremely violent attack," said Westminster Police Deputy Chief Cameron Knauerhaze. "Our detectives are familiar with the location, and I am pleased they were able to put this case together, especially due to the uncooperative business and witnesses involved."
A plan to replace an office building with a 193-unit apartment building moved forward this week as the Newport Beach City Council approved a series of entitlements for the proposal. Most of the units will have a market rate rent, though 24 will be considered affordable housing for low and very low incomes. Developers now need to apply for building permits.
In 2016, Bradley Meenahan exposed himself in the children's section of a Barnes & Noble bookstore in Huntington Beach. Police say he was back at it again this week and charged him with allegedly exposing himself to three people in Newport Beach.
LIFE AND LEISURE
You may be unaware that the boysenberry was created by horticulturalist Rudolph Boysen on his farm in Anaheim. You may also not know that Walter Knott, of Knott's Berry Farm, later became the first to commercially cultivate the boysenberry. If you want more of a taste of the history of the famed local berry, be sure to read this story from my colleague Sarah Mosqueda about the Knott's Boysenberry Festival.
The Laguna Beach Pacific Marine Mammal Center, which rescues and rehabilitates injured seals and sea lions, is facing a change in leadership. Peter Chang has resigned from the organization after serving as its chief executive for four years. Chang said he is reassessing his life and career like many in the country have since the beginning of the pandemic.
SPORTS
For Rachael Arnold, the starting catcher for the Huntington Beach High School softball team, this week's win against Los Alamitos was personal. Earlier this month, Arnold's boyfriend was killed along with his brother in a car crash. Arnold wore No. 56 this week, in honor of her boyfriend, who had worn that number as a football player for Edison. My colleague Andrew Turner wrote about how the team has been deeply supportive of Arnold as she deals with the loss.
Angels' top prospects Jo Adell and Brandon Marsh had shaky major league debuts last year, but they are both hoping to learn from their mistakes and improve in the upcoming season. Reporter Mike Digiovanna wrote that both players have improved their performance and could be poised for starting spots with the team. Digiovanna noted in his story that even Mike Trout struggled early in his career before becoming a three-time American League most valuable player and nine-time All-Star.
Angels manager Joe Maddon is excited about his promising bullpen this season. During the offseason, the team brought in an energetic and experienced group of pitchers to support closer Raisel Iglesias. "I love a little energy," Maddon said. "I love a little edge."
Stay in Touch
If you have a memory or story about Orange County, we would love to read it (please keep your story to 100 words or less).
We want your help in making this the best newsletter it can be. Send any tips or comments to benjamin.brazil@latimes.com or carol.cormaci@latimes.com.
Keep up with community news on our Orange County page. Follow us on Twitter at @timesocofficial.
Did someone forward you this? Sign up here to get the TimesOC newsletter in your inbox, or invite a friend or family member to join.
Not a subscriber? Get unlimited digital access to latimes.com. Subscribe here.
---
All the latest on Orange County from Orange County.
Get our free TimesOC newsletter.
You may occasionally receive promotional content from the Daily Pilot.