Going to small claims court next year? Make sure you have the right address
Good morning. It's Wednesday, June 22. I'm Carol Cormaci, bringing you today's TimesOC newsletter with the latest roundup of news and events.
If you're chewing on the idea of taking someone to small claims court in O.C. in the coming year and would normally take your case to the Central Justice Center in Santa Ana, be sure to double-check the address of your hearing or you might just show up in the wrong location.
An estimated $58 million in safety-related renovations are still needed at the Central Justice Center, which on a typical (non-pandemic) day sees an average of 191 small claims and probate cases per day, according to a news feature by my colleague Sara Cardine. To accomplish the necessary work, courtrooms will obviously have to be closed, on a floor-by-floor basis.
To handle the displaced operations, the Judicial Council of California has leased a portion of a Costa Mesa building and recently received the blessings of the Costa Mesa Planning Commission to operate judicial proceedings from that Harbor Boulevard location.
"Shifting services and cases away from the high-traffic Central Justice Center — which comprises 66 courtrooms alongside numerous offices and departments and sees roughly 8,000 people come through its doors each day — is a major undertaking," Cardine writes, in what may be an understatement.
The first 36 months of the rental is costing the state just over $4.5 million; an additional 24 months, if needed, will cost $3.23 million, according to Cardine's report. It's expected that tenant improvements will be completed by this fall and at that point, possibly as soon as Oct. 1, the lease will commence.
Cardine interviewed David Yamasaki, court executive officer for Orange County Superior Court, about the immense undertaking. He explained how the county owned and operated the Central Justice Center from the time it was built in 1968 until 2002, when then-Gov. Gray Davis transferred ownership and financial oversight of all of California's courthouses to the state. Safety improvements that had been underway prior to that transfer were essentially halted at that point and, according to Yamasaki, lower floors are in sore need of receiving the necessary upgrades.
"Having a safe facility to perform the responsibilities we have is not just for the benefit of the public but everyone who works in the facility," Yamasaki said.
MORE NEWS
— While noting that O.C. cities need to do a better job of crafting legislation to reduce the proliferation of trash before it can make its way into the ocean, the California Coastal Commission recently gave its approval to a refuse-snaring vessel called a water wheel to be installed in Newport Beach's San Diego Creek. My colleague Lilly Nguyen has the story of the unique contraption that will help protect the Upper Newport Bay.
— Rodger Corbett, 49, a former sergeant in the Fullerton Police Department, and Kevin Pedersen, 34, formerly of the Anaheim Police Department, both indicted earlier this month in Orange County Superior Court, face felony charges of kidnapping, false imprisonment by violence and fraud as well as enhancements for using a firearm. The two will be arraigned in court on June 29, according to a report by our colleague Felicia Alvarez.
— Federal prosecutors on Tuesday said they expect to drop additional charges against incarcerated lawyer Michael Avenatti of Newport Beach after he pleaded guilty to multiple counts of wire fraud for swindling his clients out of settlement funds they were due.
— Huntington Beach police have arrested two men after an armed robbery at a local park Saturday led to a police pursuit that ended with one of the suspects fleeing into the ocean at Bolsa Chica State Beach, officials reported. The second man apparently had second thoughts about his chance in the open waters and headed back to shore, where he was apprehended.
— Emerging from a handful of carriers and with the encouragement of Wetlands and Wildlife Care Center staff, 12 rehabilitated brown pelicans that had been victims of a mass stranding event spread their wings and took off beneath a bright blue sky at Corona del Mar State Beach on Friday afternoon.
— For the seventh straight day gas prices dropped in the Southland, with Orange County seeing an average 1.4-cent drop to bring the cost to a little over $6.33 per gallon, according to a report Tuesday by City News Service. That's still a hefty price to pay, and motorists are waiting to learn whether President Biden will decide whether to order a holiday on the federal gasoline tax.
LIFE & LEISURE
— The colorful saga of the feud between Laguna Beach neighbors, retired bond king Bill Gross and tech entrepreneur Mark Tofiq over netting Gross placed over a costly sculpture by blown-glass artist Dale Chihuly appears to have come to an end, reports L.A. Times business writer Laurence Darmiento. To refresh your memory, Tofiq and his wife, Carol Nakahara, complained that the netting spoiled their once spectacular view and the discord grew from there.
SPORTS
— The newly formed United States Tennis Assn. SoCal Pro Circuit can provide a respite for tennis fans looking for some action, according to a story by my colleague Matt Szabo. The six-event USTA/ITF circuit started in San Diego earlier this month. A tournament at the Jack Kramer Club in Palos Verdes starts on June 27, and the circuit comes to Fountain Valley from July 4 through 10 with an event at Los Caballeros Sports Village before concluding the following week at Lakewood Tennis Center.
COMMENTARY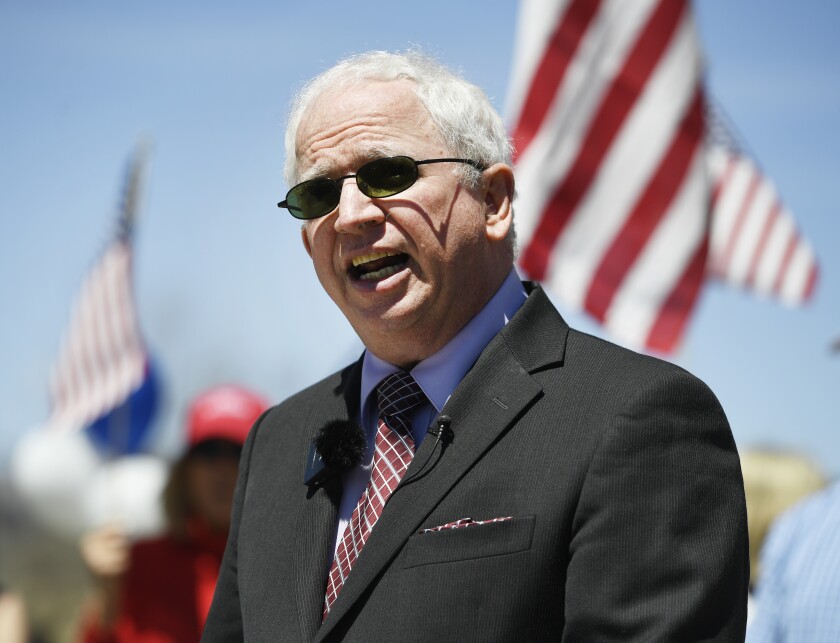 — L.A. Times columnist Gustavo Arellano this week cast his piercing eyes on former Chapman University professor and O.C. GOP figure John Eastman, now nearly a household name for his involvement in the Jan. 6 insurrection. Arellano's commentary focuses on how Eastman's political views have skidded to the fringe right over the years.
OBITUARY
— Newport Beach philanthropist Marjie Albright Bennett died this month at the age of 99. The early 1950s TV sitcom "My Little Margie" featuring a bubbly ingenue (played by Gale Storm) was named for her by TV execs at CBS with whom she worked as a switchboard operator. In 1950 she married Bob Bennett, who went on to build Metromedia Broadcasting. The couple moved to Lido Isle in the 1980s, where they became noted supporters of Hoag Hospital. Bob Bennett preceded his wife in death in 2016.
CALENDAR THIS
— There's still time to enter a number of culinary arts and horticulture competitions for the annual Orange County Fair, taking place July 15 through Aug. 15. The deadline for culinary entries is July 5. Deadlines for horticulture entries in the categories of cut flowers, fruits and vegetables and container plants will begin July 13 with weekly entry deadlines and events through the fair. To review deadlines for weekly competitions and guides for entry into each competition, visit ocfair.com/competitions.
— The 56th annual Sawdust Art Festival in Laguna Beach will open its doors for the summer on Friday at 11 a.m.
The festival, located at 935 Laguna Canyon Road, will be open daily through Sunday, Aug. 28. The hours of operation are 11 a.m. to 7 p.m. Sunday through Thursday, with the grounds open from 11 a.m. to 10 p.m. on Fridays and Saturdays. Tickets are $10 for adults, $7 for seniors, and $5 for children ages 6 through 12.
KEEP IN TOUCH
If you have a memory or story about Orange County, we would love to read it (please keep your submission to 100 words or less).
We want your help in making this the best newsletter it can be. Send your memory of life in O.C., news tips or comments to carol.cormaci@latimes.com or benjamin.brazil@latimes.com.

---
All the latest on Orange County from Orange County.
Get our free TimesOC newsletter.
You may occasionally receive promotional content from the Daily Pilot.