Touch-a-Truck, a free interactive experience that gives children a hands-on opportunity to learn about trucks and other vehicles, will return to the Orange County Market Place from 11 a.m. to 2 p.m. Saturday.
The Market Place is held at the OC Fair & Event Center, 88 Fair Drive in Costa Mesa. For more information, visit ocmarketplace.com/events.
Laguna church will host world peace event
Neighborhood Congregational Church in Laguna Beach will host its second annual World Peace and Justice Weekend on Friday and Saturday.
This year's event is themed "Sustainability: In This Together" and will include talks with environmental experts, art and children's activities. Tickets range from $10 to $30.
For tickets and a complete list of events, visit ncclaguna.org. The church is at 340 St. Ann's Drive.
Lagunatics comedy show set for No Square Theatre
The 27th production of Lagunatics — an annual musical parody that spoofs Laguna Beach's idiosyncrasies — begins Friday at the No Square Theatre, 384 Legion St.
This year's show, called "Shticks & Shtones," runs through Oct. 27.
For more information or to buy tickets, visit nosquare.org.
Girls Inc. events include celebration of International Day of the Girl Child
Costa Mesa-based Girls Inc. of Orange County will mark International Day of the Girl Child with an event Saturday called "Love Your Body, Period."
The event will run from 11 a.m. to 1 p.m. Through motivational speakers, attendees will learn how young girls can love themselves. Participants also will make health kits. Food will be provided.
Admission is free for all girls, including those not involved with Girls Inc. For more information, or to register, visit bit.ly/2OIswae.
Girls Inc. is at 1815 Anaheim Ave.
The organization also will host its fourth annual Dads for Daughters Texas Hold 'em tournament on Oct. 18. The event will run from 6 to 11 p.m. at Net Development Co., 3130 Airway Ave. in Costa Mesa. Tickets are $100.
For more information, visit girlsinc-oc.org/support/dads-for-daughters or call (949) 999-2919.
Laguna Plein Air Painting Invitational wraps up with gala and show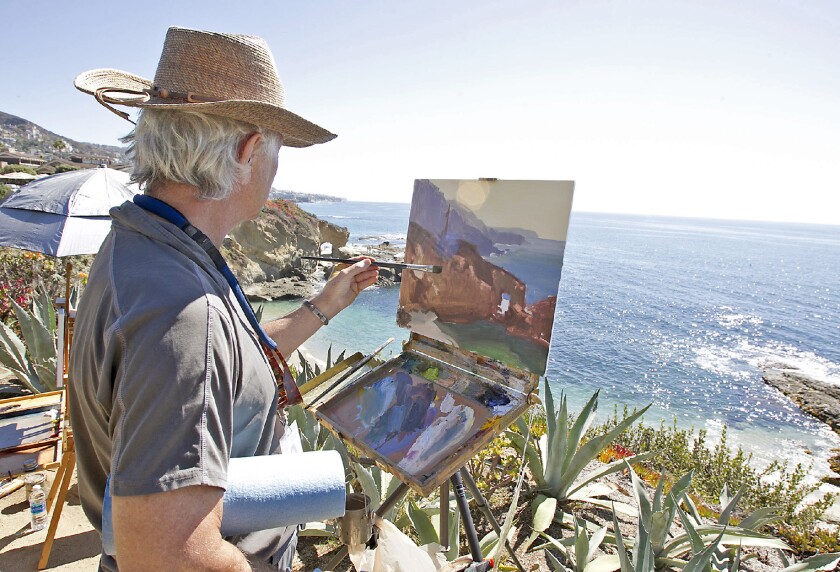 The 21st annual Laguna Beach Plein Air Painting Invitational Collectors Gala will start at 7 p.m. Saturday at the Festival of Arts grounds, 650 Laguna Canyon Road.
Advance tickets start at $150. Guests must be 21 or older. Evening or cocktail attire is suggested.
The Plein Air Painting Invitational ends Sunday with the free Plein Air Fine Art Show & Outdoor Painting Festival from 10 a.m. to 5 p.m. at the Festival of Arts grounds. It's the last opportunity to meet the artists and buy original paintings created during the previous week. Proceeds from the sale of artworks will benefit the artists and the nonprofit Laguna Plein Air Painters Assn.
For Sunday's full events schedule and more information, visit lpapa.org.
Surf City firefighters will host open house
The Huntington Beach Fire Department will host its annual open house Saturday at Fire Station 1, 18311 Gothard St., from 10 a.m. to 2 p.m.
The event's theme is, "Not every hero wears a cape. Plan and practice your escape!"
Festival Ballet begins new season
The Fountain Valley-based Festival Ballet Theatre will start its 2019-20 season this weekend with performances of "The Firebird."
The shows take place Saturday and Sunday at the Irvine Barclay Theatre, 4242 Campus Drive.
Tickets start at $35. For more information, or to buy tickets, call the Barclay at (949) 854-4646 or visit thebarclay.org.
Fairgrounds will open doors to Home & Holiday Expo
The 42nd annual OC Home & Holiday Expo will make its home at the OC Fair & Event Center this weekend.
The expo — which runs from 10 a.m. to 6 p.m Saturday and 10 a.m. to 5 p.m. Sunday — will include workshops, cooking demonstrations and a holiday gift section.
Admission is free, but parking costs $9 at the Fair & Event Center, 88 Fair Drive in Costa Mesa.
Attendees are asked to register online in advance at thebesthomeshow.com.
Community arts event coming to H.B.
The Huntington Beach Art Center will present the Surf City Arts Fest Sunday from 11 a.m. to 4 p.m. at 538 Main St. and the adjacent Triangle Park.
The free event will include artist demonstrations, booths, live music and food.
Road safety expo rolling into Laguna
Laguna Beach public safety officials will host a road safety expo Sunday from 11 a.m. to 2 p.m. at Top of the World Elementary School, 21601 Treetop Lane.
Firefighter demonstrations, raffles and BMX bikers all will be part of the free event.
Orange Coast College to stage dance festival
Orange Coast College's dance department will host a hip-hop-focused festival Sunday.
The Mesa Dance Festival will feature workshops, a dance battle and an evening show. Performances are scheduled from 10 a.m. to 7 p.m. at the OCC campus, 2701 Fairview Road in Costa Mesa.
Tickets for the entire day's events start at $25. For more information, visit occtickets.com or call (714) 432-5880.
Fall fair and pumpkin patch comes to Newport Beach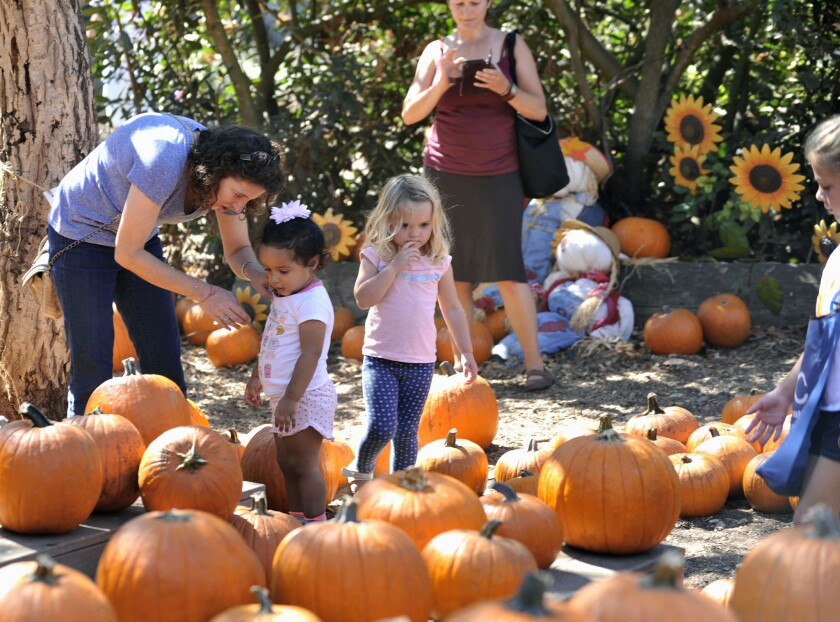 A Fall Faire and Pumpkin Patch will sprout again at the Environmental Nature Center in Newport Beach on Sunday.
The 44th annual event will run from 10 a.m. to 3 p.m. at the center, 1601 E. 16th St., and include children's crafts, games, a restaurant showcase and petting zoo.
For more information, visit encenter.org.
Costa Mesa creativity center looks to be a draw at fundraiser
The Chuck Jones Center for Creativity in Costa Mesa will host a family-friendly fundraiser from 1 to 4 p.m. Sunday.
Guests will be able to draw at different stations as well as enjoy food and drinks. Admission is $5.
For more information, visit chuckjonescenter.org. The center is at 3321 Hyland Ave.
Design expo coming to Costa Mesa
The International Interior Design Assn. will host its contract interiors expo from 5 to 9 p.m. Tuesday in the Hangar at the OC Fair & Event Center, 88 Fair Drive in Costa Mesa.
For more information, or to buy tickets, visit iida-socal.org.
Revamped Boys & Girls Club to open in Costa Mesa
Local Boys & Girls Club officials will cut the ribbon on the recently revamped location in Eastside Costa Mesa at 9:30 a.m. Tuesday.
As part of the renovation, the property at 2131 Tustin Ave. was renamed the Argyros Center for Opportunity — in recognition of philanthropist Julia Argyros' $1.5-million donation to support the project.
Newport-Mesa to host college and career prep event
The Newport-Mesa Unified School District will host a college and career night for middle and high school students at the OC Fair & Event Center on Wednesday.
The event is scheduled from 6:30 to 8:30 p.m. For more information, including details on bus transportation to the fairgrounds, call (714) 424-5044.
Los Angeles Times' Taste event returning to Costa Mesa
Travel Costa Mesa and the Los Angeles Times, the Daily Pilot's parent publication, are partnering to host a Costa Mesa edition of the Taste on Oct. 18 and 19.
The event at the Met office complex, 535 Anton Blvd., will feature food and drinks, chef demonstrations and music. Tickets start at $80. Visit events.latimes.com/taste for more information or to buy tickets.
Laguna High students to present 'Our Town'
Laguna Beach High School will stage a student production of "Our Town" on Oct. 25, 26 and 27, and Nov. 1 and 2.
Tickets are available at lbhs.booktix.com. The performances will be held at 625 Park Ave.
OCTA asks for input on potential Beach Boulevard changes
Residents interested in giving their thoughts on the future of Beach Boulevard can do so through Oct. 26 using an online survey.
The survey is available at beach-survey.com. Among the potential changes the Orange County Transportation Authority is considering for the major thoroughfare — which stretches from Huntington Beach to La Habra — are bus-only lanes, expanded bus service, adding turn lanes, optimizing traffic signals or adding pedestrian bridges, according to a news release.
'Nights of 1,000 Lights' returning to Sherman Library
Sherman Library & Gardens will be aglow again this winter during the latest "Nights of 1,000 Lights" display.
Tickets for the sixth annual event, which will run from Dec. 6 to 22, start at $15 for library members. For more information, visit slgardens.org or call (949) 673-2261.
Sherman Library is at 2647 E. Coast Hwy. in Corona del Mar.
New exhibits go up at Laguna Art Museum
Three new exhibitions featuring the work of Thomas Lorraine Hunt, Laurie Brown and Mildred Bryant Brooks are now on display through Jan. 12 at the Laguna Art Museum.
The museum is at 307 Cliff Drive. General admission is $7.
Festival of Arts application period opens
Interested artists can now apply to display their work at the 2020 Festival of Arts in Laguna Beach.
Applicants must be at least 18 years old and have lived in Orange County for a year prior to Oct. 31.
For more information, or to apply, visit foapom.com/apply or call (949) 464-4234. The 2020 show is scheduled for July 6 to Sept. 3.
Costa Mesa mayor and H.B. resident are honored for service
Costa Mesa Mayor Katrina Foley and Huntington Beach resident Melissa Breunig were honored by the Angel Light Academy during an Oct. 5 gala at the Avenue of the Arts hotel in Costa Mesa.
Foley was credited for her record of community service at City Hall and area nonprofits. Breunig, the founder of the Richard Breunig Foundation, was lauded for helping American veterans, the homeless and other disadvantaged individuals.
---