Around Town: Gondoliers will put their mettle to their paddles during competition in Newport Beach
The eighth annual U.S. Gondola Nationals will push off from Newport Beach starting at 9 a.m. Saturday and Sunday.
Races include spring solo, distance four-man and an obstacle course.
The race headquarters is the Bahia Corinthian Yacht Club, 1601 Bayside Drive.
Viewing is available across from the club or across the channel from the Little Balboa Island walkway. Spectators can watch from the Balboa Island bridge for the longer races.
For more information, visit usgondolanationals.com.
H.B. company named Small Business of the Year
Assemblywoman Cottie Petrie-Norris (D-Laguna Beach) has named Huntington Beach-based Vegware as her district's Small Business of the Year, according to a news release.
Vegware manufactures plant-based compostable food service packaging — such as drink cups, takeout boxes and containers — out of renewable, recycled or lower-carbon materials.
Petrie-Norris will give the business its award Friday at 3 p.m. at the Wetlands and Wildlife Care Center of Orange County, 21900 Pacific Coast Hwy. in Huntington Beach.
Petrie-Norris represents the 74th Assembly District, which covers Newport Beach, Costa Mesa, Laguna Beach, part of Huntington Beach and most of Irvine.
H.B. hotel hosting California Wine Festival
The California Wine Festival will take place Friday and Saturday at the Paséa Hotel & Spa, 21080 Pacific Coast Hwy. in Huntington Beach.
The event will feature wine tastings, food and live music. Hours are 6:30 to 9 p.m. Friday and noon to 4 p.m. Saturday.
Tickets start at $40, plus fees. For more information, or to buy tickets, visit californiawinefestival.com/huntington-beach.
O.C. fairgrounds says cheers to beer-tasting event
The OC Fair & Event Center will be both spooky and sudsy this week during the Boo Ha Ha beer-tasting event.
Unlimited beer samples will be poured from 6 to 9 p.m. on Friday and Saturday. Attendees must be 21 or older.
Dead Man's Party, an Oingo Boingo tribute band, and Devotional, a Depeche Mode tribute, will perform Friday. Saturday's entertainment includes Metalachi and the Mismiths, a tribute to Misfits and the Smiths.
Attendees are encouraged to come in costume. For tickets, costume rules and more information, visit theboohaha.com. Parking is $9. The Fair & Event Center is at 88 Fair Drive in Costa Mesa.
Motorcycles will roll to Bolsa Chica for celebratory day
The Moto Beach Classic, a celebration of motorcycle culture, will roll onto Bolsa Chica State Beach on Saturday.
The event will feature motorcycle racing and live music between noon and 9 p.m., as well as a vendor village and art show. A surfing competition will be held from 8 a.m. to 2 p.m.
General admission tickets are $29.50, plus fees. VIP tickets are $99.50, plus fees. Visit motoclassicevents.com/2019 for more information.
Corgi Day coming 'bark' to Surf City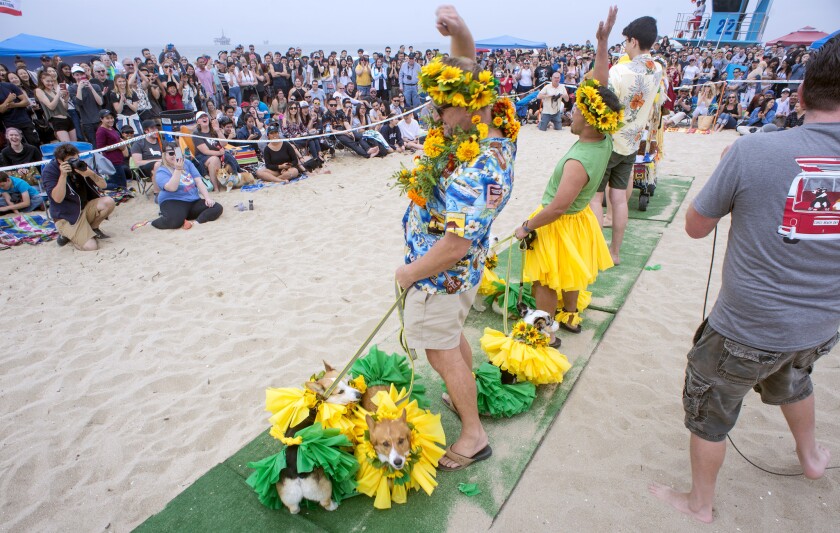 So Cal Corgi Nation is having a Corgi Beach Day for the stumpy canines and their guests at Huntington Dog Beach, 100 Goldenwest St., from 10 a.m. to 3 p.m. Saturday.
Though the event spotlights corgis, all dogs are welcome to attend. It will include contests, photo backdrops and vendors.
Aspiring junior rangers invited to the Back Bay
Children are invited to visit Newport Beach's Back Bay Saturday for a guided hike, short service project and a chance to take the junior ranger oath.
The free event runs from 9 a.m. to noon at the Peter and Mary Muth Interpretive Center, 2301 University Drive. Activities are designed for aspiring rangers between the ages of 9 and 12.
For more information, call (949) 923-2250.
The Muth Interpretive Center also will host a free astronomy night Monday from 7:15 to 9:15 p.m. Admission is free.
To register for either event, visit letsgooutside.org.
OCC to host dance concert
Orange Coast College's dance department will present its annual Faculty Dance Concert at 7:30 p.m. Saturday in the on-campus Robert B. Moore Theatre, 2701 Fairview Road in Costa Mesa.
Performers will showcase a variety of styles during the concert, including jazz, tap, ballet, hip-hop and flamenco.
Tickets are $12 in advance or $20 at the door. For more information, visit occtickets.com.
Newport officials to host general plan community event
The city of Newport Beach will host a community fair Saturday from 11 a.m. to 3 p.m. at the Civic Center, 100 Civic Center Drive.
"Newport, Together" will include information about the city's general plan, live music, food, lawn games, children's activities, local nonprofits and community groups.
For more information, visit newporttogether.com.
Halloween event will bring fun, scares to CdM park
The third annual Halloween Spooktacular will take place Saturday from 4 to 7 p.m. at Grant Howald Park, 3000 Fifth Ave. in Corona del Mar.
The event will feature trick-or-treating, a haunted maze, games, bounce houses, food trucks and costume prizes.
Juniors to compete in H.B. surfing competition
The Vissla ISA World Junior Surfing Championship starts Saturday and ends Nov. 3 in Huntington Beach.
The festivities will begin at 10 a.m. Saturday with a ceremony and parade of nations along Main Street. The closing ceremony will be held at Pier Plaza.
Competitions will take place at the south side of the Huntington Beach Pier. Some participants may go on to compete at the 2020 Olympics in Tokyo.
Admission is free.
N.B. church will host classical piano concert
St. James Episcopal Church in Newport Beach will present a performance of Rachmaninoff's Piano Concerto No. 3 at 5 p.m. Sunday.
The concert soloists are pianist Michael Denison and organist Daniel Resch.
The suggested donation to attend is $20. Childcare will be provided.
St. James is at 3209 Via Lido.
Hops, ahoy: New restaurant coming to H.B.
Surf City Ale House, a new restaurant in Huntington Beach with 24 beers on tap, will have its grand opening Monday, starting at 7 p.m.
Proceeds from the event will benefit the Huntington Beach Youth Shelter.
Surf City Ale House is at 301 Main St.
Event will discuss Costa Mesa's economy
The Costa Mesa Economic Roundtable, an event organized by the South Coast Metro Alliance, is Tuesday.
The event will run from 11:30 a.m. to 1:15 p.m. at the Chuck Jones Center for Creativity, 3321 Hyland Ave., Suite A. Lunch is included.
Visit bit.ly/361EQJ3 for more information.
Boats up for auction in Newport Harbor
The city of Newport Beach and Orange County Sheriff's Department are hosting boat auctions starting at 10 a.m. Wednesday in Marina Park, 1600 W. Balboa Blvd.
Potential buyers can view the available vessels starting at 9 a.m. All boats will be sold as-is.
Catalina history event scheduled at Newport library
The Newport Beach Historical Society, in partnership with the Catalina Island Museum, will provide a free lesson on the island's history starting at 7 p.m. Wednesday.
The seminar will be held at the Newport Beach Central Library, 1000 Avocado Ave., and presented by Gail Fornasiere, the museum's director of marketing.
Port Theater will celebrate milestone anniversary with Halloween party
The Port Theater in Corona del Mar will celebrate its 70th anniversary with a Halloween masquerade.
The party starts at 8 p.m. and will feature live music, food, drinks and an aerial performance.
General admission is $90, with VIP tickets available for $180.
For more information, visit portnewport.com/events or call (949) 988-7303. The theater is at 2905 E. Coast Hwy.
Halloween event will scare up some fun in Surf City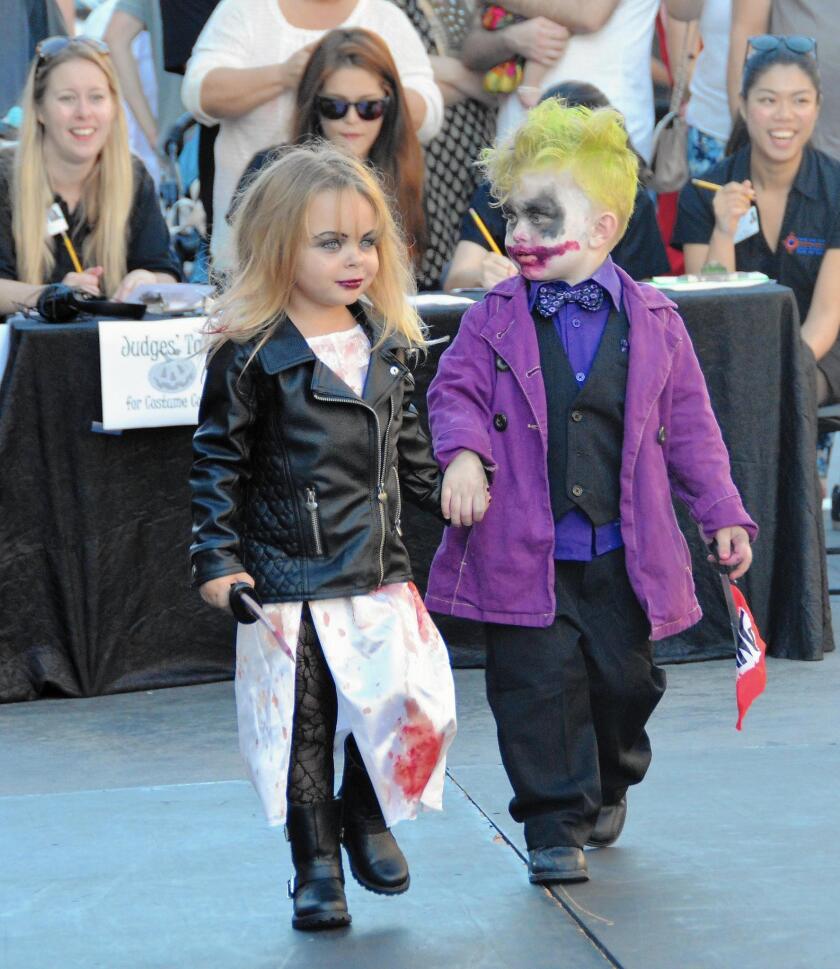 A free, family-friendly Halloween event is coming to Huntington Beach.
The event — presented by the Huntington Beach Downtown Business Improvement District — will run from 4 to 8 p.m. on Oct. 31 and include trick-or-treating, photo sessions and children's activities.
A canine costume contest is scheduled at 5:30 p.m. at Fifth Street and Pacific Coast Highway, with a children's and group costume contest following at 6 p.m.
For more information, visit hbdowntown.com.
Bella Terror? Halloween party scheduled at H.B. mall
The Bella Terra mall in Huntington Beach will have a Halloween party of its own from 3 to 5 p.m. Activities will includes trick-or-treating, a DJ and face painting.
Bella Terra is located at 7777 Edinger Ave.
Seniors invited to daytime Halloween parties
Seniors also can get into the seasonal spirit during Halloween parties in Fountain Valley and Costa Mesa.
Fountain Valley's goes from 11:30 a.m. to 1:30 p.m. at the Center at Founders Village, 17967 Bushard St. Call (714) 593-4446 for more information.
Costa Mesa's will run from 11:30 a.m. to 1 p.m. at the city Senior Center, 695 W. 19th St. For more information, visit bit.ly/31JORY3.
Newport Chamber hosts blood drive
The Newport Beach Chamber of Commerce will host a blood drive on Nov. 1 in its parking lot at 4343 Von Karman Ave.
The drive goes from 9 a.m. to 2 p.m. Parking will be available. Appointments are requested and can be made by calling (844) 380-5220.
Romance authors coming to H.B. library
Romance authors will dish about their work during a Nov. 7 event at the Huntington Beach Central Library, 7111 Talbert Ave.
Authors booked for the event are Alisha Rai, Laura Lee Guhrke, Jen Ryan, Julie Ann Long, HelenKay Dimon, Tessa Dare and Eva Leigh.
Registration is $12 for Friends of the Huntington Beach Library members and $15 for non-members. Call (714) 375-8429 for more information.
UCI professor wins mathematical physics prize
UC Irvine mathematics professor Svetlana Jitomirskaya has been named the 2020 winner of the Dannie Heineman Prize for Mathematical Physics, according to a news release.
She is the second woman to receive the annual prize and the first to receive it alone, rather than jointly, according to the university.
Jitomirskaya has worked at UCI since 1991.
UCI professor elected to National Academy of Medicine
Krzysztof Palczewski, a professor of physiology and biophysics at UC Irvine, has been elected to the National Academy of Medicine — one of the highest distinctions accorded to professionals in the medical sciences, health care and public health fields, according to a news release.
Palczewski has studied the pharmacology of vision for more than 30 years, and his work "has had a tremendous impact on efforts to restore vision in people suffering from retinitis pigmentosa and other congenital mutations that result in blindness," according to UCI.
Hoag doctor named to leadership roles for cardiology group
Dr. Dipti Itchhaporia, director of disease management for the Jeffrey M. Carlton Heart & Vascular Institute at Hoag Hospital, has been named the American College of Cardiology's vice president for 2020-21 and will serve as president in 2021-22.
The ACC is the leading medical society governing the practice of cardiology.
"We are proud to congratulate Dr. Itchhaporia for her well-deserved recognition as the new ACC vice president," Robert Braithwaite, Hoag's president and chief executive, said in a statement. "This position is considered one of the highest honors in the cardiology profession, and we are grateful to have a respected leader such as Dr. Itchhaporia providing care to our community here in Orange County."
---
All the latest on Orange County from Orange County.
Get our free TimesOC newsletter.
You may occasionally receive promotional content from the Daily Pilot.