The Orange County Water District and Orange County Sanitation District will host a groundbreaking event Friday for the final expansion of the groundwater replenishment system in Fountain Valley.
The system, billed as the world's largest potable reuse facility, treats sewer water and protects the county's groundwater basin.
The final expansion, set to be complete in 2023, will allow the system to provide enough water for one million people in north and central Orange County.
The groundbreaking ceremony will run from noon to 1:30 p.m. at 18700 Ward St.
Assemblywoman to host scam prevention workshop
Assemblywoman Cottie Petrie-Norris (D-Laguna Beach) and the Contractors State License Board will host a Senior Scam Stopper Workshop on Friday in Laguna Beach.
Attendees will learn how to protect themselves from fraud and other schemes related to home improvement, auto repair, insurance and telemarketing.
RSVPs are requested and can be made by calling (949) 251-0074.
The workshop will be held at the Community and Susi Q Center, 380 Third St., from 1 to 3 p.m.
Girl Scouts host 10th annual celebratory dinner
The Girl Scouts of Orange County's 10th annual Celebrate Leadership dinner is Friday, starting at 6:30 p.m.
Tickets for the event at the Fashion Island Hotel — 690 Newport Center Drive in Newport Beach — cost $375. For more information, visit girlscoutsoc.org/en/donate/celebrate-leadership.html.
Upcoming event will honor veterans, dedicate jet at Heroes Hall
The OC Fair & Event Center and Orange County Employees Assn. are joining forces to present a free veterans event Saturday.
Heroes Hall, the veterans museum at the fairgrounds, will be open throughout the celebration, which is scheduled from 10 a.m. to 2 p.m. The event also will include free hot dogs, family activities, entertainment, a resource fair for veterans and the official dedication ceremony for the A-4 Skyhawk jet that was recently installed at the museum.
Attendees are encouraged to bring food, toiletries and baby items to donate for a veterans drive.
Heroes Hall is located at 88 Fair Drive in Costa Mesa.
H.B. WWII veteran to be honored at Los Alamitos
Huntington Beach resident Bill Kull, 99, will be honored Saturday during a veterans night at the Los Alamitos Race Course.
Kull served in the U.S. Army during World War II and is a two-time recipient of the Bronze Star.
The festivities begin at 5 p.m. at the race course, 4961 Katella Ave. in Cypress.
For more information, call (714) 820-2800 or visit losalamitos.com.
Reptilian revelry slithering to O.C. fairgrounds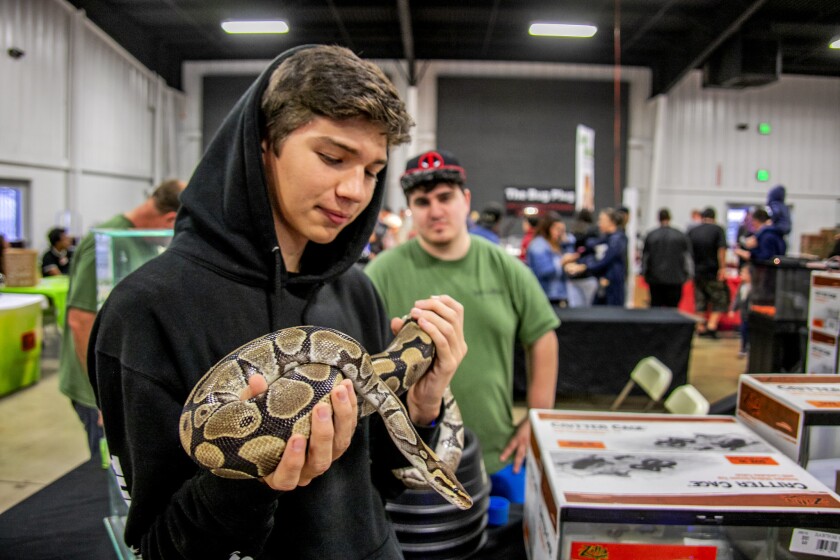 Repticon — a celebration of all things slimy, scaly and slithery — will snake its way back to the OC Fair & Event Center in Costa Mesa this weekend.
The family-oriented event features reptile vendors offering pets, supplies, feeders, cages and merchandise. It will run from 10 a.m. to 5 p.m. Saturday and 10 a.m. to 4 p.m. Sunday.
General admission is $10, but $5 for children ages 4 to 12 and free for those under 4. Parking is free on Saturday and $9 on Sunday.
For more information, visit repticon.com/california/los-angeles-costa-mesa.
Make crafts at Segerstrom Center this weekend
Arts and crafts will take center stage Saturday during the Rock, Paper, Scissors event at the Segerstrom Center for the Arts.
From 1 to 4 p.m., the free event at the Julianne and George Argyros Plaza will feature do-it-yourself activities and live entertainment.
For more information, call (714) 556-2787. The plaza is at 600 Town Center Drive in Costa Mesa.
Vice columnist, author coming to Balboa Island
Author Mike Pearl will drop anchor at the Balboa Island Museum Saturday for a book signing from 6:30 to 8:30 p.m.
Pearl, a Vice columnist, will discuss his debut book, "The Day It Finally Happens: Alien Contact, Dinosaur Parks, Immortal Humans ― and Other Possible Phenomena."
Tickets are $10 and can be purchased at balboaislandmuseum.org/events.
The museum is located at 210 Marine Ave. in Newport Beach.
Laguna Canyon group looking for volunteers
The Laguna Canyon Foundation is seeking volunteers to help at a native plant nursery from 8 to 11 a.m. Saturday.
Volunteers will meet at the Willow Canyon Staging Area — just south of El Toro Road within the Laguna Coast Wilderness Park, 18751 Laguna Canyon Road.
Parking is free. To register, call (949) 923-2235.
H.B. will honor vets at upcoming event
The city of Huntington Beach and American Legion Post 133 will hold a Veterans Day ceremony at 11 a.m. Monday.
Mayor Erik Peterson and Capt. Jason Sherman of the Naval Weapons Station Seal Beach are scheduled to speak during the event at Pier Plaza, located on the corner of Main Street and Pacific Coast Highway.
For more information, contact Julie Toledo at (714) 536-5577.
A car show also will rev its way to Huntington City Beach on Monday from 9 a.m. to 2 p.m. Admission is free, but participating cars must pay $35 on the day of the event.
Call (714) 785-7621 for more information. The beach is at 400 Pacific Coast Hwy.
Mercury will be in rare astrological form for Newport watch party
Newport Beach has seen its share of stars, but the planet Mercury will be the center of attention during an upcoming event at the Peter and Mary Muth Interpretive Center.
Astronomical fans can gather at the center, 2301 University Drive, from 6:45 to 10 a.m. Monday to view the planet as it passes between the Earth and sun — something that won't happen again until 2062.
Viewing will be offered through a specially filtered telescope. Admission and parking are free.
Two general plan workshops scheduled in Newport
The city of Newport Beach will host a pair of workshops next week to discuss its general plan, which serves as a blueprint for future local development.
The workshops will be held from 6 to 8 p.m. Tuesday at the 16th Street Recreation Center, 870 W. 16th St.; and from 6 to 8 pm. Thursday at the Back Bay Science Center, 600 Shellmaker Road.
For more information about the general plan update process, visit newporttogether.com.
Next Speak Up Newport meeting will feature city development director
Newport Beach Community Development Director Seimone Jurjis will be the featured speaker at Wednesday's Speak Up Newport event.
Jurgis will discuss state legislation affecting Newport's housing as well as the future of the Banning Ranch site.
The meeting will be held at the Newport Beach Civic Center, 100 Civic Center Drive. A reception starts at 5:15 p.m., with the program following at 6 p.m.
Admission is free. For more information, call (949) 224-2266 or visit speakupnewport.com.
Newport harbormaster to speak at CdM Chamber event
The Corona del Mar Chamber of Commerce will host Newport Beach Harbormaster Kurt Borsting during its Nov. 14 Good Morning CdM event.
The meeting runs from 7:30 to 9 a.m. at the Bahia Corinthian Yacht Club, 1601 Bayside Drive. Coffee and pastries will be served.
Admission and parking are free.
Newport Chamber to honor citizen, business person of the year
The Newport Beach Chamber of Commerce will honor Nancy Gardner as Citizen of the Year and Jim Walker as Business Person of the Year during an event on Nov. 15.
Gardner is a former Newport mayor and Walker is a longtime area restaurateur who owns the Bungalow.
The recognition event will be held from 6 to 9 p.m. at the Balboa Bay Resort, 1221 W. Coast Hwy. Business attire is required.
Tickets start at $125 and include dinner. For more information, visit newportbeach.com.
New brand opens at South Coast Plaza
Ba&sh, a French-style fashion brand, has opened at South Coast Plaza in Costa Mesa.
The store is on Level 1 of Carousel Court, 3333 Bristol St. Visit ba-sh.com/us for more information.
Company will rebrand two Costa Mesa office complexes
Chicago-based Equity Office Management LLC is working to upgrade its office complexes in Costa Mesa, according to the Orange County Business Journal.
The properties — the South Coast Corporate Center at 3070-3090 Bristol St. and South Coast Executive Center at 3100-3150 Bristol — will be re-branded under the names Canvas North and Canvas South, respectively.
Planned renovations include new lobbies, upgraded infrastructure and new amenities, such as a fitness facility, coffee shop, citrus grove and art installations. There also will be a new 100-foot mural fronting Bristol Street by Fresno-based artist Aaron De La Cruz.
The estimated cost of the renovation was not disclosed.
OCC wins green building recognition
The U.S. Green Building Council has named Orange Coast College a 2019 Leadership Award recipient, according to a news release.
The Costa Mesa campus was recognized for its recycling center, which became the first facility in the world to achieve three significant green building certifications: LEED Gold, Sustainable SITES Initiative v2 and TRUE Zero Waste, the release stated. OCC also was lauded for its solar panels, water bottle filling stations, green waste programs, drought-tolerant landscaping and other initiatives.
OCC will be recognized during a Nov. 20 expo in Atlanta.
Comfort lifestyle store opens on Balboa Island
JEMS Balboa, a lifestyle concept store, recently opened on Newport Beach's Balboa Island.
The store specializes in "hygge," a Danish cultural practice "bringing contentment, comfort and simple pleasure" into daily life, according to JEMS Balboa.
The store is at 308 1/2 Marine Ave. For more information, visit JEMSbalboa.com.
---