Golden Road Brewing has opened a new brewpub in Huntington Beach.
The location in the Peter's Landing complex at 16390 Pacific Coast Hwy. is 9,000 square feet and features indoor and outdoor spaces, games, food and onsite brewing operations. The facility is family- and dog-friendly.
"We are beyond thrilled to open our first oceanside brewery and pub," Meg Gill, Golden Road's president and founder, said in a statement. "We are happy to be a part of the revitalization of Peter's Landing and hope to contribute to the excitement of the Surf City community with our creative and locally inspired brews, killer food and laid-back atmosphere."
Newport breakfast to feature City of Hope O.C. leader
Annette Walker, president of City of Hope Orange County, will speak Thursday morning at the Wake Up Newport event at the Newport Beach Central Library, 1000 Avocado Ave.
The free public meeting, presented by the Newport Beach Chamber of Commerce, will run from 7:45 to 8:30 a.m., with a free continental breakfast at 7:15 a.m.
Though admission is complimentary, reservations are requested at newportbeach.com.
Eagles tribute band takes the stage at Laguna Playhouse
One of These Nights, an Eagles tribute band, will perform five shows this week at the Laguna Playhouse.
Show times are 7:30 p.m. Thursday and Friday, 2 and 7:30 p.m. Saturday and 1 p.m. Sunday.
Tickets start at $56. The playhouse is at 606 Laguna Canyon Road, Laguna Beach.
For tickets or more information, visit lagunaplayhouse.com.
Production of 'Tarzan' will swing into Huntington Beach
The Orange County Children's Theatre will get back into the swing of things with a production of "Tarzan" at Huntington Beach High School.
The show, based on the Disney animated film, will be staged Friday through Sunday and Jan. 17-19.
Tickets start at $15. For more information, call (714) 502-2244 or visit occt.org/currentshow.html.
Production of 'Sweeney Todd' coming to Surf City
Shave the dates: The Huntington Beach Academy for the Performing Arts will present a production of "Sweeney Todd: The Demon Barber of Fleet Street" from Friday to Sunday and Jan. 17-19.
Performances will be in the group's theater at 1905 Main St. General admission is $30. For more information or to buy tickets, visit hbapa.org/see.
The academy also will present an open house at its theater from 3 to 5 p.m. Tuesday and Wednesday. The event is designed to educate prospective students about the academy's daily activities. Tours of classrooms and facilities will be provided.
Open house registration is available at tinyurl.com/apa-open-doors-event-2020. For more information, contact Nicole Perreira at (714) 822-1151.
Learn about 'king tides' during Newport Beach program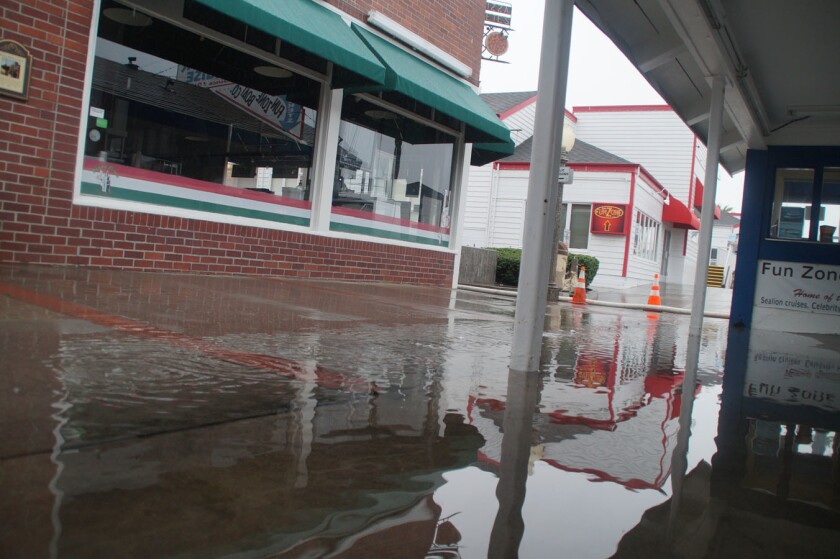 The Peter and Mary Muth Interpretive Center in Newport Beach will host a family-friendly program Saturday about "king tides," the high tides that occur during full moons in the winter.
The program will run from 8 to 10 a.m. at 2301 University Drive. Parking and registration are free.
For more information, visit ocparks.com/parks/newport or call Nathan Taxel at (949) 923-2277.
Cal State Fullerton president to address O.C. Business Council
Cal State Fullerton President Framroze Virjee will be the featured speaker during Tuesday's Orange County Business Council Leadership Breakfast in Costa Mesa.
The event at the Center Club, 650 Town Center Drive, begins at 7:15 a.m. Tickets start at $85 for Business Council members.
For more information or to buy tickets, visit ocbc.org.
Reception on Tuesday for Laguna's new community development director
The public is invited to a welcome reception for Laguna Beach's new director of community development, Marc Wiener, from 4:30 to 5:30 p.m. Tuesday in the City Council chamber at City Hall, 505 Forest Ave.
Light refreshments will be served.
Wiener spent the past four years as community planning and building director for the city of Carmel-by-the-Sea, where he oversaw the planning, building safety, zoning and code compliance divisions. He has a master's degree in urban planning from San Jose State University and is certified by the American Institute for Certified Planners.
For more information about Tuesday's event, contact Mariann Tracy at mtracy@lagunabeachcity.net or (949) 497-0308.
Israeli professor to deliver lectures in F.V. and Newport
Israeli professor Paul Liptz will speak in Fountain Valley next week as part of 31 lectures he is presenting around Orange County this month.
Liptz will appear at 7 p.m. Tuesday at Congregation B'nai Tzedek at 9669 Talbert Ave. to speak on "The Arab Citizens of Israel: Israelis or Palestinians?"
He also will speak at 7:30 p.m. Jan. 24 at Temple Bat Yahm, 1011 Camelback St., Newport Beach. The topic there will be "From Truman to Trump: The Fascinating and Complex Relationship of America and Israel."
Liptz, a social historian, was on the faculty of Tel Aviv University for 40 years in the Department of Middle East and African History. He also taught graduate students at Hebrew Union College in Jerusalem.
The lecture series is sponsored by the nonprofit Orange County Jewish Community Scholar Program. For more information, visit occsp.org.
Fashion Island Hotel offers new barbershop service
The Fashion Island Hotel in Newport Beach has a new barbershop led by Shea Trettewick.
Services offered include men's haircuts and straight-razor shaves.
Appointments can be made at fashionislandhotel.com/spa or (949) 760-4992. The hotel is at 690 Newport Center Drive.
Lido Marina Village to welcome bakery and designer
Two new tenants are expected to open this spring at Lido Marina Village in Newport Beach.
Rye Goods Co. is an all-organic bakery specializing in fermented bread and pastries, according to a news release. Amber Interiors is a residential design firm.
Lido Marina Village is at 3434 Via Lido. For more information, visit lidomarinavillage.com.
Boeing donates $125,000 to Girls Inc.
Girls Inc. of Orange County, a Costa Mesa-based nonprofit, recently received a $125,000 donation from Boeing Co., according to a news release.
The funds will go toward the nonprofit's BoldBots program, which "empowers young girls to pursue careers in the STEM field while gaining skills in communication, problem solving, teamwork and adaptability," the release stated.
Newport-based Beall Family Foundation gets $3-million grant
The Newport Beach-based Beall Family Foundation has been awarded a $3-million federal grant, according to a news release.
The award from the U.S. Department of Commerce's Economic Development Administration will be matched with local funds and go toward providing equipment at the University Lab Partners biotech incubator facility in Irvine.
"This grant to the Beall Family Foundation is a shining example of strategic and impactful government investment," U.S. Rep. Harley Rouda (D-Laguna Beach) said in a statement. "The University Lab Partners' biotech incubator will continue to serve as a hub of innovation, empowering entrepreneurs to push the scientific needle and create Orange County jobs."
Newport foundation launches workforce development program
The Orange County Community Foundation, based in Newport Beach, recently launched the pilot phase of a new Workforce Development Initiative.
The program is designed to help graduating high school seniors enrolling in community college and for older youths and underemployed adults who may be hindered by poverty and lack of access to education and job training.
The foundation awarded a total of $500,000 in grants with a focus on connecting community colleges, nonprofits and businesses in order to identify, support and ultimately place people in middle-skills jobs, primarily in healthcare, advanced manufacturing and information technology.
"This initiative will help individuals struggling to make ends meet to acquire in-demand technical acumen in continually evolving industries and prepare them for a strong and successful future," Shelley Hoss, the foundation's president and chief executive, said in a statement. "It will drive our community's economic growth and fuel successful outcomes for next generations."
---