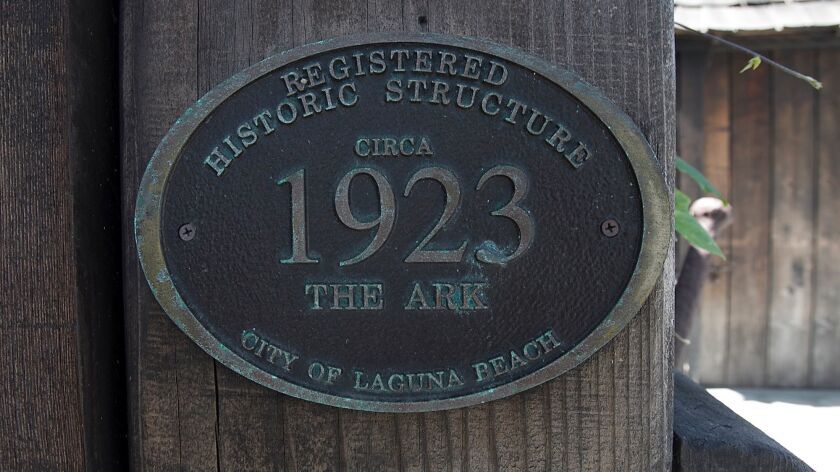 Laguna Beach's updated historic preservation ordinance is heading to the City Council for final approval following a Planning Commission vote this week, making new history for concerned preservationists and property owners alike.
In a move that upset at least half the people in the City Hall council chamber Wednesday night, the Planning Commission voted 4-0, with member Steven Goldman absent, to recommend approval of amendments to the city's general plan, zoning code and Local Coastal Program in addition to a declaration that the changes would not negatively impact the environment.
The proposed changes will update the city's inventory of historic structures. The historic preservation ordinance, first adopted in 1989, acknowledged the 1981 Historic Resources Inventory and provided incentives to owners to maintain those properties.
The move to update the register began in 2013 as it became outdated, with many of the structures listed having been modified or demolished and others were added to it, city staff said.
The amendments to the municipal code are set to include an updated definition of a historic resource, the addition of "owner consent" as a criteria for eligibility for the local register and the removal of any reference to the 1981 inventory.
Other changes include expansion of historic preservation incentives, such as density bonuses (an increase in the maximum allowable development on a site in exchange for preserving it), reduced open space requirements and reduced rear setbacks.
Properties in the historic register that are in commercial zones may also be granted a conditional use permit allowing up to a 75% reduction in parking requirements if a project complies with certain standards.
As recommended, state codes will replace the current local historic rating system.
Language was added to allow modifications to historic properties to be exempt from the Design Review Board process if they would normally be exempt on a contemporary house and are consistent with design guidelines.
A requirement was added that if a property on the historic register is put up for sale, the owners or their representatives must disclose it.
Some residents raised concerns about the environmental declaration during Wednesday's nearly hour-long hearing, arguing the changes could have indirect effects on the environment. Others were worried about losing structures because the program is voluntary.
But others were thankful for the amendments, pointing to the costs in money and time for property owners trying to maintain or change their historic properties that are listed on the current inventory.
"I know there's people on both sides of the fence on this thing," Commissioner Jorg Dubin said. "But I also know that some people who oppose changing this, probably, it's a little bit of that 'I've got mine and I don't want anyone else to have theirs' situation. I'm guessing that a lot of the contemporary homes where some people live were built in place of what could potentially be considered a historic property. I find a little bit of hypocrisy in some of the things people say."
Dubin said he feels there are enough safeguards — such as the Design Review Board, Planning Commission and City Council — to keep historic buildings such as Hotel Laguna and other properties from being demolished.
All the commissioners said they felt it's time to move forward with the amendments, pointing to numerous meetings held since 2015, when discussions to amend the historic preservation ordinance began.
Currently, the city general plan lists 41 properties eligible for the National Register of Historic Places, staff said. Since 1981, 21 of those properties were designated on the city's historic register, with two also on the national register. One property was demolished before adoption of the historic preservation ordinance in 1989.
The 20 other properties — including Anneliese School, Hotel Laguna and Main Street Bar & Cabaret — would need to be evaluated as part of any future development applications to determine their historic status.
---