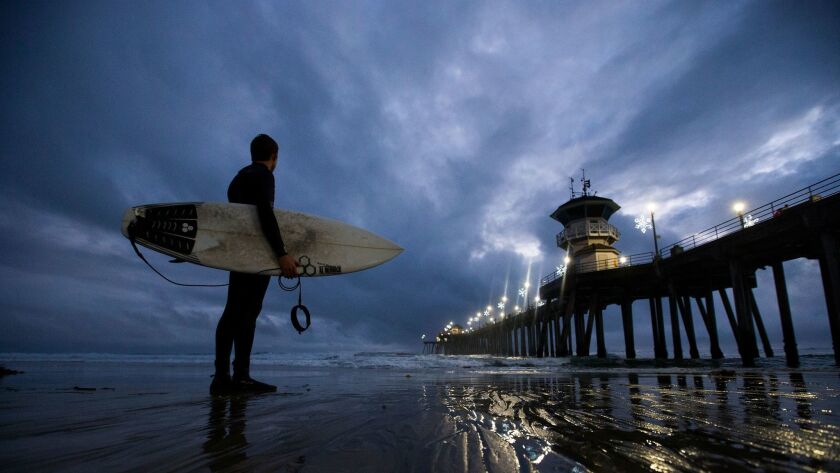 Despite uproar from residents, the Huntington Beach City Council on Monday approved raises for more than 700 city employees.
Following more than 100 public comments opposing the agreements, the council voted 4-3 in favor of salary increases for city staff represented by the Huntington Beach Police Officer's Assn., Huntington Beach Municipal Teamsters and Huntington Beach Management Employees' Organization. Erik Peterson, Lyn Semeta and Jill Hardy dissented.
Residents' comments generally conveyed disappointment and surprise that the city would consider providing raises to employees amid a global pandemic and economic meltdown, which will likely leave many jobless.
Peterson agreed with the public's assessment, stressing that the fiscally responsible move would be to postpone the decision.
"I don't think we should be trying to give raises," Peterson said. "I just don't want to be doing that right now without a full picture of our finances. I really think this should be tabled to at least 2021."
But the majority of council members felt the agreements needed to be honored, with many citing the increased risk to police officers with the spreading of COVID-19.
"We are asking them to do more now than we have ever asked them to do and they have stepped up to the plate," Councilwoman Kim Carr said of the city's first responders. "This is not the time to turn our backs on them ... We need to take care of the people who are on the front lines."
The raises included in the three memorandums of understanding would account for $2.58 million, or 1.7%, of the city's budget for the 2020/21 fiscal year. The unions and city tentatively agreed on the MOUs in early February.
Representing about 250 city employees, the Police Officer's Assn. secured a 4% base salary increase in the first year of the contract, and 3.5% base increases in the next two years.
The Teamsters represents about 375 city employees, who will all receive a 3.5% pay increase. That agreement lasts until September.
The Huntington Beach Management Employees' Organization secured 3.5% raises for the 100 employees it represents. That agreement lasts through October.
Although the Huntington Beach City Council is still holding in-person meetings, the public was directed to tune in from home on Monday. Residents submitted public comments online, which were read aloud by city staff at the meeting. Council members Barbara Delgleize, Patrick Brenden and Carr, and City Attorney Michael Gates, attended the session digitally.
"Now is not the time to discuss employee association union pay increase raises for city employees," resident Steve Farnsworth wrote in his submitted public comment. "Yes, city employees do a great job, and as with most businesses, deserve a raise. But with most of Huntington Beach businesses closed, thousands of citizens out of jobs and the future certainly unknown at this moment, I am asking you to hold these agenda items for a later date."
Many echoed Farnsworth's comments.
"The insensitive agenda items for council to include raises when our community is struggling is heartbreaking and it won't be forgotten," resident Vanessa Martinez said. "We will remember those who sacrificed for the better of our community and we will remember who took advantage of this pandemic. Please stop any further contract negotiations and pay increases during this unprecedented time. Our economy is headed for a depression and this is not the time for negotiations of pay increases. Our neighbors and friends are closing their businesses. People can't pay their rent and our elderly and low-income families are suffering."
The Huntington Beach City Council has decided to suspend water shutoffs and to halt rent for small businesses on city-owned property as ways to ease financial hardships caused by the coronavirus outbreak.
Many members of the public directed their frustration at City Manager Oliver Chi.
However, Chi stood up for what he perceived as undue hostility toward city staff and he committed to personally taking a 20% pay cut.
"I think like everyone on the council, I got concerns about the cost of the proposed contracts, that's a legitimate policy debate," Chi said. "I don't think it's legitimate to continue to demonize the city employees or the City Council."
Chi said his voluntary salary cut is representative of the sacrifice and hard work of his staff.
"I wasn't planning on saying this tonight, it's something that didn't need to be made public," Chi said about his pay cut. "But I need the council to know and the community to know and the staff to know that I am 100% committed to getting through this COVID-19 situation without any layoffs."
Chi said the pandemic's financial impact to the city will be substantial, with an estimated hit of $14.32 million, or a 7% decrease, to the city's projected revenue. Chi said the city was in solid financial shape prior to the spread of COVID-19, with a projected surplus of $4.7 million for the current fiscal year.
"Obviously that's not the situation anymore," Chi said. "Our preliminary scrub of what COVID-19 has done to our 2019/2020 budget is really that it's decimated the financial picture for us. But we have options."
Chi said his staff has identified about $18.55 million worth of spending reductions such as hiring freezes and deferring infrastructure projects, among others.
"This is a scenario we need to monitor closely," Chi said. "The next couple of months the situation could continue to deteriorate. If it does, we need to make the appropriate adjustments to the general fund budget. But based on the prudent actions the council has taken currently for fiscal year [2019/20], we feel we can make identified cuts while we continue to maintain existing service levels."
---