Around Town: New emergency fund helps OCC students with economic troubles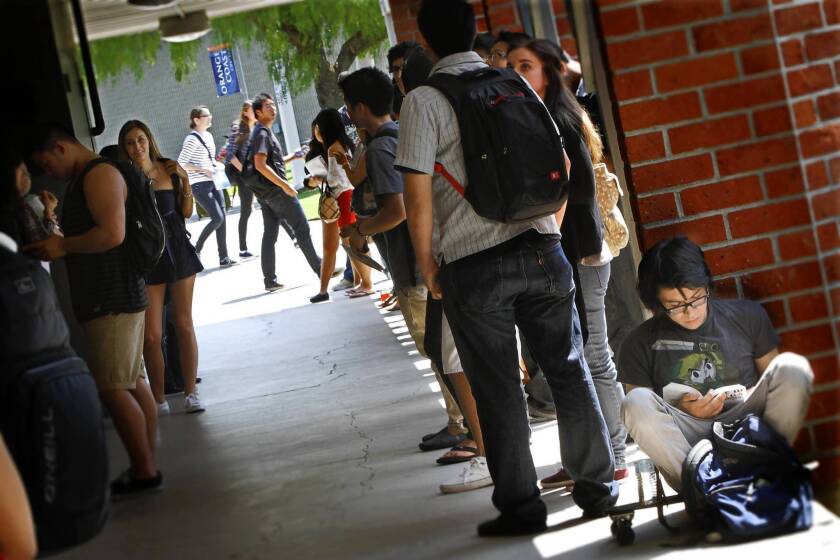 The Orange Coast College Foundation has launched the Pirates United Emergency Fund to help the school's most vulnerable students amid the economic fallout of the COVID-19 coronavirus pandemic.
Many students have lost part-time jobs on and off campus and may need help dealing with food, housing, medical, transportation and other crucial expenses. Students in need can apply for $500 grants via the OCC Cares website, orangecoastcollege.edu/occcares.
"The website provides resources links and a link to the online application," OCC Foundation Executive Director Doug Bennett said in a statement. "The application screens students for various state and federal funds available and allows the college to help students connect with resources."
The Pirates United fund helps students who might not qualify for other financial resources.
"The intent for the Pirates United Emergency Fund is to provide grants to students who aren't eligible for the other funds or who are in challenging situations where a one-time grant will help them," Bennett said.
Orange Coast College closed its campus in Costa Mesa to the public on March 15 as a response to the coronavirus and all classes have been transitioned online for the rest of the spring semester.
The emergency fund has raised $13,000 so far and is continuing to seek donations. To donate, visit tinyurl.com/t959pb6.
No prom? No worries — L.A. Times offers virtual soiree
The Los Angeles Times is throwing a virtual prom for students who are missing out on the venerable high school tradition this year because of restrictions on gatherings resulting from the coronavirus pandemic.
Students who want to "attend" can send a photo of themselves and a separate photo of their date or friends, all wearing their prom clothes. Then, with help from Photoshop, they'll be at the virtual prom.
For further details, go to latimes.com/lifestyle/story/2020-04-14/online-prom-photoshop.
The deadline for submissions is Wednesday. For more information, email Jessica Roy at Jessica.Roy@latimes.com
OC Coastkeeper holding virtual neighborhood cleanup
Orange County Coastkeeper, based in Costa Mesa, will commemorate Earth Day with a virtual trash cleanup Saturday.
Community members across the county are invited to participate in the cleanup, called Beautification on Your Block, by picking up trash in their neighborhoods at any time of the day and sharing their experience on social media (#coastkeeperclean and @occoastkeeper).
Local groups get shares of $1 million in grant funding
A fund spearheaded by the Newport Beach-based Orange County Community Foundation is granting $1 million to area groups addressing the effects of the coronavirus outbreak.
Among the 36 recipients of money from the OC Community Resilience Fund are Costa Mesa-based Project Independence, Huntington Beach-based Colette Children's Home, and the Laguna Beach Community Clinic, Laguna Beach Seniors Inc. and Laguna Food Pantry.
The Community Resilience Fund, launched March 16, is aided by Charitable Ventures, Orange County Grantmakers and the St. Joseph Community Partnership Fund.
Newport foundation to hold donation drive for homeless
The Orange County Community Foundation will hold a donation drive Wednesday to raise money for nonprofits that help the homeless.
The Help Them Home drive aims to raise $700,000.
"Homelessness is a public health crisis which is being significantly compounded by the current COVID-19 pandemic," Shelley Hoss, president and chief executive of the Newport Beach-based foundation, said in a statement. "It is more urgent than ever that we encourage collaboration among nonprofits to address homelessness and the challenges it brings to those experiencing it."
To participate in the drive, visit help-them-home-giving-day.ocnonprofitcentral.org.
Laguna Food Pantry announces $85,500 in donations
The Ginny and Peter Ueberroth Family Foundation recently awarded the Laguna Food Pantry a $20,000 grant to help supply essential groceries to families in need during the coronavirus crisis.
In addition, the pantry recently received $25,000 through the OC Community Resilience Fund organized by the Newport Beach-based Orange County Community Foundation; two anonymous donations totaling $40,000; and a $500 grant from the Lalitha Veranasi Foundation Fund.
Ecological Society honors UC Irvine biologist with fellowship
Joleah Lamb, a UC Irvine biologist who studies the impact of infectious diseases on the world's oceans, has been named an early career fellow by the Ecological Society of America.
Lamb, an assistant professor of ecology and evolutionary biology, has extensively researched how to save coral reefs in the Indian and Pacific oceans.
"The award is very motivating because it shows this research is important and could help shape policy and lives," Lamb said in a statement. "Our oceans are facing a crisis due to human impacts that can only be solved by large-scale global teamwork."
Four UCI professors awarded Guggenheim fellowships
Four UC Irvine professors have been named 2020 Guggenheim fellows.
Historian Mark LeVine, scientist Andrej Lupták, sculptor Jennifer Pastor and journalist Amy Wilentz were among 175 U.S. and Canadian scholars, researchers, artists and writers chosen by the John Simon Guggenheim Memorial Foundation from among nearly 3,000 applicants, according to a news release.
LeVine plans to supply musical instruments and training to a refugee camp in Africa and "produce a study exploring how music functions as a mediator for interpersonal and intercommunal conflict within the camp," according to UCI.
Lupták, a professor of pharmaceutical sciences, chemistry and molecular biology and biochemistry, plans to research ribonucleic acids regulated by light.
Pastor will complete sculptures made from parts of a cockfighting pit that was shut down.
Wilentz, who teaches for UCI's literary journalism program, intends to write a book about cultural appropriation in art and music in Haiti, France, the United States and elsewhere.
---
All the latest on Orange County from Orange County.
Get our free TimesOC newsletter.
You may occasionally receive promotional content from the Daily Pilot.