A daily commute from Tijuana to Newport Beach didn't stop this teacher. A car accident won't either
It's a 107-mile drive from Tijuana to Newport Beach.
That's about 2½ hours without traffic. A round trip is about six hours. That was the commute that Renzzo Reyes, an AP Spanish teacher at Newport Harbor High School, made every day for three years until the pandemic shut down campuses in March.
But it'll be at least a year before he can make that trip again.
Campuses in the Newport-Mesa Unified School District have since reopened, but Reyes was in a serious car accident in Tijuana in October and broke several ribs, his clavicle, his scapula, his right wrist and one of his ribs perforated his right lung.
Reyes said doctors told him he should consider himself lucky because nothing serious had happened to his skull, legs or spine.
Reyes, who immigrated to the United States from Peru when he was 17, said he moved to Tijuana about three years ago to be closer to his family. His brother, Marco Reyes, had been living in Tijuana for a while and their mother, Doris Orozco, would come up from Peru to stay with him before eventually coming to stay with Renzzo Reyes in the U.S. before returning home.
Being in the city reminded Reyes of home, Lima, Peru.
"Everything, it reminds me what I left behind so many years ago and I still remember it because every year I will travel to Peru to see my mom and my aunts and all that, but I couldn't fly to Peru whenever I wanted to," said Reyes, adding that his 8-year-old twins, Bailey and Bryce, live with his ex-wife in Murrieta and that he wanted to be close enough to visit them every other weekend.
But, compared to Peru, Mexico was just two hours away.
"My brother was like, 'Are you crazy? You can find a job here or in San Diego,'" Reyes said.
"But I love Newport Beach and Newport Harbor so much that I didn't care about the driving hours. To be in my classroom with my students is the best thing ever," Reyes said. "To see their smiles, their beautiful minds in action — even if they disagreed with me — that was a good, worthwhile sacrifice to be made."
Even if it makes him tired, he said.
Following a tip, a distraught mother digs into the foundation of a house, hoping to find the body of her son.
Reyes said he became a teacher after finding a love for Latin American literature while in college. He'd been studying theater before that and changed his major after reading the works of writers like Mario Vargas Llosa, Gabriel García-Márquez and Isabel Allende.
"I started reading a little bit about where I come from," Reyes said. "I started understanding Latin American culture and little by little I started making sense of who I was as a cultural entity in the United States, living in a multicultural society in a very democratic society and understanding the value of having a voice and cultural power as well."
It inspired him to become a teacher, which turns out to be a family tradition. His great grandmother was a teacher. Just as was his grandmother, his mother, his aunts and his brother.
"It was through education and, in educating myself, that serves as a salvation to somehow become what I have become now," Reyes said. "I may have no reach. I don't have that much money, but what I don't have in money; I have in other things like education and knowledge that I can pass along with students."
"The U.S. [has] given me the opportunity to educate myself and I know I'm grateful because for the past 18 years, I have been giving back to society what it has given me," he added.
Reyes said he doesn't remember much of the details of what happened after the Oct. 9 accident. He remembers he'd been visiting San Diego to see his friends for his 46th birthday. The accident happened on the way back home that night, close to midnight in Tijuana.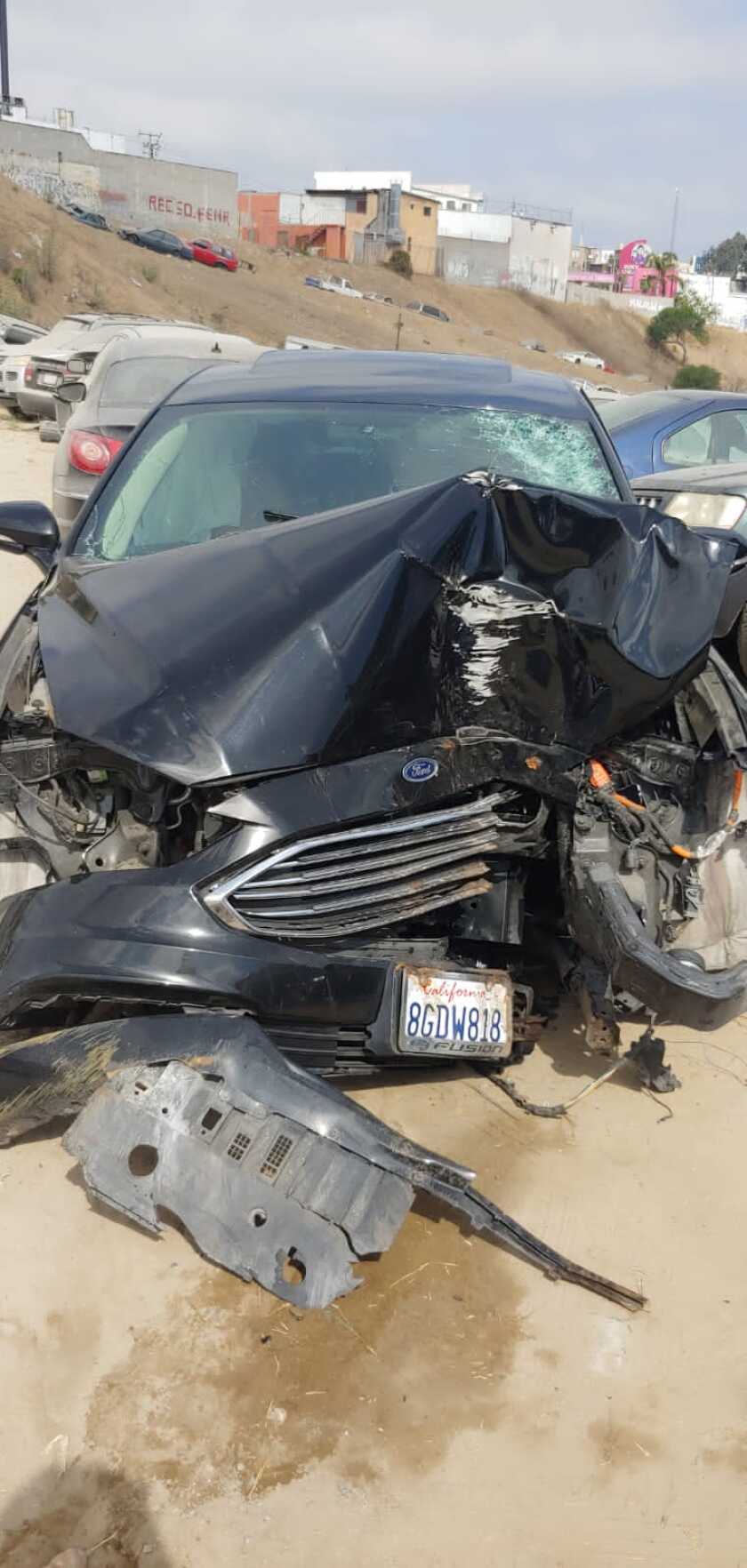 The road was slick because the streets and avenues were being cleaned, he thinks. He said he lost control of the car and it cleared the center divider and hit a tree. Anything after that, he learned secondhand.
Marco Reyes said he got the call when he was half asleep and thought that it had been a wrong number at first until the person on the other line said it was his brother's car. It was in the middle of the night and he couldn't just leave his daughters at home alone, so he had to wait until someone could come and watch his children. Every minute felt like an hour, he said.
By the time he arrived on the scene, paramedics had taken Renzzo Reyes into an ambulance. They couldn't take him to any public hospital in Tijuana because there weren't any beds available due to the pandemic, so they decided to take him to a private hospital.
Mexico last week passed two somber coronavirus markers, exceeding 100,000 deaths and 1 million infections. The grim statistics brought renewed political wrangling about how the country's leadership has handled the pandemic.
"I arrived at the private hospital right before the ambulance and I went in to start talking to the doctors and nurses trying to get everything ready and prepared for him. I wasn't understanding what the doctors were even saying," Marco Reyes said.
"They were asking me for his name, his age. I don't even think I gave them a straight answer. I didn't even get his age correct. He corrected me. They were asking for his age and I said 44. He raised his hand and said, '46.' I'm his brother and I couldn't even remember. That's how frightening it was."
Renzzo Reyes was eventually taken across the border to UC San Diego's Medical Center, then to the Kaiser Permanente San Diego Medical Center.
Reyes said he was doing well and that his mother and brother were taking care of him and helping him to and from his doctor's appointments. The pain is still there and it's too painful to sleep, he said, but he started doing physical therapy last week.
The district, he said, has been supportive in the transition.
When news of his accident reached his coworkers and students, Reyes said he was surprised by the outpouring of help and messages. One of his colleagues, Marcos Torres, a ceramics teacher at Newport Harbor, set up a GoFundMe page to help with the medical expenses.
As of Wednesday afternoon, it has raised $7,870 of a $20,000 goal.
"I have students who are sending messages with beautiful artwork that saying, 'We want you back,' 'Hope you feel good,' 'Hope you are recovering soon,'" Reyes said, adding he'd only taught his current students for the first month of September before his accident.
Even his former students reached out when they heard.
Sofia Ruiz graduated in 2014, but she said she's known him since she was a freshman. Ruiz, now 24, said Reyes knew her mother, knew her family history and was always there to help support her.
This wasn't the first accident that Reyes has been in, Ruiz said, though, the 2018 one in La Jolla was less serious. She said she remembered it didn't hold him back and that he kept teaching. No matter what he was going through, he always put his students first, she said.
"It's a really good thing for someone to have that type of commitment to his career, especially because he didn't have an easy life from what he had told just me or his other students," Ruiz said. "It inspires a lot of people. If Mr. Reyes could do it, I could do it."
Ruiz said she heard about the accident from a fellow alumnus. Both she and her mother donated to help pay for Reyes' medical bills.
As for 2017 graduate Sergio Castañeda, Reyes was his inspiration to become a Spanish teacher. When Castañeda came to the U.S., he didn't know a word of English. Reyes taught him a lot.
"He always tried to get you to laugh. He has advice, his own spirit," said Castañeda, who called Reyes after he heard about the accident. "I took two years [of Spanish] with him and I think those two years were the greatest years of high school for me because of him."
Reyes said that he wasn't sure about the GoFundMe at first. He said that anything that he accomplished, he did it on his own, but that he was thankful for the help given to him.
Though he is still in recovery, Reyes said he's hoping he'll be able to teach next year. But he thinks he'll move back to Orange County first. It'll be hard to leave his family in Tijuana, he said, but he thinks it's doable.
"Not all things in life are difficult. There are things in life that are doable," he said. "Sometimes, you just have to let people to help you. That is something I had to learn."
---
All the latest on Orange County from Orange County.
Get our free TimesOC newsletter.
You may occasionally receive promotional content from the Daily Pilot.