Around Town: Costa Mesa hires longtime resident, U.S. Navy veteran as new chief of staff
Costa Mesa city officials have announced the hiring of a new chief of staff — Alexander Gonzalez, a U.S. Navy veteran, former U.S. Congressional staff member and a longtime Costa Mesa resident.
City Manager Lori Ann Farrell Harrison said in a city release issued Tuesday Gonzalez's experience in government made him uniquely qualified for the position, left vacant by former Chief of Staff Connor Lock.
"The residents of Costa Mesa will find him to be a great resource, as he assists the mayor and City Council in addressing concerns from constituents," she said in the release.
Lock, who was hired in January 2019 after council members agreed to spend $222,000 on his full-time position and three part-time council aides, left in December and now works as chief of staff or a Long Beach council member, city spokesman Tony Dodero said Tuesday.
Gonzalez will be responsible for managing constituent services, legislative research and analysis and will coordinate with federal and state elected officials, among other duties. He most recently worked as a military and veteran's field representative for Rep. Harley Rouda (D-Laguna Beach), where he dealt with matters related to trade, defense, intelligence, veteran's affairs and labor issues.
In the Navy, Gonzalez worked as an intelligence specialist. He received his bachelor's degree in political science and international relations with a minor in Asian studies from Temple University in Japan.
Costa Mesa Mayor Katrina Foley said Gonzalez's working knowledge of Costa Mesa as a long-term resident and congressional staffer would aid him in the position.
"Couple that with his experience and understanding of veteran's issues, especially those experiencing homelessness and his multilingual skills, (and) he will right away be able to work on our council priorities," she said in the release.
Chambers of commerce to host webinar on vaccine program
The Newport Beach Chamber of Commerce, along with several other chambers of commerce, will be providing an update with Orange County executive officer Frank Kim on the county's vaccination program and how it is doing financially. The event will also provide an update on the impact of the pandemic on the county. The free webinar will begin at 9 a.m. on March 3. Interested parties can register at newportbeach.com.
Newport Beach Mayor to give state-of-the-city update
Newport Beach Mayor Brad Avery will be providing an update on the state of the city at 8 a.m. on March. 4. The hour-long discussion will focus on Avery's goals and projects for the upcoming year and the city at-large. It will be held on Zoom and hosted by the Newport Beach Chamber of Commerce. Those interested can register at newportbeach.com/events/march-wake-up-newport-state-of-the-city-update-with-mayor-brad-avery.
Webinar on Newport Beach code enforcement set
Speak Up Newport is hosting a free webinar on code enforcement from 4 to 5 p.m. on March 10. Ed Selich, president of Speak Up Newport, said this week that residents have brought up concerns about the ongoing COVID-19 pandemic, short-term vacation rentals, the boardwalk and homelessness.
The webinar will include speakers from the city manager's office, community development and the city's fire and police departments.
To register, visit speakupnewport.com.
Huntington Beach seeks for chefs for new TV show
The city of Huntington Beach is looking for local chefs and restaurant managers for a new local access Channel 3 show featuring the Chefs of HB.
The show will air on HBTV-3, as well as social media outlets. Restaurants must be located in Huntington Beach.
For more of the guidelines and to apply, visit huntingtonbeachca.gov/chefsofhb.
Local water polo goalkeepers Sandberg, Capobianco honored for Navy
Newport Harbor High alumnus Max Sandberg and Laguna Beach High School product Caden Capobianco, who each goalkeeper for the Navy men's water polo team, both earned weekly accolades.
Sandberg was named the Mid-Atlantic Water Polo Conference Defensive Player of the Week, while Capobianco earned conference Rookie of the Week honors.
Sandberg, a junior, went 2-0 in goal for the Midshipmen. He recorded 19 total saves, four steals and two assists in two matches, including a 15-5 win over No. 10 Bucknell on Feb. 20 and a 14-5 win at La Salle the following day.
Capobianco, a freshman, went 1-1 and recorded 22 saves, four steals and three assists in his two matches. They included a 12-11 overtime loss to Bucknell on Feb. 20 and a 19-6 road win over Iona on Feb. 21.
Navy (4-1), which also includes Laguna Beach alumnus and sophomore attacker Will Clark on its roster, has been ranked No. 9 in the Collegiate Water Polo Assn. national poll.
MOMS Orange County names Brian Gomez to board
Costa Mesa resident Brian Gomez, president and chief executive of GreenFruit Avocados, was recently appointed to serve on the board of directors for MOMs Orange County, a Santa Ana-based nonprofit that works to increase access to prenatal care in low-income communities.
The organization announced Gomez's selection in a Feb. 18 release that also named the appointment of incoming board members Betha Shnelle, chief operating officer for Planned Parenthood of Orange and San Bernardino counties and Cigna Healthcare Regional Vice President Sasha Yamaguchi.
"We are honored to welcome these outstanding new board members who are committed to our mission to help families have healthy babies by providing health coordination, education and access to community services," said Dave Lugo, MOMS Orange County CEO.
Huntington Beach Academy for the Performing Arts presents 'Playlist 2021'
The Huntington Beach Academy for the Performing Arts will bring its contemporary rock concert, "Playlist 2021," to the big screen next week.
The show will be offered in a format that replicates a drive-in movie, with the concert film being shown in the parking lot at First Christian Church of Huntington Beach, at 1207 Main St. It will feature original songs and music videos created by students of the academy.
"Playlist 2021" will be shown for two nights only: March 5 and March 6, at 7 p.m. both dates. Tickets for the show will be $30 per car and can be purchased at hbapa.org/see.
Adjusting to the coronavirus pandemic was a necessity for the show to go on, as the performance would normally take place in the Huntington Beach Union High School District auditorium.
Dripp Coffee Bar opens at South Coast Plaza
Known for providing a specialty coffee experience, personalized interaction and directly sources, single-origin organic coffee, Dripp Coffee Bar has opened in South Coast Plaza's Saks Fifth Avenue wing on the first level.
The new 1,300-square-foot space conveys a minimal, mid-century modern interior fitted with brushed copper, a carved stone façade and sleek bar. Each cup is individually ground from locally roasted coffee beans and dripped one at a time.
A coffee menu is complemented by luxury teas, sweet and savory bakery offerings and artisanal ice cream, while a small retail area features packaged coffee, tea and products to enjoy at home.
Dripp Coffee Bar is open daily, from 8 a.m. to 6 p.m. Online orders may be placed for quick pickup at drippahead.com.
Nonprofit South County Outreach names new president, CEO
Irvine-based South County Outreach— which operates a food pantry, computer lab and housing program designed to end hunger and homelessness in Orange County — has named LaVal Brewer its new president and chief executive.
Brewer has more than 30 years of experience in nonprofit management and has served for more than a decade in executive and development roles, including with the YMCA, Playworks Southern California and One OC, a group that serves area nonprofits.
He replaces former SCO President Lara Fisher, who helped grow the organization into a pillar of human services and family support during her nine-year tenure.
"It is my absolute honor to serve South Orange County as President and Chief Executive Officer," Brewer said in a release. "I look forward to changing more and more lives each year and am lucky to have a dedicated team by my side."
Brewer estimated SCO reached 5,500 people in 2020 and said he aims in the year ahead to assist 6,500 individuals experiencing food and housing insecurity.
"South County Outreach is fortunate to have LaVal at its helm," Cheryl Flohr, chair of SCO's board of directors said in a statement. "We look forward to the continued growth and development of the agency under his direction."
Open Market OC grand opening this weekend
Orange County small businesses, makers and curators will come together this weekend for shoppers during the grand opening of Open Market OC at Mainplace Mall in Santa Ana.
Located inside the old Nordstrom building, the market will feature more than 200 clothing boutiques, vintage collectors, home décor shops and handmade goods and jewelry. The event will include refreshments from local artisan vendors.
The weekend event runs on Saturday, from 10 a.m. to 7 p.m. and Sunday, from 11 a.m. to 6 p.m. Open Market OC is located at 2820 N. Main Street, Santa Ana.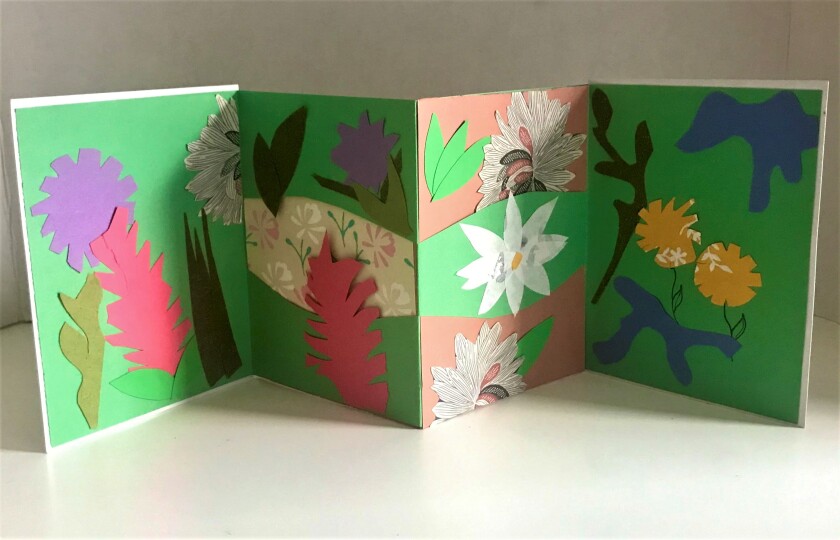 Sherman Library & Gardens offers bookmaking workshop for parents and children
A March 20 family workshop at Sherman Library & Gardens lets parents and children create their own "Garden Book" in an accordion style with covers and a hidden page with colorful cut paper flowers to create a bountiful garden.
The activity, which runs from 9:30 to 10:45 a.m., is perfect for children ages 6 to 9 but all ages are welcome, including grandparents and adult friends, too. Attendance is $25 for garden members and $30 for non-members. Children and adults are encouraged to book separate spots.
Class size is limited to ensure social distancing, and all participants are required to wear a mask throughout the program. Sherman Library and Gardens is at 2647 E. Coast Highway in Corona del Mar. For more, call (949) 673-2261 or visit thesherman.org.
---
All the latest on Orange County from Orange County.
Get our free TimesOC newsletter.
You may occasionally receive promotional content from the Daily Pilot.