New Costa Mesa council majority decides to add 4 aides, including a chief of staff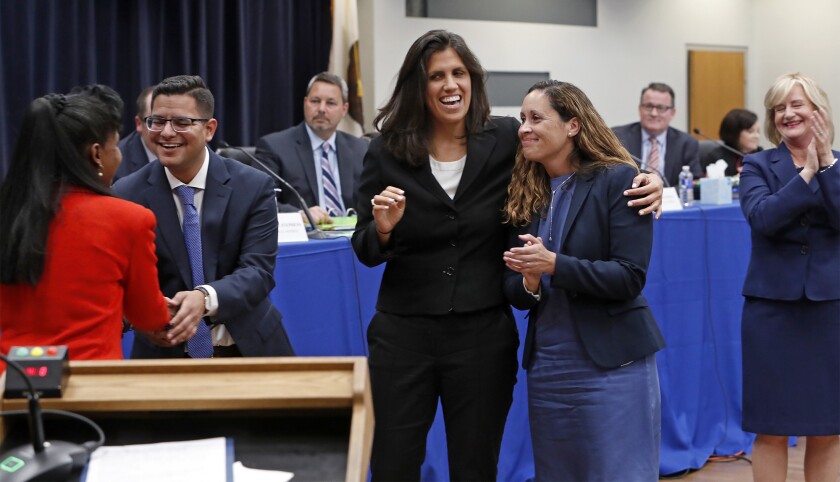 The Costa Mesa City Council decided Tuesday night to create four new staff positions, which the new council majority said would help handle workload and provide additional analysis.
On a 5-2 vote, with members Sandy Genis and Allan Mansoor dissenting, the council approved a full-time chief of staff and three part-time management aides at an annual cost of $222,000. Budgeting for the positions will come at the expense of a tax auditing specialist, a job that was designed to help bring additional revenue to city coffers but has not been filled.
The vote also approved buying $20,000 worth of City Hall furniture for the new aides.
The staffing additions came at the request of newly elected Mayor Katrina Foley, who argued that residents' needs are very high. She pointed to a similar aide structure in Anaheim, Irvine and Long Beach.
"It's hard to manage it all, to keep the work flowing on behalf of the constituents," Foley said.
"It's something new. It's a new day. We're going to try some new things."
According to a staff report, Foley originally proposed that the chief of staff report directly to her as mayor, a scenario that many residents, the city attorney and some council members warned would violate municipal code. They pointed to rules saying that no city employees, except the city manager and city attorney, can report directly to the council. Rather, they fall under supervision of the city manager, who in turn reports to the council.
Mansoor said that if the chief of staff is controlled by the mayor, he or she would be like a political appointee who can "be hired and fired at the whim of the mayor."
After suggestions from Mayor Pro Tem John Stephens and newly seated Councilwoman Andrea Marr, the council changed the wording to have the chief of staff reporting to the city manager.
Mansoor scoffed at the notion of the aides spending time — and taxpayer money — delivering briefings on issues or going over meeting agendas.
"That is something we should be doing on our own," Mansoor said. "If we're not doing that on our own, we shouldn't even be up here. I hope all of us have the motivation to read our staff reports."
Mansoor made a motion to receive and file Foley's request — which likely would have nixed it — but only Genis supported it.
At one point, Genis raised her voice to accuse Foley of not letting her raise concerns.
"You have talked about teamwork and collaboration, yet you clearly have no interest in that, so why say it?" Genis told her.
Foley replied that she had hoped to meet with Genis before the meeting about the proposal but that Genis never replied.
"You don't have to yell. I'm going to let you speak," Foley said. "It's fine."
Genis countered that the new staff members will only be there to make the council "look good."
"We have a lot on our plate right now," Foley said. "We need to have some support staff right now."
Marr added that "having another body to receive information when I'm not able to is helpful."
Ex-Newport city manager to aid transition
The council agreed Tuesday to use the part-time services of former Newport Beach City Manager Dave Kiff at no cost.
Kiff, who left Newport at the end of August, will help Costa Mesa transition from a five-member council to one with a directly elected mayor and six members elected by districts.
He also will help recruit a new city manager following the departure of Tom Hatch in November.
Bradley Zint is a contributor to Times Community News.
---
All the latest on Orange County from Orange County.
Get our free TimesOC newsletter.
You may occasionally receive promotional content from the Daily Pilot.