Demolition begins at site for new Newport Beach Animal Shelter, groundbreaking in a few weeks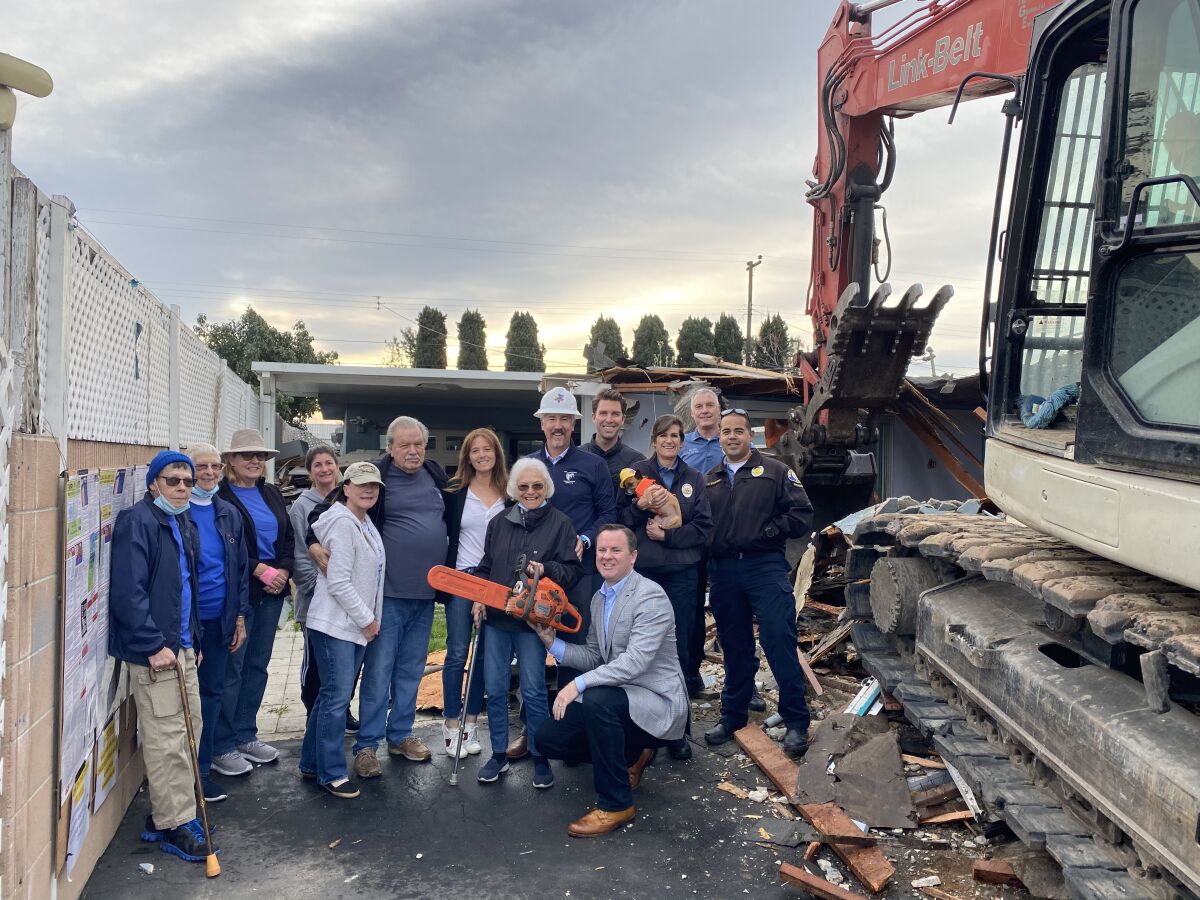 Work has begun on Riverside Drive for the now permanent location of the Newport Beach Animal Shelter — the result of years of effort from private volunteers across Newport Beach to improve the lives of creatures cared for by the city's animal control.
Shelter volunteers, city officials and board members of the Friends of Newport Beach Animal Shelter met at 20282 Riverside Drive on Wednesday to commemorate the demolition of the existing building and to celebrate the promise of a new facility.
The Newport Beach Planning Commission approved a conditional use permit last March to establish the new shelter. The project is expected to include a 1,565-square-foot, single-story shelter and a 755-square-foot kennel that can house up to 29 dogs.
There will be four parking spaces in the front yard, new gates and fencing, adequate drainage and other improvements. The new facility will be a no-kill shelter.
The Friends of the Newport Beach Animal Shelter have, to date, raised about $2.7 million in donations to cover the costs of purchasing the property and construction. Officials there say $350,000 remains to be raised to complete construction and begin operations at the site. Once completed, the shelter will be donated to the city of Newport Beach and operated by animal control.
The city has never had a permanent animal shelter and largely contracted out its services to providers, including the Orange County Humane Society. City officials previously authorized the use of an existing residential kennel at a nearby property on Riverside Drive.
"We are extremely fortunate to partner with the city and construction team at women-owned Slater Builders whose tradition of teamwork and responsiveness has guided us to [Wednesday's] important demolition milestone," said Tom Fischbacher, head of the FONBAS building committee, in a statement.
Board member Robyn Grant said groundbreaking is to be scheduled in the coming weeks. Construction is expected to be completed on the single-story shelter by the summer of 2023.
---
All the latest on Orange County from Orange County.
Get our free TimesOC newsletter.
You may occasionally receive promotional content from the Daily Pilot.