Man who allegedly defaced tribute to O.C. 'poderosas' arrested after showing for court appearance in another case
A months-long search for a man who scrawled racist messages over a Costa Mesa mural celebrating Orange County Latinas ended Monday, when police arrested the suspect as he showed up for a court appearance related to another crime.
Daniel Alec Hotte, 27, of Dana Point — who'd come to Newport Beach's Harbor Justice Center for a hearing about his failure to obey a domestic relations court order — now faces a felony charge of vandalism with a hate crime enhancement for his alleged role in the Oct. 31 defacing of the mural.
Hotte was reportedly caught on camera near the artwork, at the corner of Baker Street and Killybrooke Lane, painting white supremacist phrases and gang symbols over images and poems intended to honor poderosas, or "strong women," with personal and historic ties to Orange County.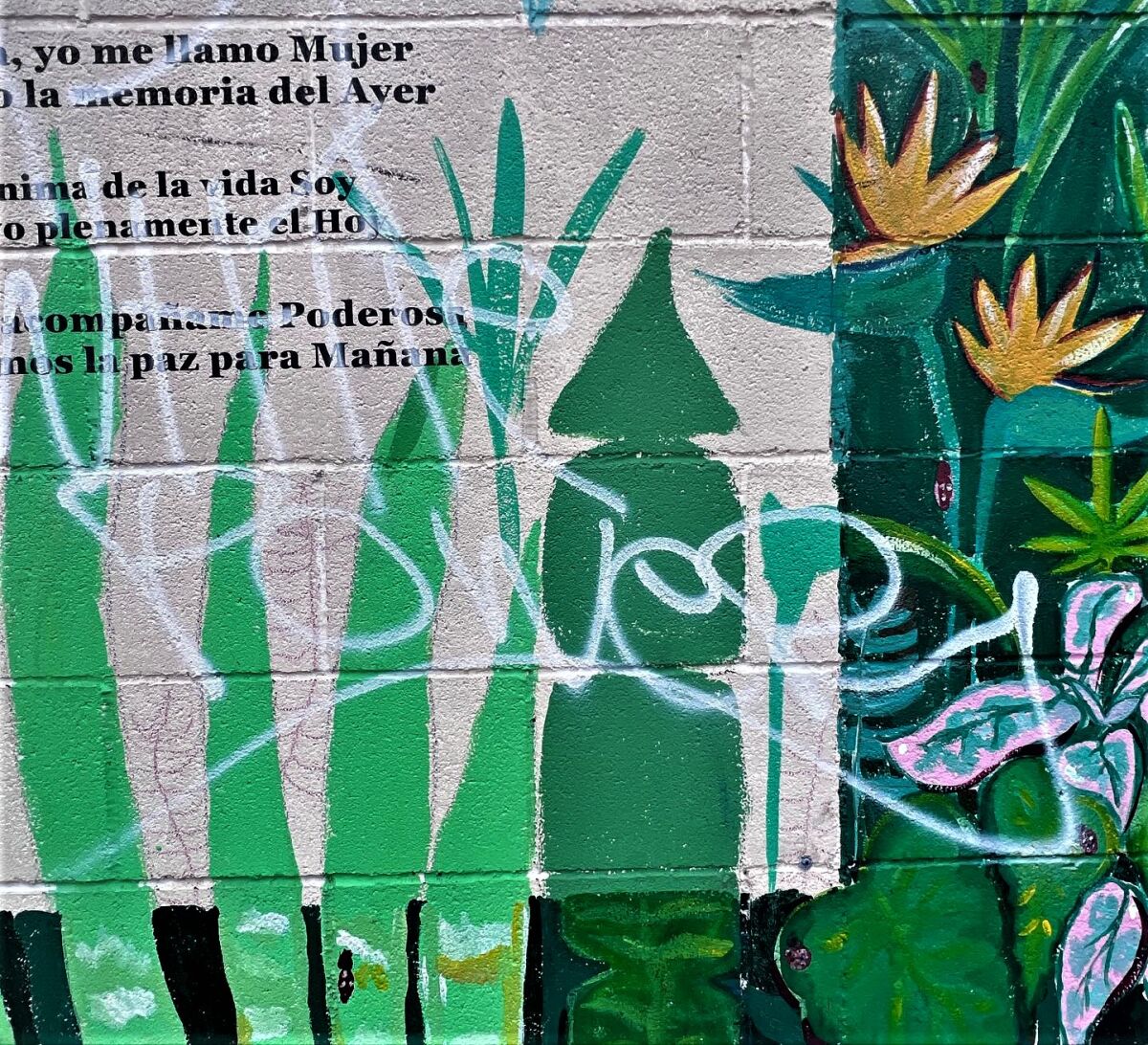 Neighbors shared video footage of the incident along with information that helped Costa Mesa Police identify Hotte, department spokeswoman Roxi Fyad said Tuesday.
"We had that video from witnesses, and that definitely helped the investigation," she said.
CMPD gang investigators tied Hotte to locations in Orange and Riverside counties but were unable to locate the suspect, according to a release issued Tuesday. Seeing he had a court date scheduled for Monday, officers went to the courthouse and detained him there.
Hotte was being held Tuesday on $40,000 bail and was scheduled for an arraignment hearing the same day, according to an online inmate locator maintained by the county's sheriff department.
For those who created the mural, news of Hotte's arrest was bittersweet.
The project was conceived by Camilo Romero, co-founder of ReGeneración Colombia, a peace-building initiative designed to heal intergenerational trauma through storytelling.
Romero collaborated with Colombian American artist and Santa Ana resident Alicia Rojas to create the Costa Mesa artwork which, upon its October 2020 unveiling, featured eight large portraits, including civil rights activist Dolores Huerta, Francis Munoz, the county's first Latina trial judge, and members of Romero's own family.
On Tuesday, he thanked members of the local community for supporting and protecting the mural as well as CMPD officers for their diligence in locating Hotte.
"An arrest is a step so that these acts of ignorance do not continue with impunity," Romero said. "Seems this man has many more steps to take in his life."
The portraits had been relocated from the mural to Santa Ana in 2021, the spaces they left behind filled with poems honoring their subjects. When Rojas heard about the vandalism on Nov. 1, she went to the site and began painting over the slurs with flowers, vines and leaves.
"When this happened, at first I was angry and I was triggered," she said, recalling her own immigrant story and its perils. "I had all these questions. Why did he do this? What went wrong in his life that he has all this hate? Until when can we say we belong?
"[The mural] has a beautiful meaning of uplifting women and celebrating brown women," she said of the vandalized art. "But it's also sad, because that's what reality is like for brown women."
Costa Mesa city officials on Tuesday called Hotte's alleged actions incompatible with the city's diverse populace and its emphasis on inclusivity. Councilman Loren Gameros, whose 2nd district includes the site of the mural, described his district as a community rich in culture.
A mural on a wall outside a residence on Costa Mesa's Baker Street attempts to unify the vast and ranging stories and struggles of poderosas — strong women — into a message of hope and inspiration.
"This suspect came from another city into Costa Mesa to commit this crime and hurt the identity of some of our neighbors," Gameros said in a statement. "That is unacceptable and now he will have to face justice."
Romero said Tuesday he hoped something good might still come from the incident.
"Moments of hardship can be opportunities for growth and connection," he added. "I look forward to that Costa Mesa care continuing as the mural evolves."
Any witnesses to the incident who have not spoken to CMPD are asked to contact investigator Eric Molina at (714) 754-5694 or Sgt. Matt Selinske at (714) 754-5093.
All the latest on Orange County from Orange County.
Get our free TimesOC newsletter.
You may occasionally receive promotional content from the Daily Pilot.