St. James takes services outside for prayer and protest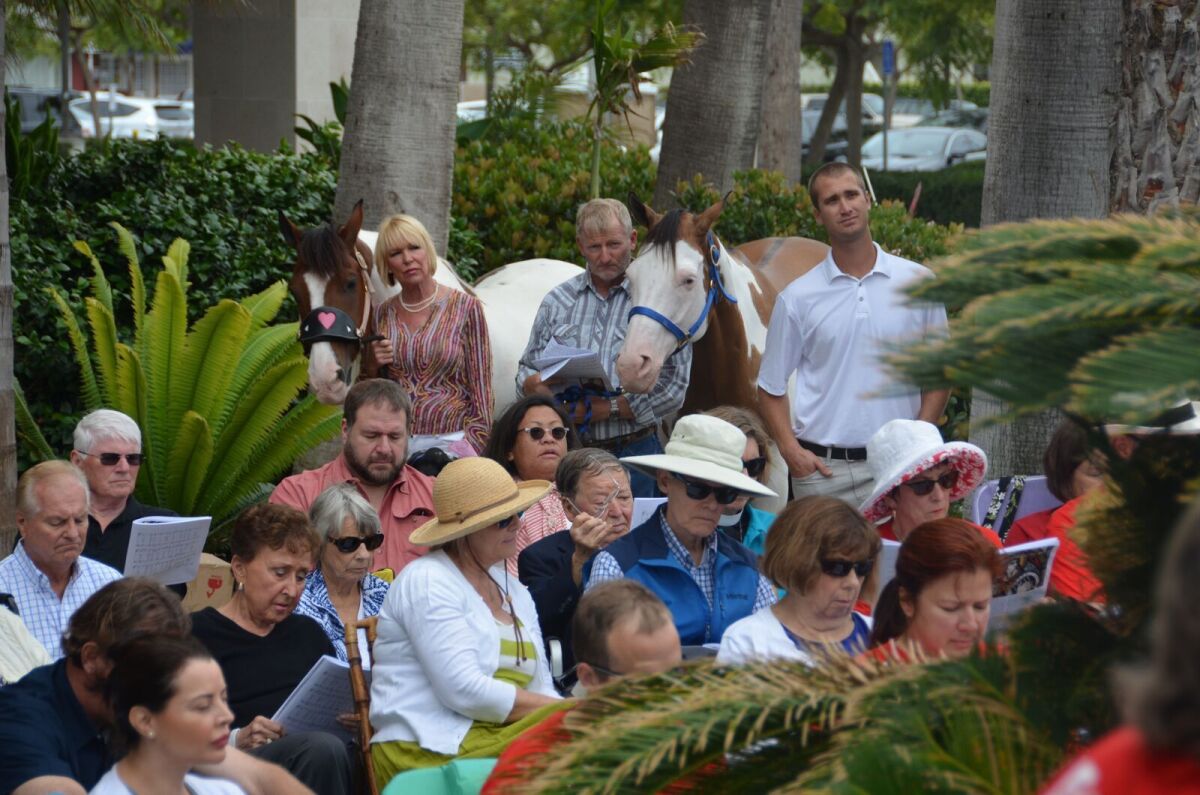 Services at St. James the Great Episcopal Church in Newport Beach were a little different Sunday.
The familiar house of worship on Via Lido, embroiled in a disputed sale, was unavailable, so parishioners set up on a grassy pocket park near the entrance to Lido Island. And along with worshipers, 10 a.m. services were attended by horses, dogs and news media.
The outside services were a response to a recent decision by the Episcopal Diocese of Los Angeles to sell the church building and two nearby parking lots to Legacy Partners Residential, which plans to build 22 high-end townhomes on the site.
The church's locks had been changed, barring parishioners and St. James staff members from entering. The Rev. Canon Cindy Evans Voorhees said the parish's bank account was frozen Thursday, making the congregation's transition to a new location more difficult.
Nearly 200 parishoners came together Sunday not only to worship but to protest of the denial of access to their church.
The services themselves largely offered the standard touches. The bulletin was printed, hymns were sung, the sound system was powered up, the offering was collected and Communion was observed.
But tiki torches substituted for processional torches and the processional cross was borrowed from St. Michael's and All Angels. Voorhees said the bishop locked up the church's liturgical items.
Voorhees, who confirmed she has not resigned from her position, opened her sermon by saying she planned make sure the parish would go on.
"We can't take the hard drive, can't take the pews, can't take anything with us, but here we are," she said.
Her encouragement continued in her pastoral letter published in the church bulletin.
Voorhees compared the experience to a roller coaster ride. She wrote that the acts of one individual cannot take away the support that parishioners have received and noted their faith remains strong.
She also announced that Sunday services would be held in the park.
"So bring your own chair and buckle up for the ride, people! Bring the kids and invite your friends, because we need to go, and I mean really go, into the world rejoicing in the power of the Spirit," she wrote.
Parishioner Gary Scanell attended the Sunday service and said being locked out of the church was unnecessary.
"I think this is such a travesty of what's happening to our church with the bishop locking us out," he said. "There's no reason to do this to us, especially since the sale hasn't gone through. It's vindictive."