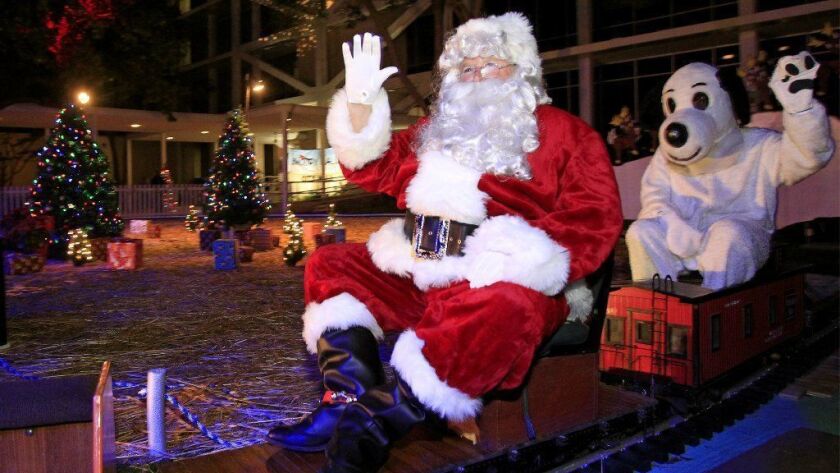 It's still weeks before Santa Claus arrives to spread holiday cheer, but Costa Mesa officials are asking the community to consider giving the big man in red a gift of his own: a holiday chair.
As part of the annual Snoopy House holiday display at Costa Mesa City Hall, Santa appears nightly and takes photos with children and their families. However, his chair has become worn over the years, leaving the city looking for a replacement.
The chair can be custom-built or gently used, according to the city. For more information, email Jennifer.Christ@Costamesaca.gov.
Snoopy House — a decades-old community tradition featuring decorations patterned on the "Peanuts" comic strip — will run Dec. 14-23 at City Hall, 77 Fair Drive.
Vintage market comes to OC Fair & Event Center
The Flying Miz Daisy vintage market will bring artisan goods and antiques to the OC Fair & Event Center in Costa Mesa on Friday and Saturday.
The event will run from 10 a.m. to 4 p.m. both days at 88 Fair Drive.
Admission is $5 online and $7 at the door. Parking is $8.
For tickets and more information, visit flyingmizdaisy.com/tickets.
California Wine Festival set in Huntington Beach
The California Wine Festival will be held Friday and Saturday in Huntington Beach.
Guests can sample wines from 6:30 to 9 p.m. Friday and 1 to 4 p.m. Saturday at the Paséa Hotel & Spa, 21080 Pacific Coast Hwy. An after-party is scheduled for 4 to 6 p.m. Saturday at the Pacific City shopping center.
For more information, visit californiawinefestival.com/events/huntington-beach.
Free document shredding to be held in Newport Beach
A free document shredding event will be held from 8 a.m. to noon Saturday in the parking lot of Mariners Elementary School, 2100 Mariners Drive, Newport Beach.
Residents can bring sensitive documents such as bank, credit card and other financial statements.
For more information, visit bit.ly/2PIzBZB.
Free clinic to be held in Costa Mesa for game played by disabled
A clinic will be held in Costa Mesa about boccia, a ball game for people with physical disabilities.
USA Boccia, a national nonprofit, will partner with Angel City Sports to provide the free clinic for people with disabilities. It will be held from 9 a.m. to 3 p.m. Sunday at Innovative Results, 2925 Airway Ave.
To register, visit bit.ly/2Pmylf9.
Tickets on sale Sunday for Disney's 'Aladdin' at Segerstrom Center
Tickets will go on sale Sunday for Disney's Broadway musical "Aladdin" at the Segerstrom Center for the Arts in Costa Mesa.
Performances will run March 6-23.
To buy tickets, visit scfta.org or the center's box office at 600 Town Center Drive, or call the box office at (714) 556-2787.
Angels star Pujols to lead Newport boat parade
Angels first baseman Albert Pujols will cruise Newport Harbor as grand marshal on opening night of the Newport Beach Christmas Boat Parade next month.
The parade, a Newport tradition celebrating its 110th anniversary, will run Dec. 19-23. Opening night will begin at 6:15 p.m. with a fireworks display at the Newport Pier.
The parade will have a different grand marshal each night. Here's the lineup:
Dec. 19: Pujols and family
Dec. 20: Local first-responders in "A Salute to Hometown Heroes"
Dec. 21: Young Americans performance troupe
Dec. 22: Children and families of Olive Crest, a nonprofit dedicated to preventing child abuse and treating and educating at-risk children
Dec. 23: Corona del Mar High School drum line
Newport Fire Department to hold workshop on wildland fires
The Newport Beach Fire Department will hold a workshop on wildland fires from 6:30 to 8:30 p.m. Tuesday at the Central Library Friends Room, 1000 Avocado Ave.
The free workshop will review wildland fires that plagued the region this summer, the department's response to some of the fires and how Newport residents can prepare.
For more information, visit bit.ly/2QtyeLj.
CdM residents to hear from Newport Beach city manager
Newport Beach City Manager Grace Leung will speak about her vision for the city after her first two months on the job when the Corona del Mar Residents Assn. holds its monthly board meeting at 7:30 a.m. Nov. 15 in Room 5 at the Oasis Senior Center, 801 Narcissus Ave.
For more information, visit cdmra.org or call (949) 478-2454.
Early Thanksgiving event slated for Fountain Valley senior center
A Thanksgiving celebration will be held from 11:30 a.m. to 1:30 p.m. Nov. 15 at the Center at Founders Village Senior and Community Center, 17967 Bushard St., Fountain Valley.
Guests must be 55 or older. Tickets are $7 and must be purchased at the center's reception desk.
Deadline near to apply for programs grant in Newport Beach
The deadline to apply for a community programs grant from the city of Newport Beach is 4:30 p.m. Nov. 16.
The city budgets $75,000 annually for grants to such programs.
For more information, visit bit.ly/2z1irga.
New seating coming to Newport bus depot
Orange County Transportation Authority bus riders who use the Newport Beach Transportation Center will notice work going on at the depot. The OCTA is upgrading the hardscape, painting and landscaping.
As part of the work, walls that had benches attached to them were removed. OCTA spokesman Joel Zlotnik said this was done to open up the space to improve visibility and safety for passengers and employees, as the areas behind the walls had become gathering spots.
New seating and rails to lean against are expected to be installed in the spring along with added landscaping.
Corona del Mar resident inducted into water park hall of fame
Corona del Mar resident Kent Lemasters was recently inducted into the World Water Park Assn.'s Hall of Fame at an annual convention in Las Vegas.
Lemasters is president of AmusementAquatic Management Group in Tustin. The company helps develop, plan and operate new water parks and increase attendance and profitability at existing ones.
Laguna Beach shelter gets help from local gym
The Laguna Beach-based Art of Fitness gym recently held a fundraiser to benefit the Laguna Beach Youth Shelter, which aids at-risk children ages 12-17.
A two-hour cycling class raised more than $1,000 toward the shelter.
SOS Adopt-A-Family program to provide gifts for struggling families
Share Our Selves, a Costa Mesa nonprofit, plans to provide holiday gifts for 1,400 struggling Orange County families.
Volunteers can participate in the Adopt-A-Family program until Dec. 12.
"Many of these families work multiple jobs to provide for their children, but unforeseen circumstances have the power of eliminating Christmas as a possibility," said Sue Epstein, a longtime volunteer. "When you have no financial safety net, a sudden illness, reduced hours or even a car repair means no Christmas presents."
Gift wish lists for "adopted" families include bicycles, toys, clothing, diapers and blankets.
To participate in the program, email AAF@shareourselves.org, call (949) 270-2187 or visit shareourselves.org/aaf.
Twitter @LukeMMoney
---