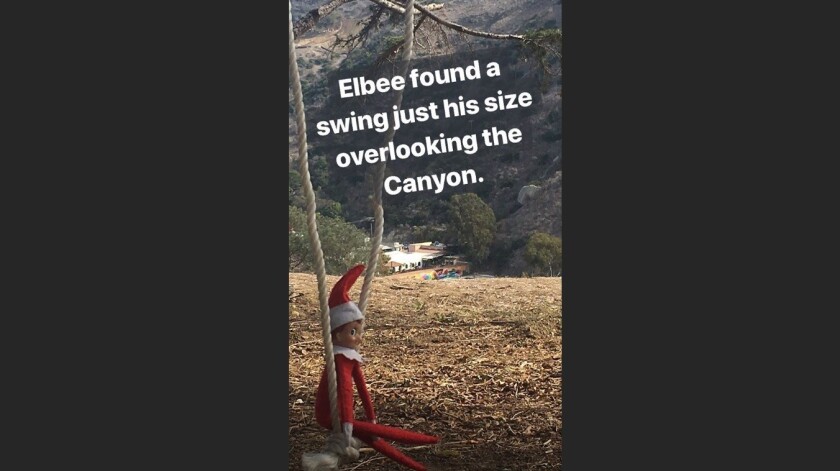 Elf on the loose in Laguna
A small, cherry-cheeked figure is running around Laguna Beach, swinging on a rope above Laguna Canyon and driving a firetruck.
Elbee (pronounced like the city's initials) made his 2018 holiday season debut in a Laguna Beach government Instagram story and has been hanging art, tinkering in city trucks and riding the trolley around town.
The elf, about a foot tall, first visited Laguna in 2016. His name was chosen by a vote on social media, according to Jennifer Chapman, the city's digital communications coordinator.
Elbee helps promote the city's various departments and services, Chapman said.
"People think it's funny; they ask where the elf is going to be next," she said. "[And] 'Can you tell the elf that I want this for Christmas?' "
The mischievous elf, based on the popular "Elf on the Shelf" holiday book and box set, has visited the cultural arts and public works departments, the Suzi Q Center and other places around the city.
"Of course, Elbee goes back to the North Pole every night" to report to Santa Claus, Chapman said.
Laguna Beach police to present story time Friday
Laguna Beach police will present a story time from 10:30 to 11:30 a.m. Friday at the Laguna Beach Library, 363 Glenneyre St.
Cookies and hot cocoa will be available for guests.
For more information, visit bit.ly/2SSaOQx.
Newport party to feature Santa and boat parade viewing
A family fun night with Santa Claus, dinner, crafts and boat parade viewing will be offered from 5:30 to 8 p.m. Friday at the Marina Park Community Center, 1600 W. Balboa Blvd., Newport Beach.
Tickets are $25 for adults and $15 for children.
For more information, visit bit.ly/2QyQTcG.
Tall ship to offer tours and sailings in Newport Beach
Guests can visit Lady Washington, the official tall ship of Washington state, from Friday to Dec. 26 in Newport Beach.
Daily tours will be offered for $5, except on Christmas Eve and Christmas Day.
Sailings from 2 to 5 p.m. Saturday and Sunday will feature demonstrations of tall ship handling, sea shanty singing and other maritime amusements. The cost of the "Adventure Sails" is $42 to $49.
Lady Washington also visited Newport Beach early this year.
For more information, visit bit.ly/2GjFLvA.
Chargers star launches foundation for low-income kids
Star running back Melvin Gordon of the Costa Mesa-based Los Angeles Chargers launched his Beyond Flash Foundation supporting low-income youths by teaming with the Boys & Girls Clubs of Central Orange Coast and Second Harvest Food Bank of Orange County to provide food for 1,000 kids at an event Saturday in Santa Ana.
The Boys & Girls Clubs of Central Orange Coast has locations in Costa Mesa and Newport Beach.
Laguna Beach Unified School District placed on Advanced Placement honor roll
The Laguna Beach Unified School District recently earned a spot in the ninth annual Advanced Placement District Honor Roll for increasing its number of students in AP programs.
Laguna Beach Unified was one of five districts in Orange County to make the honor roll, which included 373 districts in the United States and Canada.
"I am always impressed by the ongoing success of our students," said Laguna Beach Unified Supt. Jason Viloria. "These are rigorous courses that demand a high level of dedication, and I am proud to see an increase in student participation as a result of the ongoing efforts of our staff to identify and support students who have not traditionally accessed AP courses and through the addition of new AP course offerings."
Kool & the Gang to headline New Year's Eve party in H.B.
Kool & the Gang, known for hits such as "Jungle Boogie," "Hollywood Swinging," "Ladies' Night" and "Celebration," will play a New Year's Eve event at the Hyatt Regency Huntington Beach, 21500 Pacific Coast Hwy.
DW3 also will perform. The party is scheduled for 7 p.m. Dec. 31 to 1 a.m. Jan. 1.
Tickets start at $155. For more information, visit bit.ly/2EuqhCF.
Free tax prep to be offered for low- and moderate-income earners
Orange County United Way will offer free tax preparation starting Jan. 8 for people with low and moderate incomes.
Volunteers will be at various locations throughout the county, including the Melinda Hoag Smith Center for Healthy Living, 307 Placentia Ave., Newport Beach.
For more information, visit ocfreetaxprep.com.
---